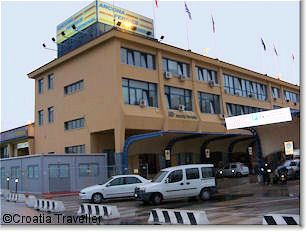 Rainy Ancona

Should you purchase additional
insurance
for your trip to Croatia? I never gave it too much thought until recently when I booked passage on the
Ancona Zadar ferry
to begin a tight research trip. My partner and I arrived in Ancona in the middle of a fierce rainstorm. No surprise: the evening boat was cancelled. Tired and soggy, we had to cancel the Croatian hotel and book one in Ancona. The following morning there was only a boat to
Split
scheduled so we took that and drove down the Croatian coast to our destination.
Fortunately it was off-season so the Croatian hotel was nice enough not to charge us for the delayed reservation but it easily could have been otherwise. I wondered what would have happened if we had non-refundable reservations or if we had missed a flight because of the delayed boat. We could have gotten stuck with quite a bill! So I started thinking about insurance. Basically, there are four varieties of travel insurance to consider:
In order to assess your insurance needs (if any) ask yourself the following:
What does my credit card cover?
Some credit cards, especially the premium or "gold" kind provide collision damage waiver (CDW)--if you rent a car using that card. The credit card may cover emergency medical evacuation and repatriation of remains.
What does my homeowner's insurance cover?
Your homeowner's insurance policy may cover you for any stolen belongings on your trip to Croatia. It could be worthwhile to check, especially if you're travelling with a laptop or other expensive device.
What does my auto insurance policy cover?
Your auto insurance policy at home might provide limited overseas coverage. It's worthwhile to check.
What does my health plan cover?
USA residents need to check their private health plans carefully. Neither Medicare nor most private health plans cover medical expenses overseas. EU residents are covered through "reciprocal care" agreements between Croatia and EU countries.
Travel Guard is the industry leader in providing travel insurance. The company covers over 6 million travellers worldwide each year offering coverage for vacation and trip cancellation, travel interruptions and delays, emergency medical and health expenses, lost baggage and more. You can now get a refund if you must cancel your vacation for work and the Worldwide Health Plan covers pre-existing conditions, hospital room & board, trip interruption and more. Click here for a free quote!
Questions? Comments?
©CroatiaTraveller 2005-2018 All rights reserved