Find Car Rentals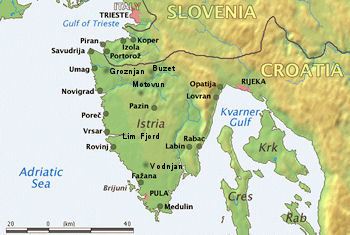 Beyond coastal cities and resorts, the Istrian region offers a surprising variety of treasures buried in the rolling vineyard-draped hills and along the rugged coast. Rovinj is one of Croatia's most romantic towns and Pula is known for its Roman ruins. While the interior villages of Draguc and Hum have slowly experienced depopulation, once-abandoned Groznjan has been reborn as a thriving arts colony. Even remote Motovun hosts an annual film festival within its medieval walls.
This itinerary assumes that you'll arrive in Pula, a fair assumption such Pula is the only Istrian town with an airport (see more on flights to Pula). You can rent a car at Pula airport. It's helpful (although not essential) to have a car, especially to visit the hill towns of Motovun and Groznjan. All other coastal and interior towns are well-connected by bus.
[Would you like a custom itinerary? I can design itinerary just for you, your interests, allotted time and budget. See more]
Duration:7 days
Start: Pula
Finish: Porec

Day 1 Pula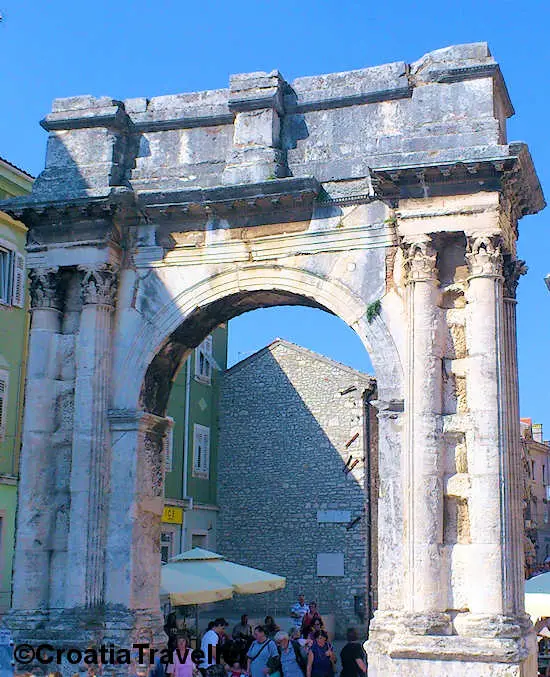 Visit central Pula, once an important part of the Roman empire and now Istria's administrative centre. Spend the morning in the fascinating Roman Amphitheatre that dates from the first century and then see Pula's other famous Roman sights: the Temple of Augustus, Hercules Gate and the Triumphal Arch of the Sergii (above). Be sure to take in Pula's evening light show. More on Pula's sights.
Recommended Hotel in Pula: Park Plaza Histria Hotel "Excellent"
Day 2 brijuni islands

Take a day trip to the Brijuni Islands National Park . In addition to fascinating archaeological finds dating back to the Illyrians, the main island, Veli Brijun, was a retreat for Marshal Tito and contains mementos from his rule over former Yugoslavia. See more on day trips from Pula.
Day 3 rovinj

Drive to Rovinj, (above) a Venetian-style port that is Istria's most alluring highlight. Pastel-coloured houses are crammed onto a peninsula of hilly, winding streets. Explore the offshore islands, dine in a fine restaurant, enjoy a cocktail by the sea. Along the way, take a look at the hilltop village of Bale where boutiques and galleries are animating the medieval town centre.
Recommended Hotel in Rovinj: Hotel Monte Mulini "Exceptional"
Day 4 rovinj visit

Visit the town of Rovinj, climbing the old streets to admire the Cathedral of St Euphemia. Take a short boat ride to Crveni Otok or rent a bike and pedal around Zlatni Rt, (above) stopping for a swim. See more on things to see in Rovinj .
Day 5 lim fjord and Porec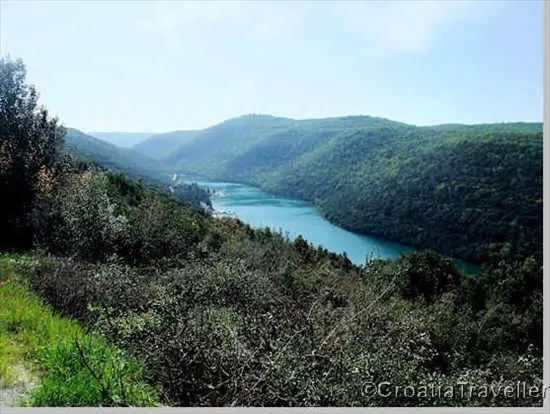 Enjoy a leisurely drive through the Istrian countryside replete with vineyards and orchards. Take a boatride through the Lim Fjord, a drowned valley of steep macchia-covered cliffs. Drive on to Porec, an ancient Roman town now transformed into a major resort destination.
Recommended Hotel in Porec: Hotel Valamar Diamant "Excellent"
Day 6 explore porec

Stroll the straight Roman streets of Porec and head to the 6th-century Euphrasian Basilica (above), a World Heritage Site for the shimmering Byzantine mosaics that adorn the apse. Check out more Roman ruins and then take a short boat ride to Sveti Nikola island for a dip in the sea. See more things to do in Porec.
Day 7

Porec makes a great base to explore the Istrian interior, a sun-warmed landscape of vineyards, villages and rolling hills. Make sure to stop at the hilltop village of Motovun (above) for the reminders of Venice. Groznjan and Buzet are also good places to experience the true Istrian lifestyle. See more on day trips from Porec.