Croatia has a rich cultural heritage that is expressed through traditional music, dancing and costumes. Croatian culture is a point of pride and has helped cement a sense of national identity throughout its turbulent history.
There are several distinct musical traditions that have been inscribed on Unesco's list of Intangible Heritage. Along the Dalmatian coast, the dominant form of local music is klapa, in which a (usually) male choir sings a capella and in harmony. The songs often involve love and loss and the form is popular throughout Croatia. Istrian music is based upon a unique scale, istarska ljestvica, and distinctive two-part harmonies. As the harmonies are discordant, the music has become increasingly rare. Hard to find but worth it is Ojkanje singing in villages north of Zadar in which one singer "shakes" his voice, and Nijemo Kolo, a silent circle dance that is still performed in the villages around Sinj, north of Split.
Where to see Croatian music and dance?
By far the most authentic way to experience Croatian folklore is at a local festival, many tied to religious holidays. Rare is the Croatian town or village that doesn't have a local folklore troupe ready to liven up churches, concert halls and village squares with music and dancing. Events around Christmas and Easter are sure to involve a folklore show but also watch out for the feast days of local saints such as St Blaise Day in Dubrovnik. The summer festivals held in towns all along the Croatian coast and islands also include folklore shows on their program.
The two major folklore troupes that perform regularly are LADO (National Folk Dance of Croatia), based in Zagreb and Lindo from Dubrovnik. A performance by either of them is an experience to be treasured.
Here are the major festivals that celebrate Croatian music and dance:
Dubrovnik Summer Festival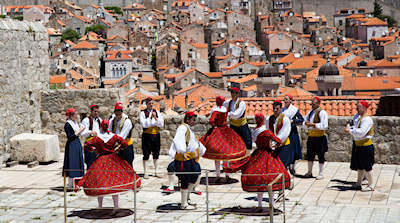 courtesy Lindo
This yearly festival that takes place in Dubrovnik in July and August features a variety of musical styles but always includes Croatian folklore shows. The highly-regarded local group, Lindo, performs Tuesday and Friday at 9.30pm in Lazareti, just outside Ploce gate. Also on the program is LADO. More on the Dubrovnik Summer Festival.
Festival of Dalmatian Klapas

This prestigious festival in Omis, just outside Split, takes place in the beginning of July and lasts most of the month. Klapa groups from around the country give concerts nightly in the main square and the best is awarded a prize. See the official site.
Aklapela Festival of Dalmatian Songs
Held in Dubrovnik in late-April, this new festival also celebrates klapa music with concerts held in Lazareti. See the official site.
Zagreb Folk Fest
In mid-July, the best folklore troupes from around the country and the world head to Croatia's capital to display their artistry. Performances are held in open stages and in concert halls. See the official site.
And sometimes, you can catch a bit of klapa onboard a Jadrolinija ferry. Watch: