Frequently hailed as the "new St-Tropez", Hvar island is clearly one of Croatia's top islands. Hvar town is the destination of choice for partiers from all corners of the world. The renovated Venetian townhouses, on winding little streets serve as a backdrop to the wildest nightlife on the Adriatic. Get away from the revelers in Hvar town though, and it's possible to experience a more relaxed and Dalmatian way of life in Jelsa, Stari Grad, Vrboska and the interior villages.
One of Hvar's major features is sunshine. Hvar island boasts 2718 hours of sunshine a year, making it Croatia's sunniest island. You can count on the warm Adriatic sun in winter just as you can count on the softly rounded Pakleni islands lying just offshore that make a stroll along Hvar town harbour incomparably beautiful.
When to Go
Hvar's high season runs from June through September. Hotels, restaurants and nightlife begin to wind down in October even though the weather remains mild. In fact, Hvar town and the southern coast soak up the sun all year. Even in January and February, the temperature hovers between 8.3 and 8.8C.
June and early July are the best months for touring the island and seeing the lavender fields in full bloom. Try to catch the lavender festival in Velo Grablje around that time.
What to See & Do on Hvar Island
The heavily-indented coastline is dotted with pebbly coves while the interior mixes rolling lavender fields with pine-carpeted hills. You'll need a car or other wheeled transport to properly explore the island. Although there are buses linking the towns, the schedules make it nearly impossible to visit more than one a day.
Small Towns
Hvar Town makes an excellent base for exploring the island but there's also Stari Grad, the tiny port of Jelsa, the picturesque village of Vrboska or the even more minuscule port of Milna on the southern coast. These smaller towns offer their own charms and provide a low-key respite from Hvar's bejewelled splendor. And there's the fascinating Stari Grad Plain, a World Heritage Site.
Pakleni Islands
Most wonderful are the day trips offered to the offshore Pakleni Islands,a natural paradise with crystal-clear water and a wealth of pebbly coves. Boats from Hvar harbour run continuously out to the islands during the summer season.
Scuba Diving
The Pakleni Islands are one of Croatia's best scuba diving locations. Divers are also attracted to Cape Pelegrin, the westernmost point of the island. Cyclists can easily rent a bike and set off to explore Hvar's interior on well-marked bike paths. Here are some more ideas:
Beaches
Big sandy beaches are not a feature of Hvar's pebbly coastline. Some of the most popular beaches among locals are narrow coves, some only accessible by boat. Besides the Pakleni Islands, beachgoers will want to seek out Dubovica, Gromindolac and sandy Mina beach near Jelsa.
World Heritage Site
Stari Grad Plain, just outside Stari Grad, sprawls over 1377 hectares and has remained virtually unchanged for 2400 years which prompted UNESCO to name it a World Heritage Site in 2008. In the 4th century BC Greeks laid out a grid system of paths and dry-stone walls to demarcate their fields. Even as Slavs, Romans and Venetians flowed into the region, the area was farmed continuously and the basic grid layout remained.
Geography
To see it all, rent a car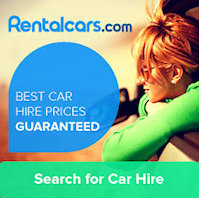 Compare rates 783 companies
Hvar is the longest island in the Adriatic--about 68km. Its western third is about 10 kilometres while the reminder, towards the east is very narrow--2.4km. The total area is 300 square kilometres. Stretching along the entire island, close to the south coast,is the island's crest which reaches its highest point at the peak of St Nikola (626m). North of this mountain is the widest part of the island--Velo Polje, a fertile plain. Here is the major production area for grapes, olives, figs, carob, lemons, oranges. On the slopes of the hills, on innumerable terraced plots, lavender is grown, used in the production of oil for the perfume industry. Also in quantity are rosemary and aromatic plants which give Hvar honey its flavour. Once, the entire island was wooded, but now there are only small forests and groves of fir and holm oak with uncultivated land left to sprout shrubs and macchia.
There are three ports of entry to Hvar Island: Stari Grad, Sucuraj and Hvar Town which receives passenger boats. Arriving in Split? Take a water transfer from Split airport! Otherwise, there's a choice of car ferries and passenger ferries. From May to October, the catamaran schedules make it possible to visit Hvar island on a day trip from Split. Find out more about getting to Hvar Island.
Accommodation is extremely tight in the summer; an advance reservation is highly recommended. Most people stay in Hvar Town as it is the most beautiful but Stari Grad and Jelsa make good alternative places to stay on Hvar Island. Both are cheaper and somewhat quieter than Hvar Town with its busy nightlife. See Hvar Island accommodation.
Hvar Travel Planner
Where to Stay

Accommodation
Overview
Tips & tricks for finding
the right accommodation

Private Accommodation
The best local lodging
Island Destinations
Transport
Getting to Hvar

Boat and car
Getting Around
Eating & Drinking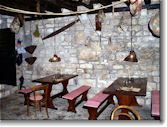 Best Hvar Restaurants
The best places from top-end to budget.
Nightlife
where to drink & dance until dawn
Get Prepared read up on Hvar history
Tourist Information on Hvar Island
There is no central source of official information about the island. Each town maintains its own tourist office.
Recommended Tours
More from Croatia Traveller
©CroatiaTraveller 2005-2019 All rights reserved