With a tumultuous history that stretches back to the Romans and a delightfully varied geography, Croatia is much more than its sun-dappled coast and islands (though there's that too of course).
There are eight National Parks and seven World Heritage Sites. Visiting the three National Parks and five Heritage Sites on this 10-day itinerary is guaranteed to provoke "Wows!" from even the most blasé travellers. A car is more efficient for this itinerary but buses are also possible.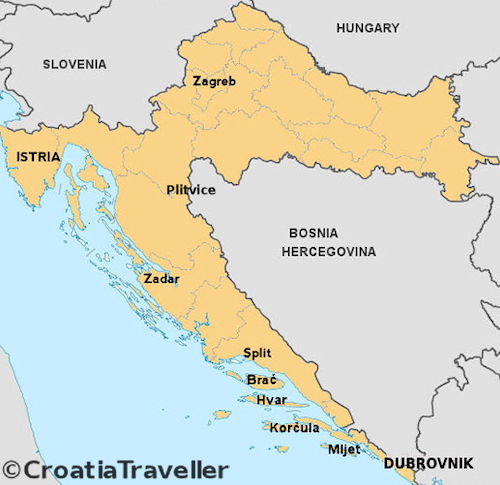 Duration: 10 days
Start: Zagreb
End: Dubrovnik
Day 1
Explore Croatia's vibrant capital city, Zagreb, checking out the museums and sights of the cozy Upper and stately Lower Towns.
Recommended Hotel in Zagreb: Hotel Dubrovnik
Day 2
Drive to spectacular Plitvice Lakes National Park, also a World Heritage Site for its 16 lakes interlocked in a series of cascades and waterfalls.
Recommended Hotel in Plitvice: Hotel Jezero
Day 3
Drive to Zadar, the fortified city on the coast that still bears reminders of its Roman and Venetian rulers. Explore the city's wealth of museums, churches and monuments.
Recommended Hotel in Zadar: Hotel Kalelarga
Day 4
Take an organized excursion to the unique Kornati Islands National Park, made up of 147 sun-baked islands some little more than barren rocks littered on the sea.
Day 5
Head south to Split with a lunch stop in tiny Trogir, a jewel of Dalmatian architecture and a World Heritage Site.
Recommended Hotel in Split: Palace Judita Heritage Hotel
Day 6
Explore Diocletian's Palace, a World Heritage Site and center of Split's Old Town.
Day 7
Take the car ferry to Stari Grad on Hvar Island and visit Stari Grad Plain, a World Heritage Site just outside town. Here you can see the land that the Greeks divided geometrically for farming some 24 centuries ago. Stay in Hvar town.
Recommended Hotel in Hvar: Holiday Home City Walls
Day 8
Drive to Dubrovnik, a World Heritage site, via the Sucuraj-Drvenik ferry, stopping to admire the Great Wall of Ston.
Recommended Hotel in Dubrovnik : Prijeko Palace
Day 9
Walk Dubrovnik's famous walls and explore the old town, visiting the Franciscan Monastery, Rector's Palace, and Dominican Monastery.
Day 10
Take a boat to Mljet Island National Park, an island paradise with two inland salt-water lakes.