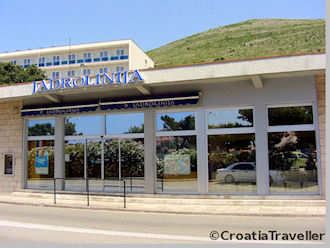 Jadrolinija Office, Dubrovnik
Book ALL Ferries from
Italy to Croatia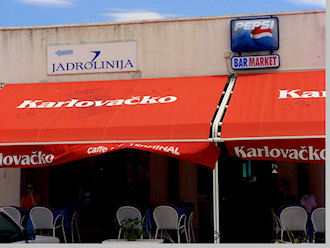 Jadrolinija ticket office at Sucuraj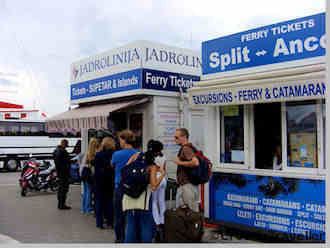 Jadrolinija ticket stall, Split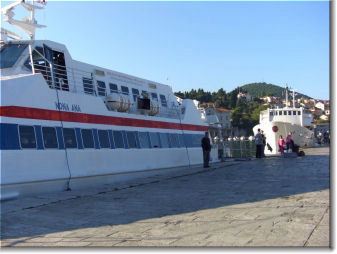 Nona Ana passenger boat
Online booking is an amazing convenience; it's great to have all your travel arrangements in hand before you leave home. What a relief! The good news is that as of 2015 nearly all car ferries and catamarans can be booked online.
Booking International Ferries to Croatia
Car Ferries
If you're bringing a car onto a ferry you certainly will want to book in advance. Passengers can nearly always find a space but cars are limited.Most international car ferries to Croatia travel at night (except in the summer when there are a few day routes) so you'll need to book sleeping arrangements as well. There are varying degrees of comfort from airline-type reclining seats to cabins with private facilities. (see more about on-board services)
Online booking for international car ferries includes:
Passenger Ferries
It's wise to book your seat on a passenger ferry in advance. It's essential in July and August but a good idea at any time. If you wait, you'll have to find the local agency that sells the tickets and make sure you're there when they're open (i.e. not Sundays!). Online booking for passenger ferries includes the popular ferries from Italy to Croatia:
Booking Local Ferries in Croatia
Car Ferries
There are three kinds of car ferries in Croatia:
Local Ferries such as those that run from Split to Stari Grad on Hvar Island or to Supetar on Brac Island. In addition to online booking at the Jadrolinija website you can buy ferry tickets for any Jadrolinija route at any Jadrolinija office. It's important to note that possession of a ticket does not guarantee you a place for your car (passengers can always get on board). Even with your ticket you must arrive two to three hours in advance and line up. Any ferry to and from Hvar and Korcula islands in the summer is sure to be packed. I recommend that you call or stop by a Jadrolinija office and ask for the estimated wait time.
Local Ferry Shuttles such as those that run from Drvenik to Sucuraj, Ploce to Trpanj, Makarska to Sumartin for example. Usually these are only for cars because there is no local transportation to or from the ferry embarkation points which tend to be tiny villages. These are short routes (about 1/2 hour to an hour). Tickets may be purchased online or you go to the embarkation point with your car, get in a line and buy the ticket at a small stall that opens about 1/2 hour before the crossing. These ferries are frequent all year and non-stop from morning to night in the summer. If it fills up you wait for the next one. In July and August, you could wait on line a couple of hours for the most popular routes.
Passenger Ferries
Most high-speed passenger boats can now be booked online. Check the websites of the companies running the passenger ferries for the lastest booking information. They are:
Croatia Ferries--News
Recommended Tours
More from Croatia Traveller
My Favorite Travel Accessories
©CroatiaTraveller 2005-2019 All rights reserved