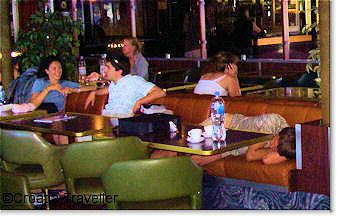 Ferry bar & lounge area--good to socialize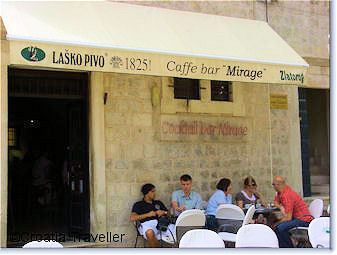 Hang out in cafes

As a professional travel writer, I have more experience than I need in travelling solo, especially in the years I've spent
writing Croatia guidebooks.
Getting comfortable with solo travel and putting myself in a position to meet and talk with lots of people has been a professional and social necessity. Contrary to popular "wisdom", I've always felt that, on balance,
women have it easier than men as solo travellers
. People tend to trust single women more which means more invites and more of a chance to be included. I suspect (though I have no hard proof) that women travelling alone everywhere find it harder to barter down prices though. Women are trusted but men are respected.
Safety
In many ways Croatia is an easy country in which to travel solo as the people are friendly and outgoing. Plus, Croatia is a relatively safe country.
Group Travel
One way to travel solo is to take a group tour. You'll always have someone to share your experiences with, but ugh! That expensive single supplement! JustYou, a London-based company offers a full menu of tours for singles where you have your own room and no single supplement.
Busabout is another company catering to young singles. Take a look at their fabulous sailing trips.
Tips
Still committed to independent travel? Here are my tips for men and women travelling solo in Croatia:
Avoid large resorts and boutique hotels
Sprawling resorts with pools, activities and kiddie centres tend to attract families who come either individually or on package tours. While welcome, solo travellers will be conspicuous. Small, arty boutique hotels probably will not have single rooms and tend to be the preferred choice of couples--especially honeymooners. It's not your scene.
Choose small pensions or dormitory-style sleeping arrangements
Hostelling is not for everybody--that's for sure--but the convivial atmosphere can't be beat. You'll always have someone to talk to! Otherwise, there's private accommodation, a popular option in Croatia. Very, very little private accommodation includes single rooms however so get ready for the dreaded single supplement. In any event, try to stay in accommodation that closely resembles small pensions with a number of rooms so you can meet your neighbours. Avoid apartments as they are too isolating.
Stay in the town centre
It leaves you open to serendipitous encounters in cafes, bars and restaurants and makes it easy to hang around town rather than hole up in your room.
Choose casual restaurants
Dining alone in a restaurant can be a daunting experience if you're not used to it. But practice makes perfect. You'll get more comfortable as you do more of it. If you really must sample fine dining, do it at lunch when the crowd is likely to include more solo diners. Your best bet for dinner is a casual convivial place like a bar or cafe. Look for a young crowd. Oh, and no bringing sandwiches back to your room!
Keep writing materials handy
Do NOT stick your nose in a book when you sit down at a restaurant or cafe; it walls you off from the crowd. Instead, catch up on your postcards or scribble in a travel journal. You might even be identified as a writer/critic who merits a free drink! (It's happened to me).
Take public transport
Cars are convenient but the only person you're likely to meet is the nice police officer who stops you for speeding. It's easy to get around Croatia by bus and ferry and much, much more sociable, not to mention cheaper.
Croatia is a great place for active travellers. You can take up diving, kayaking, hiking, cycling or other activities. Rather than going it alone though, join up with a small group tour. You'll get fresh air, plenty of company and may learn a new skill.
Take organised day trips
Nearly all Croatian destinations offer an array of day trips from fish picnics to island tours. No, it's not a good way to meet locals but it's a very good way to meet other travellers. See all Croatia excursions.
Pay attention to safety
No one will be keeping an eye on your baggage while you fumble with tickets so you need to keep your wits about you. Also, if you get cleaned out, there's no travel partner with cash to tide you over. Make sure that you have at least two credit cards and keep them separately (one on your person and one in your room for example). Do the same with some cash and travellers checks. See more about money in Croatia. And, guys, watch out for "gentlemen's clubs". You should know the score by now: A beautiful lady cozies up for a drink and an interesting proposition. Later, she drifts off and you are presented with a bar bill that dwarfs your mortgage. You were warned. Ladies may be subject to ogling and suggestive remarks by passersby but usually not much more. Ignoring the pesterer or shouting a firm "no" will usually do the trick.