Zagreb, Croatia's capital is the main entry point into the country. You'll find plenty of flights to Zagreb from all European capitals run by Croatia Airlines the national carrier, as well as other airlines. Year-round there's a London-Heathrow to Zagreb flight by British Airways.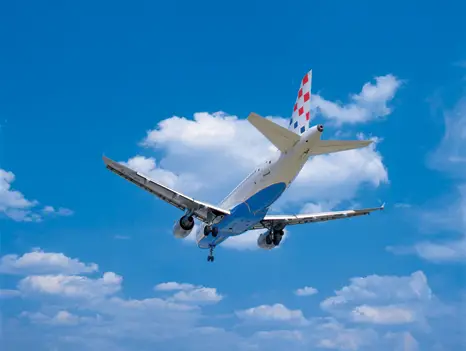 Lately more air routes to Croatia have been opening up and there are good deals on direct flights to other Croatian gateway cities such as Dubrovnik, Pula, Split and Zadar as well as flights to Zagreb. In a first, there are now direct flights to Brac island.
Low-cost carriers Ryanair, Eurowings, Volotea and Easyjet have introduced many summer flights to Croatia.
Easyjet will also connect Dubrovnik with Naples, Toulouse, Milan, Geneva, Basel, Paris, London (Gatwick, Stansted), Bristol, Manchester, Belfast, Edinburgh and Amsterdam.
Easyjet will connect Pula with London (Gatwick), Bristol, Paris and Berlin.
Notice that the only direct flights from North America are Philadelphia to Dubrovnik with American Airlines; Toronto to Zagreb with Air Canada Rouge; Toronto to Split with Air Transat.
Otherwise, the best deals on a round trip flight to Zagreb will involve at least one change in Europe. You may be tempted to fly to London to take advantage of a cheap fare to the Croatian coast. Be aware that some low-cost airlines to Croatia are not flying out of international airports such as Heathrow or Gatwick but use the local airports, Stansted, City or Luton.
New in 2019
Venice-Losinj Mon, Fri from 24 May Silver Air
Philadelphia-Dubrovnik 7 June American Airlines
London (City) -Split 2 June 3x weekly British Airways
Bergen, Krakow, Poznan -Zadar 1 April Ryanair
Dublin-Split, Dubrovnik 1 June Ryanair
Prague-Zadar 3 April Ryanair
London Gatwick – Zadar  30 April Easyjet

Berlin – Dubrovnik – 2 May Easyjet

Nantes – Dubrovnik – 24 June Easyjet

Amsterdam – Pula – 25 June Easyjet

Geneva – Pula – 26 June Easyjet
Madrid-Zadar 2 July Iberia
Toronto-Zagreb 27 May Air Canada
Toronto-Split 20 June Air Transat
Stuttgart-Zadar, Split 31 March Laudamotion
Montenegro-Pula 2 April Laudamotion
Belgrade-Brac mid-May Air Serbia
Munich-Rijeka 25 May Lufthansa
Athens-Dubrovnik 27 April Volotea
Lyon-Dubrovnik, Split 14 April Volotea
Marseille-Rijeka 5 June Volotea
Bordeaux-Pula 5 June Volotea
Manchester-Rijeka 23 May TUIfly
Rotterdam, Eindhoven-Zadar 3 April Transavia
Flights to Croatia Summer 2019
Note that these flights may not be daily and end at some point in the fall.
Frankfurt - Pula
April 1- Ryanair



Frankfurt - Zadar

April 1- Ryanair



Frankfurt - Rijeka

April 6- Ryanair



Zurich - Dubrovnik

April 1- Edelweiss Air



Rotterdam - Dubrovnik

April 4 - Transavia



Dubai - Dubrovnik

June 2- Flydubai



Nice - Split

April 7 - Volotea



Brussels - Split

April 27 - Brussels Airlines



Frankfurt - Zadar

May 4- Condor



Frankfurt - Rijeka

May 25- Condor



Dusseldorf - Split

April 29 - Condor



Hanover - Split

April 28 - Condor

Hanover - Zadar

May 25 - Condor

Frankfurt-Dubrovnik

April 13 - Condor

Frankfurt-Split

April 14 - Condor

Frankfurt-Zadar

May 4 - Condor


East Midlands - Dubrovnik

May 03 - TUIfly



Newcastle - Dubrovnik

May 03 - TUIfly



Brussels - Zadar

May 11 - Brussels Airlines



Zurich - Zadar

May 11 - Germania Flug



Rotterdam - Brač

May 4 - TUIfly



Manchester - Dubrovnik

April 7- Thomas Cook Airlines



Athens - Zagreb

February 25- Aegean Airlines

Athens - Split

May 10 Aegean Airlines


Luxembourg - Dubrovnik

April 20- Luxair

Luxembourg -Split

April 21 - Luxair

Luxembourg- Zadar

May 18 - Luxair


Riga - Split

June 1 - airBaltic



St Petersburg - Pula

May 4 - S7 Airlines



Milan Bergamo - Dubrovnik

June 5- Volotea



Milan Bergamo - Split

June 4- Volotea

Nantes - Split

April 10 - Volotea


Nantes - Pula

April 10- Volotea



Birmingham - Split

May 5 - Jet2



Katowice - Dubrovnik

June 6- Smartwings



Warsaw - Dubrovnik

April 18- Smartwings



Toronto - Zagreb

May 27- Air Canada Rouge



Katowice - Split

June 06 - Smartwings


Bari - Dubrovnik

June 5 - Volotea



Palermo - Split

June 5 - Volotea

Venice - Dubrovnik

April 20 - Volotea

Venice- Split

April 28 - Volotea

Related Pages
Subscribe to Croatia Flight News
Last updated December 31, 2018
Recommended Tours
More from Croatia Traveller
My Favorite Travel Accessories
©CroatiaTraveller 2005-2019 All rights reserved