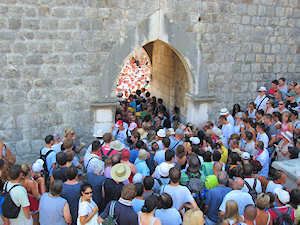 Crowds in Dubrovnik: Avoid them!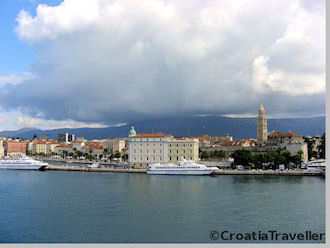 Split makes a good base  
Reserve ahead in high season

The Croatian coast is jammed for about six weeks starting in mid-July, ending late-August.
Accommodation
is scarce and prices are highest. Naturally the best value deals sell out fastest. You can get on
local ferries
as a passenger, but car space may be non-existent. Even
rental cars
can be scarce if you wait till the last minute. See more on
summer in Croatia.
Learn a few words of Croatian
A cheery "Dobar dan" (Good day!) works wonders. Most Croatians are multi-lingual and there has been a heavy emphasis in Croatian schools on learning English. German is widely spoken in the interior and Italian on the coast but French speakers are rare everywhere. Consider learning a little Croatian or at least 10 useful phrases in Croatian. See more on the Croatian language.
Don't be cash-short
Many restaurants and all private accommodation are cash only but you will find ATMs everywhere. Big hotels, ferry companies and car rental agencies take credit cards. In a pinch, you can usually pay with euros although the exchange rate is not as good as when you change money at a bank or withdraw it at an ATM. See more on money in Croatia
Get the absolute best rates
Know the Rules of the Road
Croatia has repealed its zero-tolerance law for drunk driving. Now, you're allowed a glass of wine with dinner but penalties are severe for a blood alcohol level that exceeds 0.05%. In any event, you'll need your wits about you to deal with Croatian daredevils on the road. And, don't forget to put away your cellphone. Conversing or texting on the road is illegal. Pay attention to the speed limit. If you're stopped, the trooper may demand a cash fine on the spot. Find out more about driving in Croatia.
Don't fall for the Cross-Border Card Scam
Renting a car is a major convenience. When booking online, most companies will try to sell you a "cross-border card" if you're driving to or through Bosnia or Montenegro. You do not need it. More here.
Be politically sensitive
Feelings are still raw from Croatia's painful separation from Yugoslavia. It's better to listen and learn than expound and offend. Find out more about Croatian history.
Bring rubber shoes
Most of Croatia's beaches are rocky or pebbly, not sandy. Flip-flops are OK but shoes you can wade in are better.
Get to the ferry early!
Passengers don't need to worry but if you're bringing a car in the summer, get to the ferry at least two hours in advance even if you have a reservation. You could get shut out because Jadrolinija, the only car ferry company, sells tickets not reservations. Your ticket is good for the entire day of travel, but does not guarantee a place on any particular sailing. Try to stop in a Jadrolinija office and ask how long in advance they recommend that you arrive. Find out more about ferries .
Check local ferry schedules carefully
Local ferries to and among the islands are not necessarily daily and vary by season. Do not assume that there "must be" a ferry from one place to another. You could get stuck! Study the schedules carefully. You'll find a list of the latest schedules here.
Consider the bus
Croatia has an excellent bus system. Intercity buses are frequent, speedy and comfortable especially on the mainland. In fact, the bus system is far more extensive than Croatian railways. On Croatian islands however, bus service is somewhat less convenient particularly for reaching interior villages. I recommend taking ferries to the islands and renting a car for a day or two of sightseeing.
AND... here's how to avoid the TOP TEN TRAVEL MISTAKES
Recommended Tours
More from Croatia Traveller
Questions? Comments?
©CroatiaTraveller 2005-2018 All rights reserved