Croatia Traveller is proud to offer quality businesses the opportunity to reach a targeted, motivated market on its pages. Visitors to Croatia Traveller are "bookers" not "lookers", ready to consider your business while actively planning their holiday to Croatia.
So who are the Croatia Traveller visitors? English speaking for the most part (54.57%) followed by French, German, Dutch, Swedish and Croatian. They come mostly from the UK (36.85%), followed by the USA (18.54%), Australia (5.57%), Canada (5.35%), Croatia (3.43%), Germany (2.75%, Ireland (2.27%), India (1.38%)and France (1.32%).
In this era of heavy mobile usage and the increasing popularity of ad-blockers, Croatia Traveller is ready to help insure that your ad is effective and reaches those visitors most interested in your product or service. We offer a variety of innovative solutions.
Banner Ad
The standard internet advertising program in which you are billed per impression (CPM). We discuss which page or pages best fit your business and budget, view historical and anticipated impressions and come up with a solution that works. You may see an example of an effective banner ad here.
Sponsored Page
This solution is ideal for personalized services and is billed at a flat rate. You will provide me with information and photos and I will write the text selling your business. The page is linked from other highly trafficked pages to insure greatest visibility. Here is an example of an effective sponsored page:
 Ante Batarelo
Newsletter Banner
Croatia Traveller publishes a twice-monthly newsletter covering topics of interest to its subscribers. Your banner ad would appear in the newsletter and you are billed according to the newsletter "opens". You may see an example here.
Downloadable Product Banner
Croatia Traveller's cruise ship schedules are a highly popular free download. Your banner would appear in place of the Croatia Traveller logo and you will be billed per download.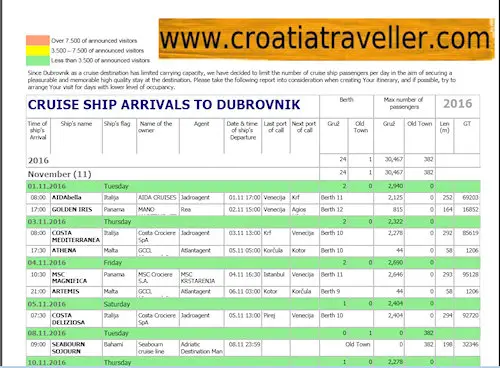 Adwords
Google's AdWords program allows you to target Croatia Traveller's AdSense ads and even specific topics and ad placements within Croatia Traveller. Here's an article with helpful tips on getting the most for your AdWords budget.
Please note: Croatia Traveller does not sell text links or participate in link exchanges or other link schemes.
for all questions including rates, banner specs and advice on which solution is best for you.
Recommended Tours
More from Croatia Traveller
©CroatiaTraveller 2005-2018 All rights reserved