Like a mini-Dubrovnik, Korcula town (pronounced kor-chula) is a walled town on the easternmost point Korcula Island near some delightful beaches. Korcula Town offers one of Croatia's most romantic views and the striking Venetian architecture makes it a top sight. Approaching by ferry is simply unforgettable.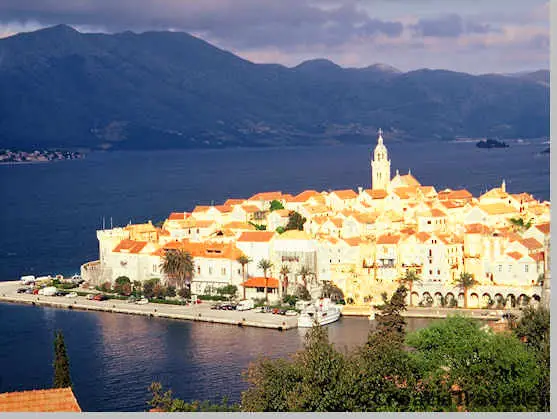 Tucked behind massive walls on a small peninsula, the winding streets are linked by stone steps (lots of them!) and offer stunning vantage points across the Peljeski Channel to the Peljesac peninsula. The main street runs north to south and the side streets were constructed to properly ventilate the town. Streets to the west of the main street are straight to allow the summer maestral to blow through; streets on the east are slightly curved to brake the winter northeasterly gales.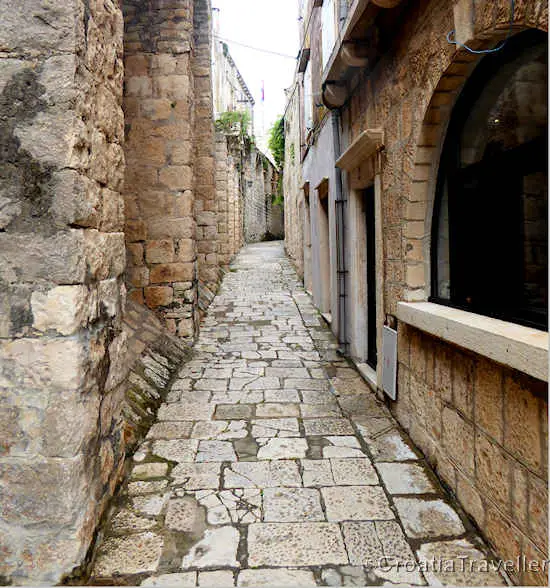 [See more about getting to Korcula]
Fast Facts
Population: 2800
Area: 1270 sq meters
Ferry links: Dubrovnik, Orebic, Hvar, Split
Nearest airport: Dubrovnik Airport
Korcula was once a vital part of the Venetian empire whose doges built Korcula's walls to protect their prize from pirates and Turks. Part of the fun of exploring the town is stumbling across unexpected glimpses of Venetian sculpture on walls and buildings.
[See more on Korcula history]
After visiting Korcula town, take a look at the rest of lush Korcula Island or take an excursion to Mljet. Beach buffs can easily hop a ferry to Orebic across the Peljeski Channel and stretch out on a wide, sandy beach or explore nearby Badija Island with its Franciscan monastery.
Korcula is an easy day trip from Dubrovnik from spring to fall when passenger ferries run. The rest of the year, not so much.
Things to See
Old Town
Most of Korcula Town was built in the 15th century when local men were renowned throughout the Adriatic for their stone-carving skills. Fortunately they left some of the best of their work on the distinctive facades of the town buildings.
Admiring the architecture of the old town is a big attraction of Korcula, particularly the striking arrangement of walls and towers. Notice the coats of arms adorning the 15th-century Large Governor's Tower and Small Governor's Tower and the 13th-century southern land gate or Veliki Revelin (below).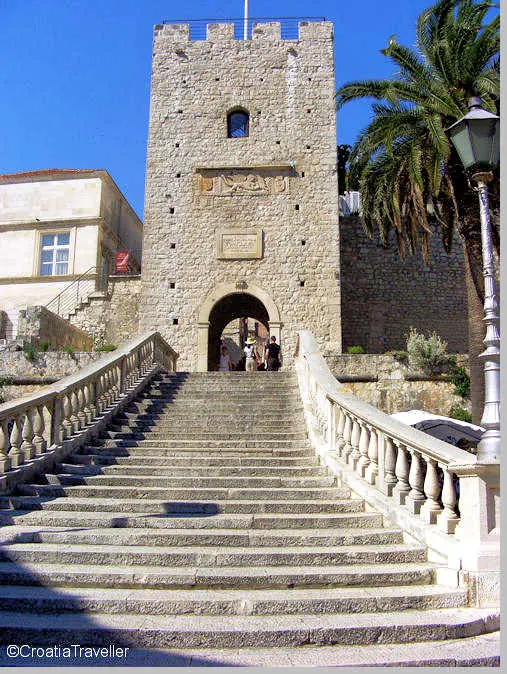 The Bokar Tower or Kanavelic Tower (below) protects Korcula Town on the northwest side. The insignia at the top is the coat of arms of Governor Barbarigo during whose administration (1485-1488) the tower was built.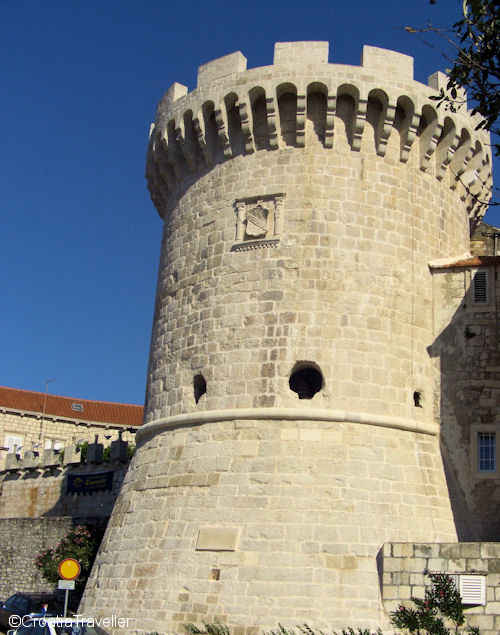 The centre of town is dominated by the splendid St Mark's Cathedral. This stately 15th-century Gothic-Renaissance structure was built from stone quarried from the offshore islands of Vrnik and Kamenjak. Most of it reflects the work of Korcula's finest builder, Marko Andrijic (d 1507).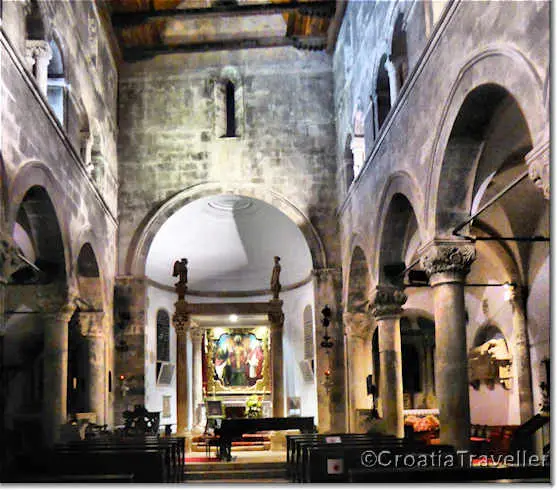 Inside, note the Three Saints altarpiece by Tintoretto, a statue of St Blaise and a Pietà by Ivan Mestrovic, a painting of the Holy Trinity by Leandro Bassano, and The Risen Christ by Frano Krsinic.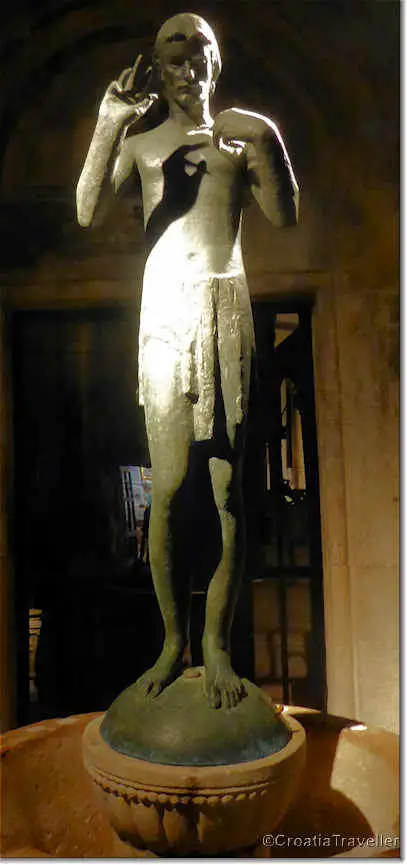 The Risen Christ
Museums
Town Museum & Icon Museum
The town museum across from the cathedral is an interesting excursion into Korcula's history, particularly in its display of Korculan stonecarving and the 13th to 15th-century Byzantine icons in the Icon Museum are also worth a quick look.
Marko Polo Museum
Local legend has it that Marko Polo was born in Korcula Town (don't argue with a local on this point) and you can visit the new Marko Polo museum to commemorate his life. A series of tableaux and an audio track vividly evoke the great adventurer's adventures in China including his visit to the Mongol Palace of Kublai Khan. Although the entry fee is a steep 60Kn, Chinese visitors are admitted free of charge.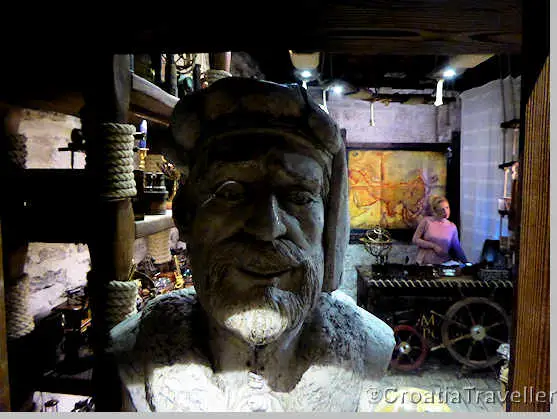 Outskirts
Just a short walk south of the old town in the direction of Lumbarda is Church of St Anthony (Sv Antun) and a hermit's dwelling that dates from 1420. The small church is unexceptional but the 101 steps lined with cypresses leading up to it is impressive.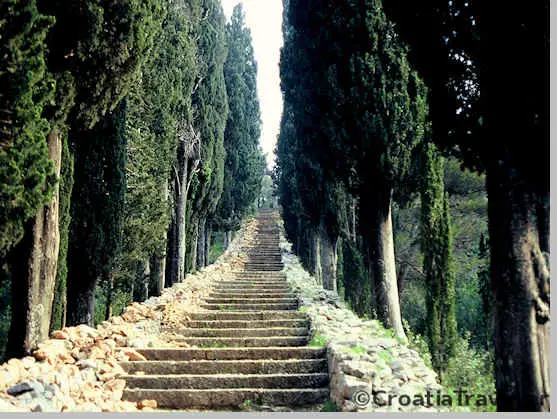 Culture
At night, don't miss the famous Moreska Sword Dance, a colorful spectacle of clashing swords and intricately choreographed dance.
Things to Do
Hit the beach! There are a couple of small town beaches in Korcula but for a delightful sandy beach head to nearby Lumbarda.
Take a boat trip! There are dozens of small islands offshore. Badija is the most visited but local operators propose day and half-day excursions around the archipelago stopping near Planjak and other islets. It's a wonderful way to experience the island. Check out this 4-hour archipelago cruise.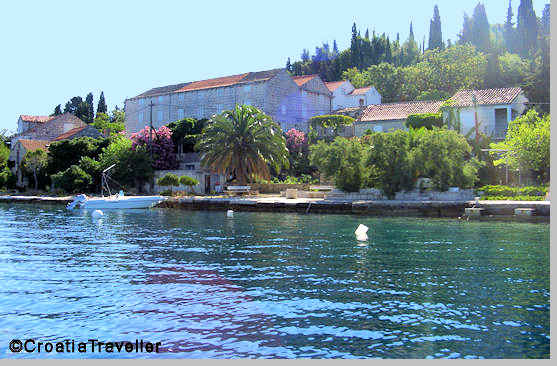 Festivals and Events
The Korkyra Baroque Festival launched in 2012 and highlights music from the baroque period. An impressive line-up of local, national and international performers bring sweet sounds to a variety of venues in and around Korcula's squares and monuments. More.
Hotels
in Korcula
are mostly big, sprawling resorts.
Private accommodation in Korcula i
s an excellent option. If you stay out of town, you may be offered delicious home-cooked meals. Most owners will meet you at the ferry if you reserve in advance and may even pick you up in
Vela Luka
.
Find out more about accommodation in Korcula Town and Korcula Island.
Tourist Information for Korcula
The Korcula tourist office (tel 20-715 701) is an efficient source of information on the west harbour near the Hotel Korcula.
Recommended Tours
More from Croatia Traveller
Questions? Comments?
©CroatiaTraveller 2005-2018 All rights reserved