Dubrovnik is a major stop on the Mediterranean cruise circuit receiving nearly a million passengers per year. If they all came at once the city would probably sink into the sea! The crush of cruise ship visitors has become deeply unpleasant to the old town's remaining residents and has even endangered Dubrovnik's World Heritage status. It also makes for a deeply unpleasant visitor experience. But your Dubrovnik dream holiday does not have to be disrupted by unmanageable crowds!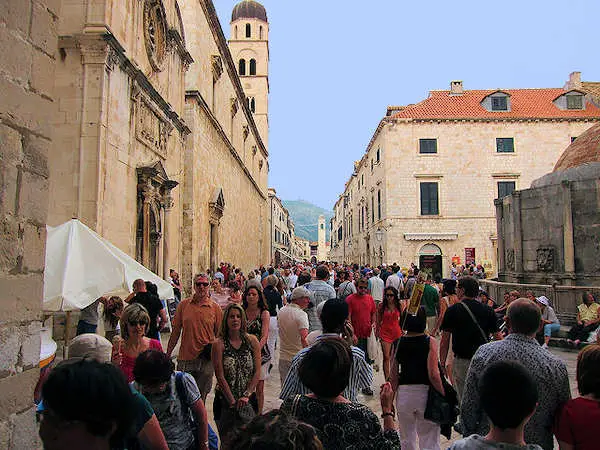 flickr by Mike Bull cc license
With Croatia Traveller's exclusive color-coded cruise arrival and departure guide, you can plan your visit when the Old Town is less crowded. It makes all the difference in the world.
The cruise season runs from March to November with the bulk of the ships docking from May to October. There are some "cruise-free" days but most days will see anywhere from 50 to a maximum of 9100 visitors descending upon Dubrovnik's Old Town. Most ships dock somewhere between 6 and 8am but on some days there's another arrival at 2pm.
Remember that the area contained within Dubrovnik's walls (circumference: 2km) is only 140000 square meters or 34 acres which means that on high-traffic days, Stradun, Dubrovnik's main street, is shoulder-to-shoulder with pedestrians. This you want to avoid if possible. And you can with the city's own Arrivals/Departures guide, exclusively available on Croatia Traveller.
Here's an excerpt: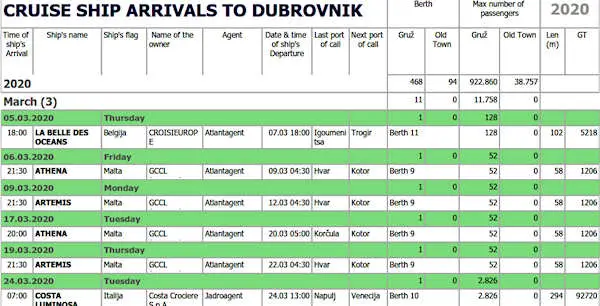 Once you know the month of your visit, I highly recommend that you download and consult the relevant cruise ship arrival schedule before planning your Dubrovnik sightseeing.
Cruise Ship Arrival/Departure Schedule
These color-coded pdf schedules with passenger numbers are exclusive to Croatia Traveller. The price is only €0.99 and the security of your payment is guaranteed by PayPal whether or not you have a PayPal account.
March 2020
DOWNLOAD FREE
April
DOWNLOAD NOW €0.99
May
DOWNLOAD NOW €0.99
June
DOWNLOAD NOW €0.99
July
DOWNLOAD NOW €0.99
August
DOWNLOAD NOW €0.99
September
DOWNLOAD NOW €0.99
October
DOWNLOAD NOW €0.99
November
DOWNLOAD FREE
The cruise ship arrival and departure schedule is conveniently colour-coded with the busiest days highlighted in red, the least busy days in green and moderately busy days in yellow. Also listed are the projected hours of arrival and departure, how many passengers disembark and whether the ship docks in Gruz or in the Old Town harbour. This is important because passengers on ships docking in Gruz will enter the Old Town through Pile gate while passengers disembarking in the Old Town harbour will enter on the opposite side of town, eastern Ploce gate. (The Old Town harbour is too shallow for bulky cruisers and can only welcome smaller ships)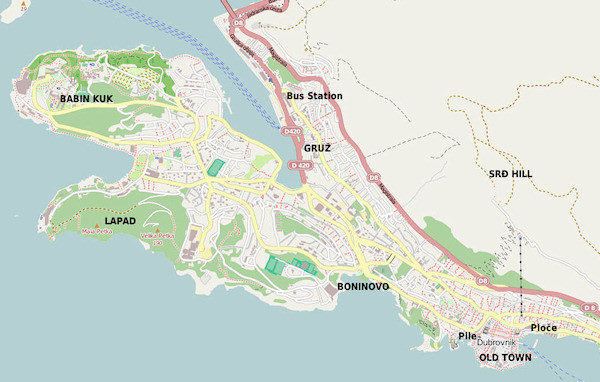 In many cases, it's only a matter of delaying your Dubrovnik walking tour by a day in order to better appreciate the city's charms without the crush of others. Besides there are plenty of things to do in Dubrovnik besides visiting the old town. Why not take a day trip on the busiest days?
[Check out 5 Insider Tips to Avoiding Crowds in Dubrovnik]
If you stay in the Ploce neighbourhood east of the old town, you can enter and leave the old town via Ploce Gate which is always less crowded than Pile Gate. Check out the offerings below:
Last updated January 24, 2020
---
Visitor Feedback
One of the most helpful things was the link to the Cruise Ship Arrivals. While some days 40,000 passengers debark into Dubrovnik,with the help of that link I was able to spend 3 nights there with a total of only 1,500 for the 3 days. A completely different experience thanks to you.
---
Recommended Experiences
More from Croatia Traveller
My Favorite Travel Accessories
©CroatiaTraveller 2005-2021 All rights reserved