Get Started
About Croatia
Essentials
Croatia Map
Croatia Photos
Guidebooks
When to Go
Top Sights
Accommodation
Transport
Car Rental
Croatia Ferries
Ferry Guide
Money
Adventure
Sailing
Cruises
Tours
Itineraries
Special Interests
Dalmatia

Dubrovnik

Islands

Istria

Kvarner
Split
Zadar
Zagreb
News Blog
Newsletter
Traveller Tips
About Me

Advertising
Trip Planning
Contact
Privacy Policy

Search Site
Site Index
Last Minute? No problem!
Get great deals on:
Holidays
from Thomson
Accommodation
from booking.com
Car Rentals
from rentalcars.com
Cruises & Tours
from Viator
Top
Destinations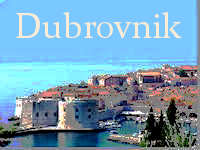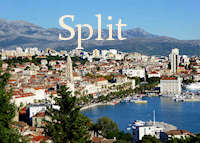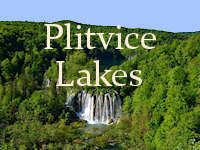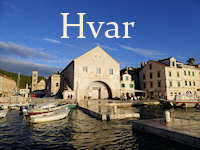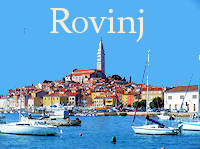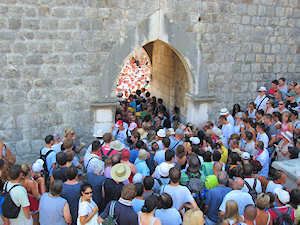 courtesy of Toronto Star
Crowds around Pile Gate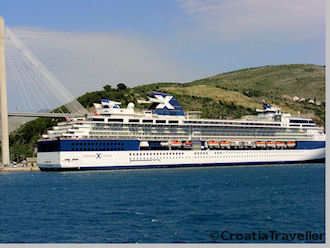 Cruise ship docked in Gruz
Dubrovnik is a major stop on the Mediterranean cruise circuit receiving nearly a million passengers per year. If they all came at once the city would probably sink into the sea!
The cruise season runs from March to November with the bulk of the ships docking from May to October. Each day during this period anywhere from a few hundred to 10,000 visitors may descend upon Dubrovnik's Old Town. Remember that the area contained within Dubrovnik's walls (circumference: 2km) is only 140000 square meters or 34 acres which means that on high-traffic days, Stradun, Dubrovnik's main street, is shoulder-to-shoulder with pedestrians. This you want to avoid if possible.
[Check out 5 Insider Tips to Avoiding Crowds in Dubrovnik]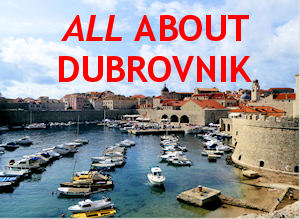 Fortunately, the Dubrovnik Port Authority, publishes a monthly schedule of cruise ship arrivals and departures, listing the cruise ships and the exact number of passengers they can carry. The schedule is conveniently colour-coded with the busiest days highlighted in red. Also listed is the exact hour of arrival and whether the ship docks in Gruz or in the Old Town harbour. This is important because passengers on ships docking in Gruz will enter the Old Town through Pile gate while passengers disembarking in the Old Town harbour will enter on the opposite side of town, eastern Ploce gate. You'll notice that most arrivals are in the morning. By mid-afternoon, the cruise ship passengers are on buses from Pile gate to Gruz harbour. Even on the busiest days, the Old Town starts emptying out by 3pm.
I highly recommend that you download and consult the relevant guide before planning your Dubrovnik sightseeing. In many cases, it's only a matter of delaying your Dubrovnik walking tour by a few hours in order to better appreciate the city's charms without the crush of others. The schedules are in pdf format and all are for 2017.
March
April
May
June
July
August
September
October
November
---
Visitor Feedback
One of the most helpful things was the link to the Cruise Ship Arrivals. While some days 40,000 passengers debark into Dubrovnik,with the help of that link I was able to spend 3 nights there with a total of only 1,500 for the 3 days. A completely different experience thanks to you.
---
Questions? Comments?
©CroatiaTraveller 2005-2017 All rights reserved