Brac Island (pronounced "Bratch") is the longest and most elevated island in central Dalmatia, 48km long, 14 km wide, covering 394 square kilometres. (see Brac Island on a map).
Despite its proximity to Split, Brac is less touristed than the glittering islands of Hvar and Korcula further south. No celebrities or tycoons glide their yachts into Brac harbors nor do politicians stroll village steets. For that reason, it provides an excellent window into authentic island life, particularly in the interior.
Brac also has an extensive and fascinating history as it has been inhabited since Neolithic times. More.
Brac is a relatively dry island; you won't find the lush vegetation of, say Korcula or Hvar, but there are some lovely spots along the rocky shores and great scuba diving from Lucice Bay.
Don't miss the olive oil in Brac! The olives are of a rare variety called buhavica and there's over a half-million trees. Olive cultivation dates back to the Venetian years. Back in 1655 the Venetian senate insisted that the island be carpeted with olive trees and imposed fines upon anyone with the temerity to damage the trees.
Geography
The highest peak on Brac Island is Vidova Gora at 778m which is the highest peak on the Adriatic islands. The interior of Brac is mostly small valleys and fields while on higher ground, north of Vidova Gora you'll find an endemic species of pine. Along the coast the woods are mainly Aleppo pine.
Brac is most famous for its beautiful white building stone which has been exploited since ancient Rome. Diocletian's Palace in Split was built from Brac stone and it is still used in the construction of buildings as far afield as Europe and north America.
Visit Brac on this incredible five-island tour from Split! More.
Concerned about flight chaos?
Travel insurance brings peace of mind
.
Find out more
Things to See & Do
Supetar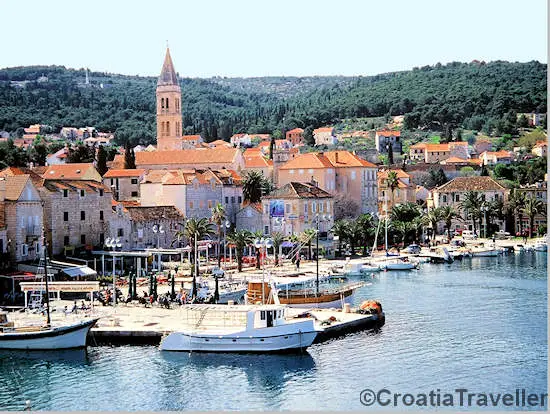 Supetar is the main entry point to Brac island, its capital and largest town. There are a few elaborate beach resorts, an 18th-century parish church and a cemetery crammed with sculpture. See more about visiting Supetar.
Bol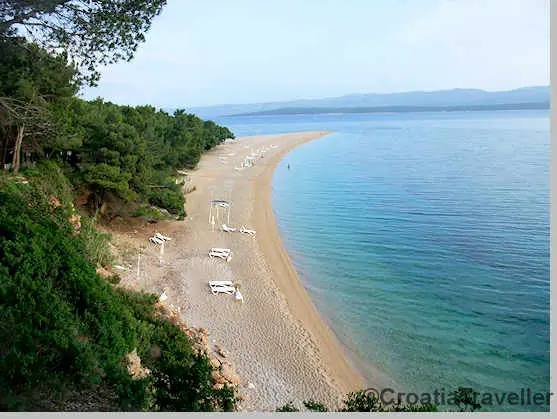 Bol is a small village that hosts a big, beautiful beach. Zlatni Rat or Golden Beach is one of Croatia's best beaches. It's a beach that changes from shallow and shady to sunny and deep, depending on the time of day and the wind. More about visiting Bol and Zlatni Rat.
This tiny village of only 400 people is ideal for a quiet holiday in a seaside village. Take holidays or while away the day at a nearby beach. More about visiting Splitska.
Skrip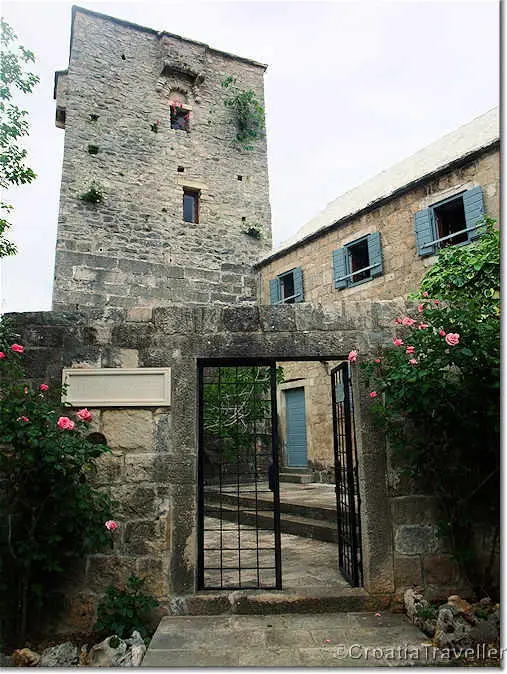 Skrip is an easy walk or drive from Splitska and is a fascinating stop for history buffs. The medieval town center has prehistoric walls and an Island of Brac museum. More about visiting Skrip.
Milna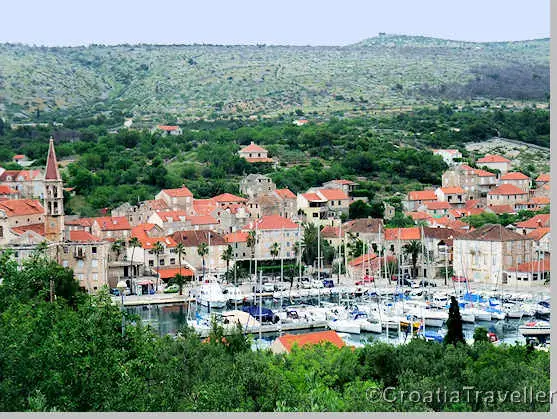 On either side of Milna's stunning harbour stretch pebble and sand beaches. Pathways connect the town center with farms and vineyards in the interior. More about visiting Milna.
Pucisca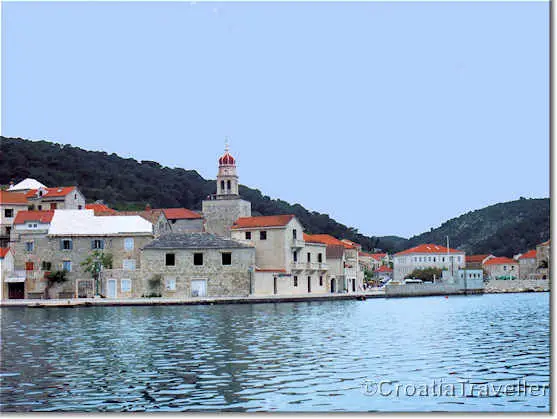 Pucisca is famous for its gleaming white stone that is still carved at its renowned stonemason school. Visiting the school is a delightful introduction to the fine art of stone carving. Notice the handsome Renaissance buildings lining the harbour, one of which has been transformed into a fine hotel. More about visiting Pucisca.
Getting Around Brac Island
One nice way to discover the island is to take one of the walking tours offered by a local couple, Vic and Angela, at Footsteps in Croatia.
Without your own wheels it is only slightly inconvenient to get around Brac as there are regular bus services to all parts of the island. Note that all services begin or end in Supetar however. If your plan is to go from Milna to Bol for example, you'll have to go to Supetar first.
Compared to other islands in southern Dalmatia, it's relatively inexpensive to stay in Brac. Because of its beach, Bol is by far the most popular destination and the priciest in summer. More.
Getting to Brac
Brac is one of the easiest islands to get to from Split which is why many Croatians from Zagreb or Split buy second residences in Brac. You can even do it as a day trip from Split.
By Plane
From May to October Croatia Airlines runs twice weekly flights from Zagreb to Brac airport. The airport has recently expanded and will, for the first time, receive international flights. In summer 2018 Eurowings will connect Brac with Germany; Adria Airways will connect Brac with Ljubljana; Skywork Airlines will connect Brac with Berne; TUIfly will connect Brac with Rotterdam; Luxair will run flights to Luxembourg.
By car ferry

There are at least a dozen
Jadrolinija
car ferries a day from
Split to Supetar
(50 minutes) in summer, less at other times of year. See the
Split-Supetar ferry timetable.
Coming from Makarska by car, you can take one of the frequent Jadrolinija car ferry shuttles to Sumartin. Foot passengers are welcome but check the bus schedule carefully (see below) as you could wait a while in Sumartin for the next bus across the island. Most car rental companies have outlets in Makarska. See more.
By passenger ferry
The only year-round passenger ferries are:
the Split-Milna-Hvar-Vis ferry

the Split-Bol-Jelsa (Hvar Island) ferry
In the summer there are regular catamarans from Split to Milna that go on to Hvar, Korcula, Mljet and Dubrovnik. See the Split-Milna-Hvar-Korcula-Mljet-Dubrovnik catamaran schedule.
Also in summer only is a daily passenger ferry from Dubrovnik that touches down in Korcula and Hvar before landing in Bol and then going on to Split. See the Dubrovnik-Korcula-Hvar-Bol-Split schedule.
  Tourist Information in Brac
There's no central source of island information. See the tourist offices in Supetar and Bol.