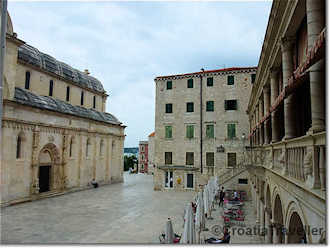 Sibenik Central Square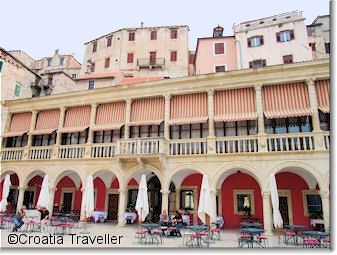 Venetian loggia on Sibenik's central square

As Dalmatia's least touristed city, Sibenik (pronounced She ben ik) makes a good stop for those seeking a more authentic view of Dalmatian life. (See Sibenik on a map of Dalmatia ) Much of the town is rather workaday but the historical centre contains Croatia's most magnificent church, the Cathedral of St James (Sv Jakov). It's worth a detour just to see it.
The most recent addition to Sibenik's sightseeing scene is the Sibenik Aquarium opened in 2013. The collections boasts 500 fish of 100 species and is planning on collecting more.
There are several other impressive churches, a Franciscan monastery and some museums but the other main appeal of Sibenik is its proximity to the Krka National Park. Local tourist agencies also run boats to the Kornati Islands National Park. Other interesting nearby destinations include Tribunj, Vodice, Primosten, Zlarin and Murter.
Who knows when Sibenik was founded? It's unclear but the town probably dates back to the 9th century. More.
Getting to Sibenik
There are no boats to Sibenik but most of the many daily buses running between Split and Zadar make a stop there and there are frequent buses from Dubrovnik (see the schedule at buses from Dubrovnik) Sibenik is also connected by daily trains to Zagreb but it is usually faster and more convenient to take a bus from Zagreb. Check the bus schedules and book.
Sibenik is an easy day trip from Split and easy to visit via an organised tour.
A bus or tour may not be convenient however, if you're taking an international train to Zagreb. In that event, it's probably easier to just go on by train. Note that trains to Sibenik change at Karlovac and Knin. Find out more about trains to Croatia and trains in Croatia.
Of course, nothing beats the convenience of having your own wheels. Most major car rental agencies in Croatia have outlets in Sibenik.
You could stay in town but most people head out to the Solaris Beach Resort on the outskirts of town. Find out more about
where to stay and best deals in Sibenik
.
Tourist Information
The Sibenik tourist office (tel 022-214 411) is in the town centre at Obala Tudjmana 5.
Recommended Tours
More from Croatia Traveller
Questions? Comments?
©CroatiaTraveller 2005-2018 All rights reserved