My first visit to Vis Island many years ago was a revelation. The unspoiled beauty left me breathless. As an army base in former Yugoslavia, Vis Island never developed a tourist industry. When Vis finally opened for business in 1989, visitors were pleased to discover that its natural beauty remained intact. (See Vis Island on a map of Dalmatia) The natural vegetation of Vis Island includes pine trees, carob trees and citrus orchards as well as exotic species such as palm trees, cacti and a particularly rare silver palm tree. Much of the island is devoted to vineyards that produce the famous white wine, "Vugava" and the red wine "Plavac".
No nightlife, no package tourists, no big hotels, no fuss, no hubbub; Vis Island so epitomized Mediterranean life that it was chosen as the filming location for Mamma Mia: Here We Go Again! For several months in early autumn 2017 Hollywood descended upon the island, hiring locals as extras and using the old stone towns of Vis and Komiza as a backdrop for their musical. Real estate prices soon surged even before the film was released and it may well be that slow-paced, uncrowded Vis will soon be gone forever.
Meanwhile, it's well-worth the long ferry ride from Split to enjoy the island's natural beauty, its famous wines and traditional fishing villages.
Wine on Vis Island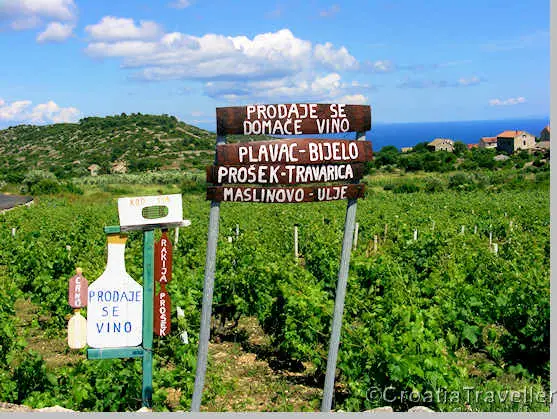 Winemaking has a long history on Vis Island, dating back to the Greeks, and it's very much alive today. Vugava is the white grape behind Vis's wines, probably brought to the island by the Roman army. It's a delicate grape to cultivate as it must be harvested at exactly the right time. The sweet, fruity wine it produces is not to everyone's taste which is why it's often partnered with Chardonnay, Pinot Gris or Sauvignon Blanc.
Some popular wineries to visit are: PO Cobo (tel 021-713 750) in Podspilje; Lipanovic (tel 021-711 932) near Tito's Cave; Poduje (tel 091 941 4185); Podspilje (tel 021-715 054) in Podspilje; and Roki's (tel 021-714 004, www.rokis.hr) 6km from Vis in Plisko. It's wise to call in advance to set up an appointment. The Vis town tourist office has a complete list of wineries and will help you find them.
What to See & Do on Vis Island
Vis Town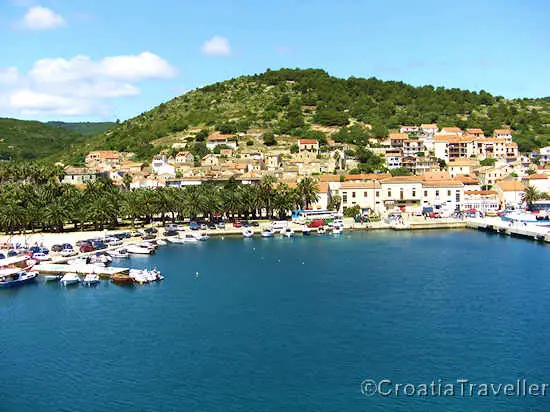 On the northeastern coast, it's the oldest settlement on the island. In addition to interesting ruins from the Greek and Roman period, there are villas and churches dating from the 16th and 17th centuries.
Komiza


This picturesque fishing village on the western coast is the other main town and makes a good base to catch a boat to the lovely Blue Grotto on tiny Bisevo island.

Beaches


There are some marvelously untouched beaches on Vis Island, mostly on the southern coast. More on Vis beaches.
Scuba Diving
Unlike other Croatian islands, the waters surrounding Vis Island were never over-fished which left a teeming underwater life. Scuba divers now swarm through waters filled with some of the Adriatic's most vivid fish swimming through coral and sea sponges.
History
Vis was inhabited as early as the late Neolithic era and then by the Illyrians. In 390BC the Greeks formed a colony called Issa in the area called Gradina. It became a powerful colony, trading wine with other Greek towns. Vis later became a Roman colony and then fell under the control of the Byzantine empire before becoming a part of the earliest Croatian state. From the 13th to the 18th century Vis was part of the commune of Hvar. Along with the rest of Dalmatia, Vis was absorbed by Venice in 1420. It remained a part of the Venetian empire until Venice fell to Austria in 1797.
Relaxed, informal and not too expensive, Vis Island accommodation is not for luxury-lovers. Read more.
Tourist Information in Vis
In Vis Town, the Vis tourist office (tel 021-711 017) is at Setaliste Stare Issa 2, next to the ferry dock. It dispenses information about the town and the island of Vis.