My first visit to Vis Island many years ago was a revelation. The unspoiled beauty left me breathless. As an army base in former Yugoslavia, Vis Island never developed a tourist industry. When Vis finally opened for business in 1989, visitors were pleased to discover that its natural beauty remained intact. (See Vis Island on a map of Dalmatia) The natural vegetation of Vis Island includes pine trees, carob trees and citrus orchards as well as exotic species such as palm trees, cacti and a particularly rare silver palm tree. Much of the island is devoted to vineyards that produce the famous white wine, "Vugava" and the red wine "Plavac".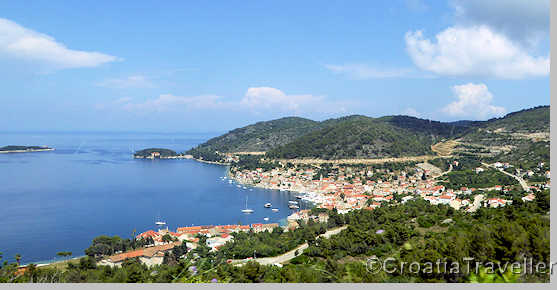 No nightlife, no package tourists, no big hotels, no fuss, no hubbub; Vis Island so epitomized Mediterranean life that it was chosen as the filming location for Mamma Mia: Here We Go Again! For several months in early autumn 2017 Hollywood descended upon the island, hiring locals as extras and using the old stone towns of Vis and Komiza as a backdrop for their musical. Real estate prices soon surged even before the film was released and it may well be that slow-paced, uncrowded Vis will soon be gone forever.
[Check out the filming locations for Mamma Mia: Here We Go Again!]
Meanwhile, it's well-worth the long ferry ride from Split to enjoy the island's natural beauty, its famous wines and traditional fishing villages.
Map of Vis Island
Main Towns
Vis Town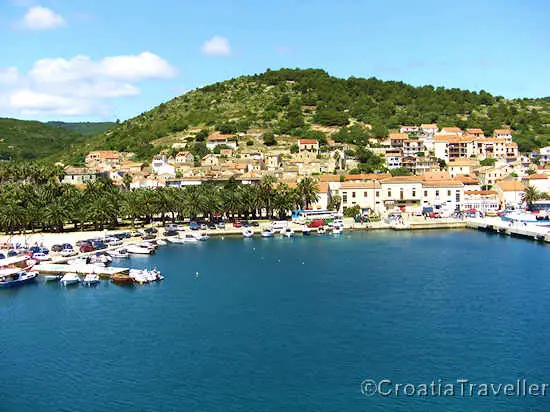 On the northeastern coast, Vis town is the oldest settlement on the island. In addition to interesting ruins from the Greek and Roman period, there are villas and churches dating from the 16th and 17th centuries. The highlight is undoubtedly the Archaeological Museum which contains several exquisite Greek sculptures.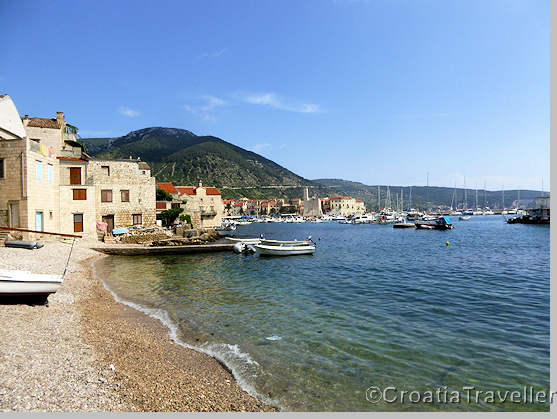 This picturesque
fishing village
on the western coast is the other main town and makes a good base to catch a boat to the lovely
Blue Grotto
on tiny
Bisevo
island.
Things to Do on Vis Island
Tour Wineries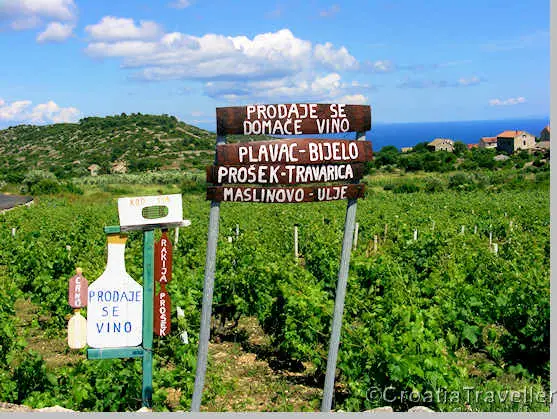 Wine making has a long history on Vis Island, dating back to the Greeks, and it's very much alive today. Vugava is the white grape behind Vis's wines, probably brought to the island by the Roman army. It's a delicate grape to cultivate as it must be harvested at exactly the right time. The sweet, fruity wine it produces is not to everyone's taste which is why it's often partnered with Chardonnay, Pinot Gris or Sauvignon Blanc.
Concerned about flight chaos?
Travel insurance brings peace of mind
.
Find out more
Some popular wineries to visit are: PO Cobo (tel 021-713 750) in Podspilje; Lipanovic (tel 021-711 932) near Tito's Cave; Poduje (tel 091 941 4185); Podspilje (tel 021-715 054) in Podspilje; and Roki's (tel 021-714 004, www.rokis.hr) 6km from Vis in Plisko. It's wise to call in advance to set up an appointment. The Vis town tourist office has a complete list of wineries and will help you find them.
Visit Tito's Cave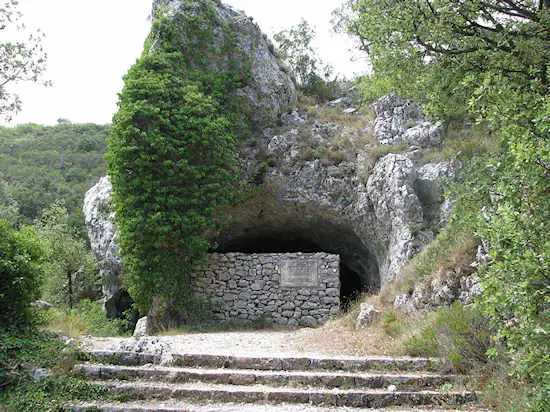 By Ex13 cc license
From June to October 1944, Marshal Tito sheltered in this cave along with his political and military advisors. It became his headquarters as he directed diplomatic activities with the Allies and orchestrated operations to liberate Croatia's coast and islands. There were two "rooms" inside the cave. One was outfitted with a desk, chair and phone; the other served as his sleeping quarters. Although of undeniable historic interest, the cave is now empty inside. It's not easy to find but local travel agencies organize excursions to the cave and other military sights such as tunnels and a missile base at Stupisce point near Komiza.
Relax at the Beach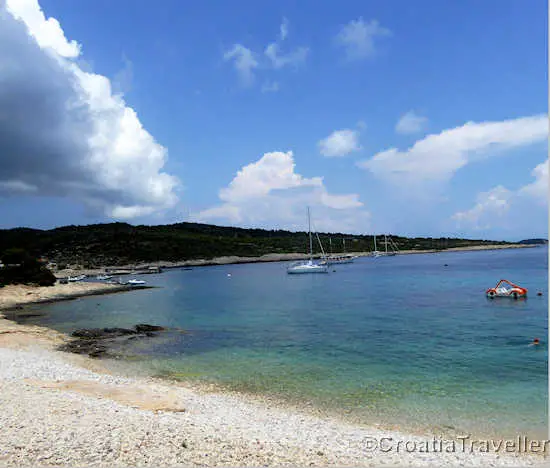 In addition to beaches outside Komiza and Vis town, there are some marvelous beaches on Vis Island such as Rastovaca (above). More on
Vis beaches
.
Explore the Underwater Life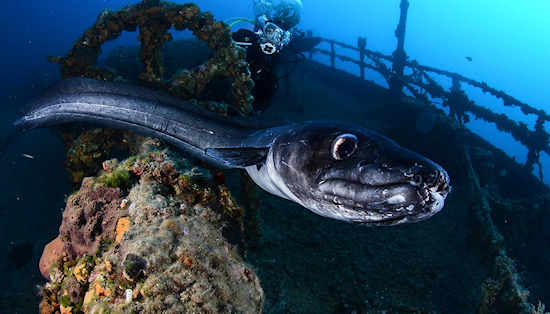 courtesy Issa Dive Center
Unlike other Croatian islands, the waters surrounding Vis Island were never over-fished which left a teeming underwater life. Scuba divers now swarm through waters filled with some of the Adriatic's most vivid fish swimming through coral and sea sponges. Issa Dive Center in Komiza can set you up with equipment and excursions.
Sip Cocktails in Fort George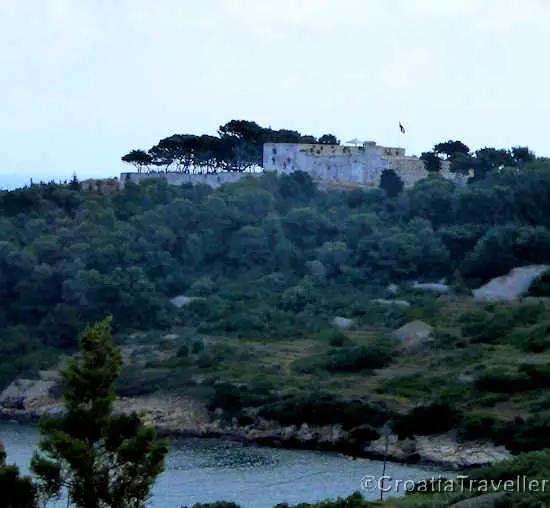 Named after King George III, the British erected this fort after their 1811 victory in the Battle of Vis. Now restored and renovated, Fort George houses a restaurant and a terrace bar overlooking Vis town. Watch for special parties in the summer or come up at the end of the day to watch the sunset. See the
Fort George website
for more information.
Take a trip to the Blue Cave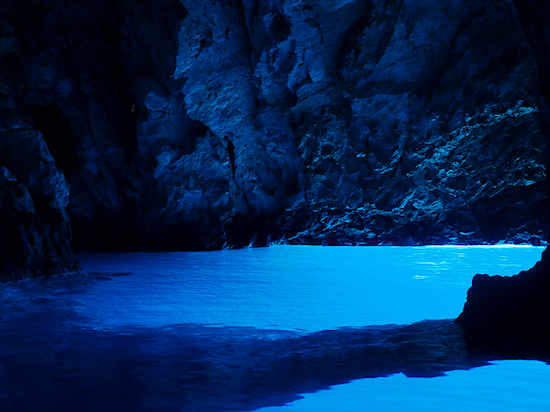 Flickr by Marco Klapper
Just a short hop from Vis is Bisevo island and the spectacular Blue Cave. The luminescence inside this natural wonder is unforgettable. The best place to find a boat out there is from Komiza. See more about visiting the Blue Cave.
Eat Lobster at Jastozera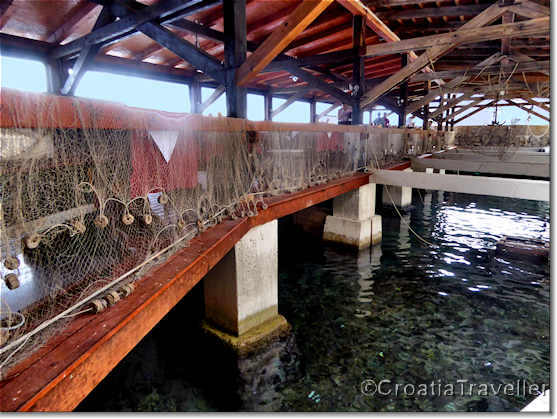 Konoba Jastozera
serves up the freshest lobster in a variety of tantalizing dishes. Even better is the stunning setting. Diners are seated on wooden planks right over the sea, near the cages where the lobsters await their fate. Not a crustacean fan? Try the grilled fish or octopus salad. It's worth a trip to Komiza. Reserve in advance on their
website
.
Marvel at Ancient Issa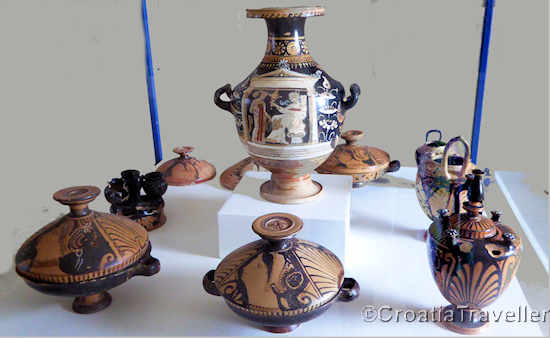 Vis town (Issa) was settled by the ancient Greeks and then passed to the Romans. The excellent Archaeological Museum is a good place to immerse yourself in antiquity through exquisite Greek vases, jewelry, coins and a celebrated bronze head of Artemis. Don't miss the remains of a Greek necropolis and Roman baths right on the harbour. More on visiting Vis town.
Take a private boat tour of Vis Island

History
Vis was inhabited as early as the late Neolithic era and then by the Illyrians. In 390BC the Greeks formed a colony called Issa in the area called Gradina. It became a powerful colony, trading wine with other Greek towns. Vis later became a Roman colony and then fell under the control of the Byzantine empire before becoming a part of the earliest Croatian state. From the 13th to the 18th century Vis was part of the commune of Hvar. Along with the rest of Dalmatia, Vis was absorbed by Venice in 1420. It remained a part of the Venetian empire until Venice fell to Austria in 1797.
During WWII, Vis island was an important military base. Following the capitulation of Italy in 1943, the island became the main naval base and headquarters for the Partisan navy and the 26th Army Division. As all of Croatia except for Vis was occupied by the Germans, Vis served as a liaison centre with the Allies in southern Italy. From the beginning of 1944, the island was fortified and an airport was built for operations by Allied aircraft. The Germans launched an unsuccessful air attack on the island but postponed plans for an invasion. Tito and his Partisans set up headquarters in Vis in June of 1944 where they remained until October.
Relaxed, informal and not too expensive, Vis Island accommodation is not for luxury-lovers but perfect for those looking for an authentic island experience. Read more about staying on Vis island.
Getting Around Vis Island
To explore the beaches, vineyards and out-of-the-way corners of Vis island, motorized transport is essential. A number of agencies in Vis town will rent you a car (from €60), boat (from €120) or scooter (from €25) to tool around the island.
There are frequent buses between Vis town and Komiza making it possible to day trip between the two towns. Ferries to Vis stop at Vis town and buses to Komiza meet all ferries. From Komiza buses will shuttle you to the ferry port in Vis town. The price of a bus ticket is €3.30.
    Tourist Information in Vis
In Vis Town, the Vis tourist office (tel 021-711 017) is at Setaliste Stare Issa 2, next to the ferry dock. It dispenses information about the town and the island of Vis.
Last Updated: December 8, 2022