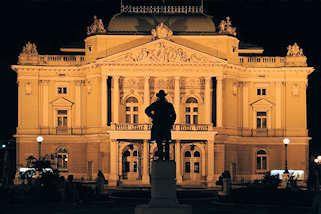 Rijeka train station
History
The first great wave of Croatian immigration to America began in the mid-19th century. The first to arrive were the sea-faring Dalmatians and then, when the railway to Rijeka was completed, Croatians from the interior found it easier to reach the sea and began flocking to America en masse at the end of the century. Mostly, they gravitated to the Midwest to mine coal in Ohio, iron in Minnesota and copper in Michigan.
There was a second wave of economic migrants after WWII and political migrants in the 1960s. Exact numbers are hard to come by as many emigrating Croats were simply marked "Yugoslav" for census purposes. The Yugoslav Wars of the 1990s sparked another small wave of Croatian immigration to America, with many settling in Pittsburgh and Indianapolis.
Population
Croatian-Americans form a large and vibrant community. According to the most recent figures, there are 434,000 Croatian-Americans. (Source: U.S. Census Bureau, 2009 American Community Survey). This figure probably undercounts the number of Americans with Croatian ancestry as the census survey also includes 325,000 "Yugoslavs". Of Croatians in the US, 23% live in the Northeast, 40% in the Midwest, 15% in the South and 23% in the West.
The state with the largest Croatian population is now Pennsylvania, especially Pittsburgh and its surroundings. Chicago and Indianapolis are also major Croatian centers making Illinois the state with the second largest Croatian population. California and Ohio also have significant Croatian communities. For a detailed history of Croatian immigration to America see Croatians.com
Croatian-American Organizations
Over the years, Croatian-Americans have formed various professional, social and cultural networks to solidify their ties. Here is a selection of national organizations:
Croatian National Association
A non-profit organization to promote Croatian culture and humanitarian events.
Croatian American Association
Lobbying Congress on Croatian issues
Croatian-American Society
Zagreb-based friendship organization
Croatia World Network
News from and about Croatia
Croatian Chronicle
Online magazine
Cro American Bar Assoc.
Croatian attorneys in American and around the world
Croatian Heritage Foundation
Events and news promoting Croatian culture in America and abroad
Croatian Fraternal Union
Fraternal organization
National Federation of Croatian Americans Cultural Foundation
An umbrella group representing all major Croatian-American organizations.
Also see these local groups:
Libertas Foundation
Celebrating Dubrovnik culture in San Pedro, CA
New York Croats
News and cultural promotion
Las Vegas Croatians
Events
PhoenixCroats.com
Social group in Phoenix, AR
Geneological Links
Other Helpful Links
Croatian Embassy
The first stop for news about Croatia and Croatian-American relations, plus assistance for Croatian citizens. Publishes a newsletter.
CroatianTV-America
Keep in touch with news from home.
Recommended Experiences
My Favorite Travel Accessories
©CroatiaTraveller 2005-2022 All rights reserved