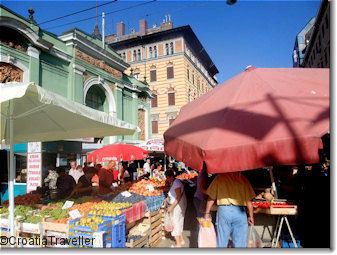 Market day in central Rijeka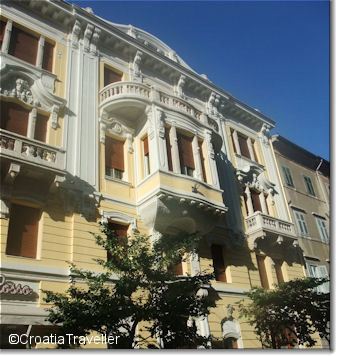 Typical Rijeka building
For years Rijeka was the overlooked child of Croatian tourism. At the crossroads between glamorous Istria and the Kvarner coast and islands, few tourists saw any reason to explore Rijeka's quiet charms. Now that Rijeka has been named European Capital of Culture 2020, Croatia's third largest city may finally get the respect it deserves. The designation has given a much-needed lift to this city of 128,000 that has been beset by high unemployment and the disappearance of its industrial base.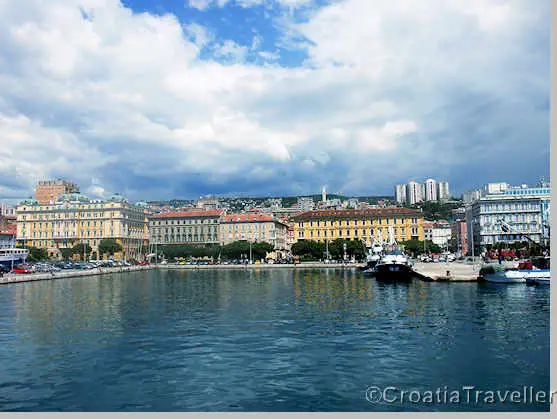 Culture is the new watchword and the city is investing heavily in refurbishment. Once a key port for the Austro-Hungarian empire, Rijeka's architectural heritage has been well preserved. Now the stately Austrian buildings are also housing galleries, cafes and trendy restaurants with more to come. Aging port facilities and crumbling factories are slated to become centers for art and culture. One project that has become controversial is the plan to transform Tito's old yacht, Galeb, into a historical museum. The former Yugoslav leader is honored in so-called "Red" Rijeka but Croatian nationalists are vehemently opposed to any remembrance of Tito.
Rijeka History
Rijeka is an open, tolerant, diverse city largely due to its tangled history. It was first settled by the Romans who named it Tarsaticae. Then Slavic tribes moved in in the 7th century, attracted by the abundant drinking water. Rijeka continued under German and Frankopan rule until it became part of the Austrian empire at the end of the 15th century.
For the Austrians, Rijeka was a much-needed outlet to the sea and they lost no time in building a road connecting Vienna with the Kvarner coast just south of the city. The city's wealth increased as shipbuilding became a cornerstone of the local economy.
In 1750 Rijeka suffered a devastating earthquake which destroyed the town walls and much of the town centre. Fortunately Rijeka's clock tower and city gate survived.The lively pedestrian street, Korzo, was constructed on the site of the former town walls.
Many of the most majestic buildings date from the 19th century when Hungary assumed control and dispatched their architects to burnish the town centre.
With the building of the Budapest-Vienna-Zagreb-Rijeka railroad (a line which is still in use), Rijeka prospered. All was well until Italian troops seized Rijeka in 1918 and named it Fiume. It was awarded independence under the 1920 Treaty of Rapalla but it only lasted until 1924. The Treaty of Rome split Rijeka, giving the area west of the river to Italy and the rest to the Kingdom of Serbs, Croats and Slovenes. After liberation by Tito's Partizans in 1942, the city became part of postwar Yugoslavia. There is still a sizeable Italian minority.
Stroll Korzo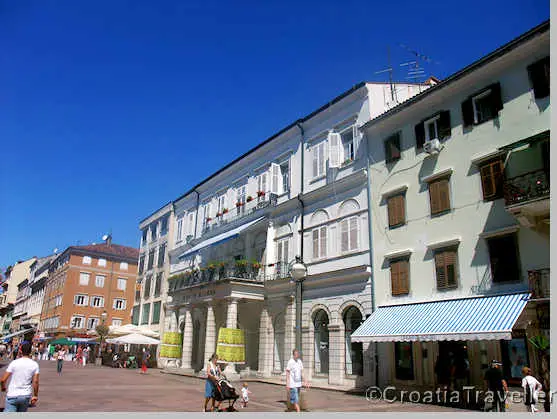 Korzo is Rijeka's main pedestrian artery and it's a beauty, lined with majestic Habsburg-style buildings. Notice the striking clock tower that was once one of the main gates to the city.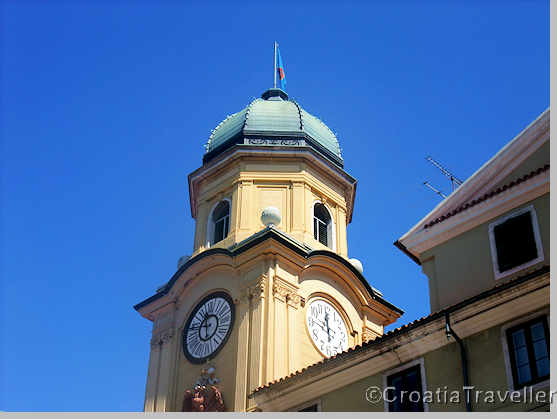 Head to the Hills-- Trsat Hill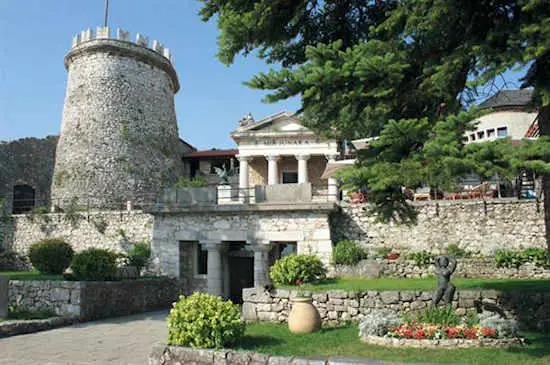 The hill-fortress-castle of Trsat just outside Rijeka is a recreation area, historical monument and pilgrimage site all at once. Plus, the views are great. More about Trsat.
Museum Hop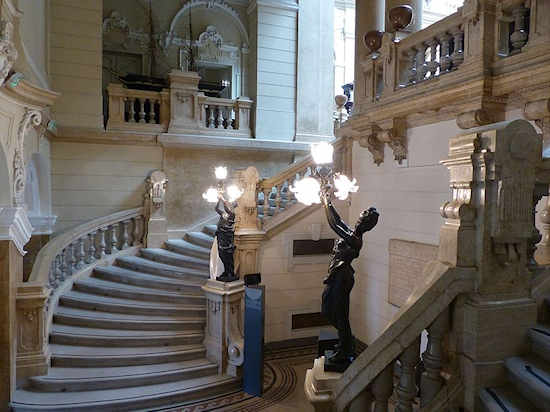 Elekes Andor under cc license
Rijeka's Maritime and History Museum is housed in the splendid "Governor's House" (above), a 19th-century palace. The same ticket includes admission to the Natural History Museum, the Museum of Modern and Contemporary Art, the City Museum and the Museum of the Croatian Littoral.
Dive Into Rijeka's Indie Scene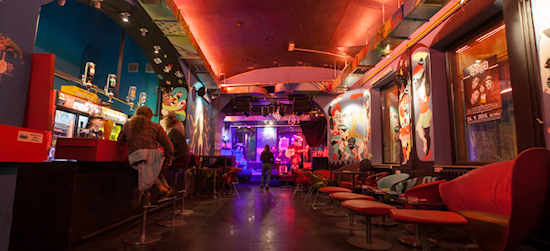 Start with the venerable Club Palach, Youth Cultural Center which has been ground zero of Rijeka's alternative scene since 1966. See a rock concert, catch a screening or show and pick up flyers announcing events at Rijeka's other clubs and galleries.
Prance and Dance at the Rijeka Carnival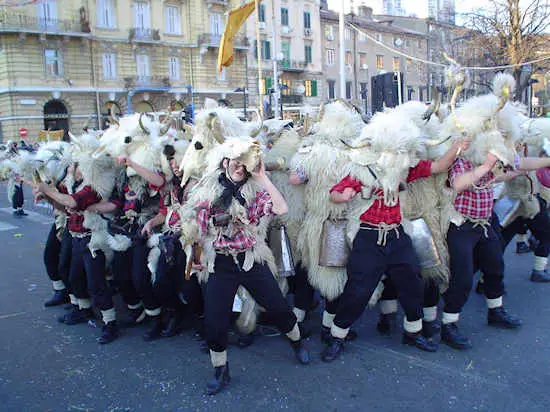 Rabko under CC license
The Rijeka Carnival is renowned throughout the country for its lavish parades, masked balls and total dedication to the art of partying. Let the revelry begin. More.
Stay in a Botel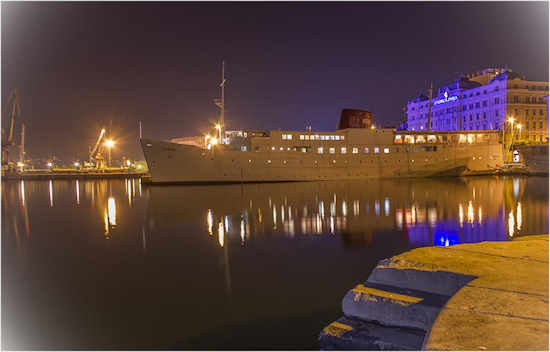 What's a Botel? A boat that has been transformed into a hotel! The Marina was a car ferry, built in Denmark in 1936. In the 1990s it served to link Zadar with Pula and Venice and now it's been completely (and expensively) overhauled to become the hostel/hotel Botel Marina, anchored in Rijeka's harbour.
[Check out more things to see in Rijeka]
With flights, buses, and trains all converging on Rijeka, travel to Rijeka is not a problem. Ryanair has regular seasonal flights to Rijeka from London-Stansted. Eurowings connects Rijeka with London, Birmingham, Edinburg and Manchester. Regular daily trains connect Rijeka with Zagreb and dozens of buses connect Rijeka with cities throughout Croatia. Find out more about getting to Rijeka.
Getting Around Rijeka
Rijeka has a good public transport system that's useful for visiting the region, especially Opatija. In its push to modernize, Rijeka is proud of being the first in the country to have "smart" bus stops which show the buses arriving in real time along with maps and schedules. The bus stop "hotspots" allow for WiFi and wireless solar-powered charging of all your devices.
Of course, nothing beats the convenience of having your own wheels. I find that Autoeurope usually offers the best deals on car rentals in Rijeka. Find out more.
Unlike many places in Croatia, you cannot count on old ladies meeting you at the train or bus station and proposing rooms. Hotels, hostels and private accommodation are plentiful. Find out more about Rijeka hotels and private accommodation.
Nightlife in Rijeka
Now you're talking! Rijeka has turned into 'Nightlife Central' in northern Croatia. Even nightcrawlers from Zagreb are piling into Rijeka on the weekend for the incredible choice of bars. From cosy pubs to pulsing discos and alternative rock, Rijeka has everything and it's all located in the town centre. You don't need a car, boat or bike. Just stroll along Korzo, the central promenade, or head down to the waterfront to experience the latest in Croatian nightlife.
Tourist Information in Rijeka
The Rijeka tourist office (051-335 882) is friendly and efficient. It's right on Rijeka's main pedestrian street at Korzo 33.
Recommended Tours
More from Croatia Traveller
My Favorite Travel Accessories
©CroatiaTraveller 2005-2019 All rights reserved