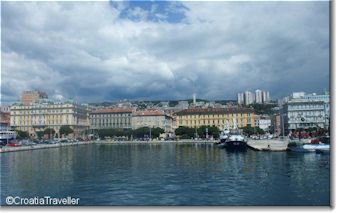 Rijeka's Port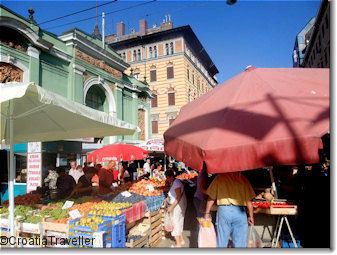 Market day in central Rijeka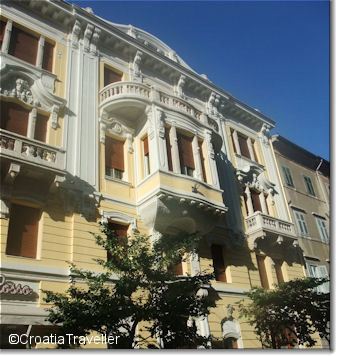 Typical Rijeka building
So many tourists come to Rijeka on the Gulf of Kvarner only to leave it as fast as possible. Rijeka is Croatia's major transport hub and the main embarkation point for the ferries to Dubrovnik. With boats, trains and buses leaving for nearly everywhere in Croatia, Rijeka is a busy place.
No one would accuse Rijeka of being a must-see destination but it certainly has enough sights to keep a visitor busy for a day or so. The Austro-Hungarian buildings lining the city centre create an appealingly Old Europe atmosphere and there are a number of interesting churches and museums. Most impressive is Trsat Castle perched on a high hill overlooking the city.
Try to come to Rijeka for the Rijeka Carnival a splendid event and the largest carnival in Croatia. See more on sights to see in Rijeka.
With flights, buses, ferries and trains all converging on Rijeka, travel to Rijeka is not a problem. Find out more about getting to Rijeka.
Getting Around Rijeka
Rijeka has a good public transport system that's useful for visiting the region, especially Opatija. Of course, nothing beats the convenience of having your own wheels. I find that Autoeurope usually offers the best deals on car rentals in Rijeka. Find out more.

Unlike nearly everywhere else in Croatia, you cannot count on old ladies meeting you at the train or bus station and proposing rooms. There is very little private accommodation available in Rijeka; most people head out to Opatija only 30 minutes away. Find out more about Rijeka hotels and private accommodation.
Nightlife in Rijeka
Now you're talking! Rijeka has turned into 'Nightlife Central' in northern Croatia. Even nightcrawlers from Zagreb are piling into Rijeka on the weekend for the incredible choice of bars. From cosy pubs to pulsing discos, Rijeka has everything and it's all located in the town centre. You don't need a car, boat or bike. Just stroll along Korzo, the central promenade, or head down to the waterfront to experience the latest in Croatian nightlife.
Tourist Information in Rijeka
The Rijeka tourist office (051-335 882) is friendly and efficient. It's right on Rijeka's main pedestrian street at Korzo 33.
Other Rijeka Resources
City of Rijeka--in English and with links to an interactive map, webcams and more.
Rijeka Culture--updated events and listings (in Croatian)
Questions? Comments?
©CroatiaTraveller 2005-2017 All rights reserved