Are you in a FERRY FRENZY? CONFUSED about the blizzard of local ferries to and from your favorite Croatian destinations like Split, Dubrovnik, Hvar and Korcula? Believe me, I understand! There are up to 24 car ferries and catamarans each season, run by six different companies and the timetables change two, three and sometimes four times a year.
Sure, all ferry timetables are online somewhere but not in a format that makes it easy to see all the ferries running between destinations. For example, in the summer there are no less than eight daily car ferries and catamarans between Split and Hvar island.
Money matters too. Prices can vary wildly depending upon whether the route involves a car ferry or a catamaran. Payment options differ from company to company as well. For some ferry lines there is online booking; for others you can't reserve in advance; for others you must pay cash on the spot!
You can scramble across the internet digging through ferry schedules or you can save time and get them all in one place. And, if your itinerary changes while you're on the road or you miss a ferry, there's no need to wait for a wifi connection or look for a travel agency to find out when there's another departure. The information is in your pocket.
My 52-page downloadable ferry guide makes travel planning easy. ALL local ferries between Split and Dubrovnik are in a comprehensible, logical and easy format so you can quickly understand when there are ferries to your destination.
Each ferry route also contains booking information so you know exactly how to reserve and pay for your transport.
And, I give prices for each route to help you master your budget.
You will also find a list of the local ferry companies with links to more information and online booking, if available.
Testimonials
this is the best investments I have ever made towards travelling around Europe. People might think that moving around the Crotatian islands and mainland with a car is just too difficult but with this guide it really is so easy. . . Anyone who has any doubts, just do it, with the hel of this guide you can't go wrong. Karen Balla
This ferry guide is ESSENTIAL for Croatian vacations, especially if you do not speak Croatian. Best travel aid I have ever bought for exploring the islands. John Finch
This is brilliant. Lyndsey
Thanks.This really helped our travel planning! Chris
More Details ?
Convenient and portable, this guide is in pdf format, easy to read on your computer, smartphone or other portable device.
Included are schedules, prices and booking information for ALL local car ferries and passenger boats to and from :
Split
Brac Island
Solta Island
Vis Island
Hvar Island
Korcula Island
Peljesac Peninsula
Makarska
Mljet Island
Dubrovnik
Elaphiti Islands
Lastovo Island
YOUR SATISFACTION IS GUARANTEED OR YOUR MONEY BACK!
Get your indispensable downloadable ferry guide now!
How does it work?
1) Buy the ferry guide in a secure transaction handled by PayPal (even if you don't have a PayPal account)
2) Receive a link to the ferry guide, ready for download, in your confirmation email as well as a link to the Update Page and the option to subscribe to the FREE Ferry News newsletter.
Your transaction is absolutely secure. I do not receive your credit card information because the transaction is handled by ultra-secure PayPal. And, your email address will not be sold, bartered, rented or used again in any way. (See the Croatia Traveller privacy policy)
There are often changes, updates and even new routes. As part of your purchase you will have exclusive access to a page noting all changes, new routes and updates with an option to download the files and add to your Ferry Guide. If you subscribe to my special FREE Ferry News newsletter, you'll be personally notified whenever there's a change.
I watch Croatia ferry schedules so you can concentrate on planning your holiday!
But wait! Looking for an even better deal? Get all the ferry timetables together with a complete 130-page pdf guide to Dalmatia and save money! Buy Croatia Traveller's Dalmatia: Split to Dubrovnik 2017 that now includes the ferry timetables as well as destination information on every island, town, village and beach between Split and Dubrovnik. More.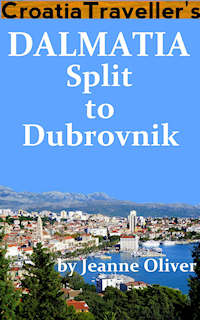 Subscribe to Croatia Ferries News by email