Accommodation in Dubrovnik spans everything from hostels to hotels. The trend is clearly towards high-end hotels with prices now nearing those of any other European resort destination in July and August but there are excellent budget choices for apartments, B&Bs and guesthouses as many locals have renovated, enlarged or constructed apartments to accommodate visitors.
[Check out the best hotels in Dubrovnik]
You are sure to find accommodation within your taste and budget all over Dubrovnik so the first question should be:
Where Should I Stay in Dubrovnik?
It depends on what you're looking for of course. Start with this map of Dubrovnik's neighbourhoods to get the overall layout. Click on the district name to see all accommodation within.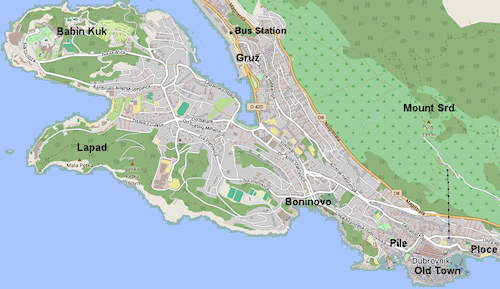 Now, let's consider each neighbourhood individually:

Old Town
The experience of waking up in Dubrovnik's historic centre is unmatchable and sightseeing is so easy. Plus you'll be able to take advantage of Dubrovnik's nightlife without worrying about transport back. The old town is pedestrian only however. Travellers with limited mobility or with cars may want to look elsewhere. Choices for hotels are VERY limited but there is plenty of excellent private accommodation.
[Get more details on staying in the old town plus recommended hotels.]

Ploce
It's almost as convenient as staying in the Old Town. From your luxury hotel to the Old Town is a short and very scenic walk and most hotel rooms have a world-class view of the walled city. There is some private accommodation in this neighbourhood but mostly there are five-star hotels.
[Is Ploce for you? Get the details and recommended hotels]

Lapad
The vast majority of visitors stay on this leafy peninsula which contains most of Dubrovnik's hotels and a vast amount of private accommodation. There are frequent buses that make the short hop to the Old Town and you'll be closest to Dubrovnik's largest beach.
[Find more reasons why Lapad may be for you and check out the hotels.]

Babin Kuk
Travelling with the family? Babin Kuk is your best choice. The hotels have plenty of amenities for kids, there are few roads and a nice big beach. Private accommodation is limited though.
[Check out all features of Babin Kuk and the best hotels]

Gruz
There's some private accommodation and a couple of hotels on Gruz harbour plus it's only steps from ferries to the islands. This is a great choice if you're planning island cruises and other day trips.
[Read more about staying in Gruz.]

Dubrovnik Riviera
A string of villages and small towns south of Dubrovnik makes a good alternative accommodation choice especially if you need to be close to the airport.
[Find the best places to stay on the Dubrovnik Riviera]
Map
Hotel or Private Accomodation?
Maybe you're wondering whether to stay in a hotel or in private accommodation? Consider the following:
In a hotel you might be near a beach, enjoy a "wellness centre", relax in your air-conditioned room and avail yourself of phone and internet services. For comfort and pampering nothing beats a hotel. Read more.
Dubrovnik Private Accommodation
To interact with the locals, consider private accommodation. Your host can fill you in on the latest local happenings, give you inside tips and provide a more personal experience. It's also a great choice for families. Read more.
Package Holidays in Dubrovnik
Whether flight+hotel or hotel only, booking your stay in Dubrovnik through an online travel agency can save you big bucks, especially on a week-long stay. Try these:
Bookingbuddy from the UK
STA Travel from the US
TUI Holidays from the UK
Budget Tips
Save money: One way to save money on Dubrovnik accommodation is to avoid the high-priced summer season if possible. Also, consider staying out of town either on the Dubrovnik Riviera with frequent bus connections or the Elaphiti Islands with frequent ferry connections.
[See Five Tips to Saving Money on Dubrovnik Accommodation]
Reserve in advance: There's little excess space in Dubrovnik. Hotels and private accommodation can get booked out quickly from June to September. May and October are also popular months.
Further Resources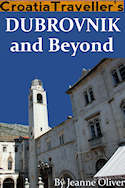 Dubrovnik Guidebook
Related Pages
Dubrovnik
Travel Planner
Hotels in Dubrovnik
Private Accommodation in Dubrovnik
Map of Dubrovnik
10 New Things in Croatia for 2019

From new flights, ferries and hotels to better crowd control in Croatia's most popular destinations, here's what you need to know in 2019. More.

Top 10 New Hotels in 2017

As the summer season begins, a raft of new and newly overhauled hotels along the Croatian coast are opening their doors. There are options for families, adults and wine-lovers in everything from large all-inclusive resorts to intimate B&Bs. More.

August in Croatia

New rules in Split, Dubrovnik and Plitvice, a new World Heritage Site and two new design hotels. More.

Great Deals on New Hotels in Croatia

Get great value on new and renovated accommodation in Zadar, Hvar, Istria and the northern Adriatic. More.

Best Accommodation in Croatia

From luxury spas to rustic villas and chic hostels, why not go for the best? More.

Subscribe to Croatia Hotel News
Last Updated: February 27, 2018
Recommended Tours
More from Croatia Traveller
My Favorite Travel Accessories
©CroatiaTraveller 2005-2019 All rights reserved