Most of the accommodation in Porec consists of sprawling resort-style hotels that offer a host of activities. Here's where you can snorkel, learn scuba diving, water ski, rent a banana boat or just take a dip in the clear water.There are a limited number of hotels in central Porec; most are sprawled north and south of town with one on the offshore island of Sveti Nikola. The major hotel regions south of town are:
Brulo--2km south of town
Plava Laguna--4km south of town
Zelena Laguna--6km south of town
If you stay in one of the resort complexes from June to September you can take a tourist train or a passenger boat to the town centre at a nominal cost.
Hotels in Porec
Top Pick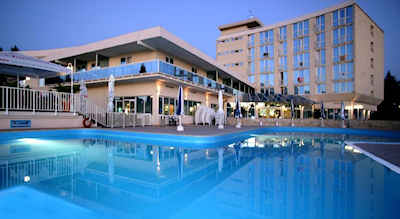 Totally overhauled in 2018, this four-star hotel is steps from the beach or you can relax by the pool. Have an aperitif while the kids play in the fully outfitted playground or improve your backhand on the clay tennis courts. Rooms have a view of the park or the sea. Some have balconies. Prices include half-board and the food is good! From here it's easy to get to Porec town or take other day trips throughout Istria.
Four-star hotels in Porec
Grand Hotel Palazzo --in town
Valamar Riviera Hotel & Residence --in town
Valamar Isabella Island Resort --just offshore on St Nickolas island and one of the top new hotels of 2015
Hotel Mauro--town centre, waterfront
Hotel Valamar Diamant
Valamar Club Tamaris --Lanterna; all-inclusive and one of Istria's best family hotels
Valamar Crystal --Brulo
Hotel Park
Hotel Laguna Molindrio
Hotel Laguna Albatros-- all-inclusive
Vila Laguna Galijot
Three-star hotels in Porec
Valamar Diamant Residence--Brulo
Hotel Hostin--near town
Hotel Laguna Istra
Hotel Mediteran
Hotel Parentium
Hotel Pical
Valamar Rubin Hotel
Hotel Zagreb--north of town
Lanterna Apartments
Hotel Laguna Materada
Hotel Laguna Gran Vista
Village Laguna Park
Valamar Luna Active Resort
Hotel Plavi
Hotel Zorna--all inclusive
Hotel Porec--in town
Valamar Pinia-all inclusive
Two-star hotels in Porec
Hotel Delfin --Zelena Laguna
Camping
There are lots of great campsites in and around Porec but Bijela Uvala is considered the best. Another option is to stay in one of the air-conditioned bungalows in Mobile Homes Materada or Mobile Homes Lanterna It's right on the beach!
10 New Things in Croatia for 2019

From new flights, ferries and hotels to better crowd control in Croatia's most popular destinations, here's what you need to know in 2019. More.

Top 10 New Hotels in 2017

As the summer season begins, a raft of new and newly overhauled hotels along the Croatian coast are opening their doors. There are options for families, adults and wine-lovers in everything from large all-inclusive resorts to intimate B&Bs. More.

August in Croatia

New rules in Split, Dubrovnik and Plitvice, a new World Heritage Site and two new design hotels. More.

Great Deals on New Hotels in Croatia

Get great value on new and renovated accommodation in Zadar, Hvar, Istria and the northern Adriatic. More.

Best Accommodation in Croatia

From luxury spas to rustic villas and chic hostels, why not go for the best? More.

Subscribe to Croatia Hotel News
Recommended Tours
More from Croatia Traveller
My Favorite Travel Accessories
©CroatiaTraveller 2005-2019 All rights reserved