Rovinj makes a great base to explore the rest of Istria even if accommodation in Rovinj is a little pricier than in other places along the Istrian coast. But you get a lot for your money! You can choose to stay in the old town, in an elegant resort district or on an island. Plus, the five-star hotels in Rovinj set a standard for the rest of the country. Check out Rovinj's three five-star hotels: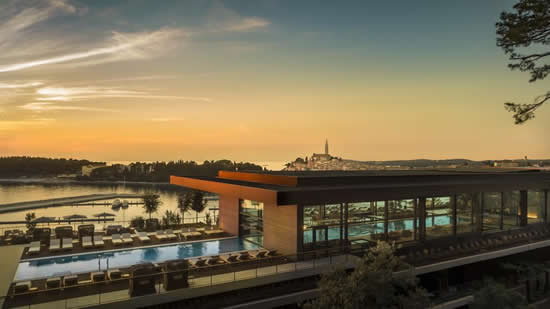 Opened in 2019, the Grand Hotel Park may be the most luxurious hotel in Croatia. Created by the award-winning Pierre Lissoni of Milan's Lissoni Architecture, the unique cascading structure blends with the landscape and makes it seem smaller than it actually is. 193 rooms and 16 suites with a sea view spread over six floors decorated with works of art. Each room is a work of art, equipped with large windows looking out over the bay to Rovinj. The ground floor on Lungomare Plaza is a favorite of locals who come to shop in one of the designer stores or dine in one of the hotel's six fine restaurants. The Albaro Wellness & Spa facilitiies offer three swimming pools, five saunas and treatment rooms that pamper the body with traditional Istrian plants and folk medicines. Accepted into the prestigious Leading Hotels of the World, the Grand Hotel Park is worth a trip to Rovinj if only to experience it.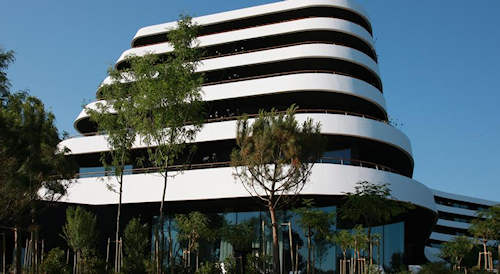 Located in the resort district north of Zlatni Rt forested park, the Hotel Lone is surrounded by old growth pine trees with the Adriatic glimmering a few hundred meters away. The design is modern but in a warm, comforting way. The white, black and lustrous oak of the lobby area is carried over into the rooms, each of which has a park or sea view and a balcony.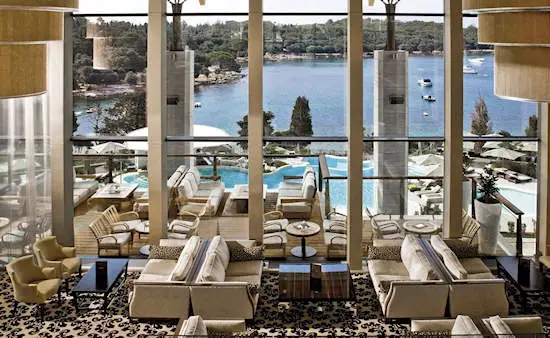 The Hotel Monte Mulini was the first five-star hotel in Istria and it continues to raise the bar for luxury and fine service. It's now a member of the prestigious Leading Hotels of the World and has won numerous international awards for its design, service, outstanding restaurant and superlative beach club. Also in the resort district next to the Hotel Lone, the hotel is within easy reach of Zlatni Rt and the old town.
There is no youth hostel in Rovinj (the only Istrian youth hostel is in Pula) but there are a few budget hotels and a lot of private accommodation that provides good value for money.
Where to Stay in Rovinj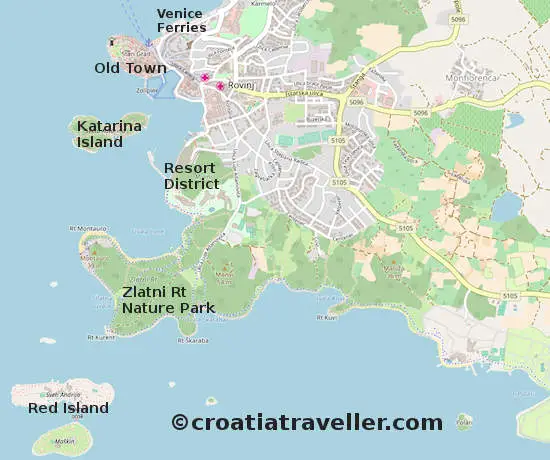 The choice is easy: do you want a resort experience, views of the sea, proximity to the beach? Or, would you prefer to be close to the center of the action to wander old streets, duck into a cafe and sample local restaurants?
Stay in Rovinj's Old Town
Stay in the Old Town


Book hotels
Book apartments
Book B&Bs
Book guesthouses
Book Villas
Staying in the Old Town is vastly preferable if you'll be coming by bus to Rovinj or on the Venice-Rovinj ferry as your room or apartment is likely to be within walking distance of the Rovinj bus station. In addition to Rovinj's sights, there are a lot of bars, cafes and restaurants within the Old Town which makes it a great choice for nightowls. The morning life is interesting too; get up early and you can watch the fishermen bring in their catch.
The disadvantage of staying in the Old Town is that there is no parking whatsoever within the pedestrian streets. Parking is in a vast lot outside the Old Town, near where ferries from Venice dock. Parking in Rovinj is not cheap either. Count on paying 5 Kn/hour (about $1US). If you can manage to get parking included in your accommodation price, you'll save some real money.
Best of the Old Town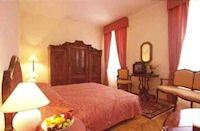 Villa Angelo D'Oro
Plush, old-style luxury is the motif here. This boutique hotel is in a lavishly restored Venetian-style building and there's free parking.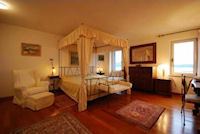 Villa Tuttorotto
This boutique hotel is exquisitely decorated and features artifacts from Rovinj's history. It overlooks Rovinj harbour and includes a fitness centre.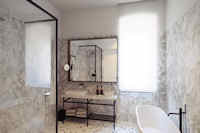 Hotel Adriatic
This classic was totally overhauled in 2015 and showcases contemporary Croatian art and design. There's free parking and bike rental.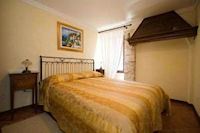 Villa Valdibora
Beautifully decorated with antiques and art, there's a lot of history between these 17th-century walls. There are rooms and self-catering apartments.


Book now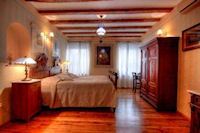 Casa Garzotto
These rooms and apartments are lushly outfitted; there's a sauna available and an optional breakfast in addition to other services. Free parking!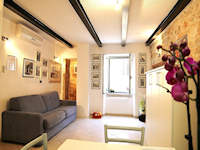 Villa Ernesta
These pretty apartments are managed by a friendly hostess. Bike rental is free and parking is available at a charge.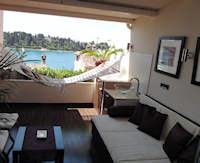 Villa Markiz
The stylish, contemporary furnishings and warm welcome make the apartments here a stand-out. Parking is available at a charge.
Stay Near the Old Town
North, south and east of the Old Town are neat, manicured streets with a number of buildings that have been turned into apartment rentals. For the most part, it's only a 20-minute walk to the Old Town and the prices are a little cheaper. You may find a private swimming pool in some establishments and parking is usually much easier.
Stay in the Resort District
Stay in Punta Corrente Park


Book hotels
Book apartments
Book B&Bs
Book guesthouses
Book Villas
There are two five-star hotels (the Hotel Lone and Monte Mulini), two four-star hotels and scattered private accommodation at the foot of the wooded Zlatni Rt (Golden Cape) or Punta Corrente Park. If you're looking for a beach holiday, this is the place for you as you'll be only steps away from Lone Beach and the string of swimming coves on Zlatni Rt. It's about 1.5km from the Old Town, but the coastal promenade makes for a pleasant walk.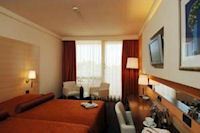 Hotel Eden
This recently renovated four-star hotel is large enough to contain an indoor swimming pool and wellness centre plus an outdoor swimming pool. I loved it. Free parking.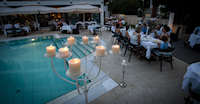 Hotel Arupinum
This small four-star boutique hotel is beautifully designed and close to the beach.There's access to a wellness center and parking is free.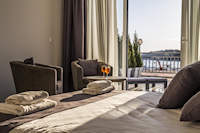 Bed and Breakfast Villa Squero
At the northern edge of the resort district, this classy B&B has rooms of all sizes with views of the sea or the garden. There are free bicycles and free parking.
Stay on an Island

For peace and quiet, you can't do better than staying on one of the tiny islands just offshore. And don't worry about getting back and forth to town. The hotel shuttle boat will get you there fast.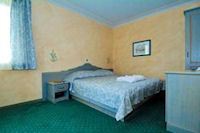 Hotel Katarina
Just opposite Rovinj Old Town on Katarina island, this hotel has recently been renovated. There's a lovely pool and a beach nearby. Parking on the mainland is free.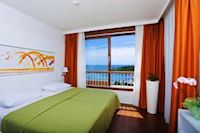 Island Hotel Istra
A short boat ride from town takes you to this four-star hotel on Sv Andrija island (Crveni Otok). There are plenty of activities and watersports from the nearby beach.
Accommodation Categories
Five-star luxury hotels in Rovinj
Pampering, wellness, great restaurants, more.

Four-star comfortable hotels in Rovinj
Sumptuous decor, fitness, more.
Three-star budget hotels in Rovinj
Pleasant and good value, more.

Two-star cheap hotels in Rovinj
Basic but clean and surrounded by greenery, more.

Private Accommodation in Rovinj
Comfortable accommodation with a personal touch, more
Villas in Rovinj
The perfect solution for families or groups looking for comfort and privacy at a good price.
Lighthouse
Stay in an apartment in the Saint Ivan lighthouse is on tiny Saint Ivan island, a 30-minute boatride from Rovinj's shores.
Camping
Near town is one of Croatia's best campsites, Camping Polari.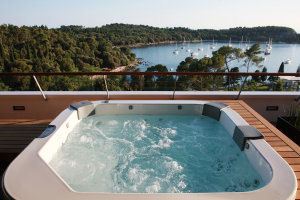 Hotel Lone--five stars in
Zlatni Rt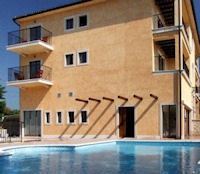 Casa Alice--residential area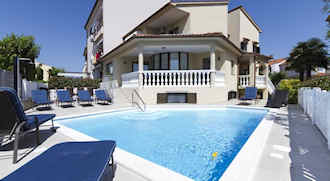 Why not rent a villa in Rovinj?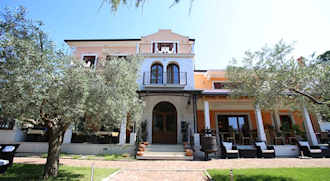 How about a fabulous B&B? Try
Vila Dobrovac
more choices

Villa Marea
Withing walking distance of the Old Town and the sea, this modern structure also boasts a swimming pool. Free parking. Book now.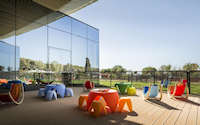 Family Hotel Amarin
As the name says, everything is set up well for families from children's menus in the restaurant to dozens of playgrounds inside and outside the hotel. Even the design is child-friendly. Book now

Apartments Ana Wellness
With a wellness centre and heated indoor pool, these are truly luxurious apartments. Book now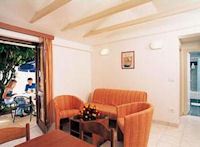 Villas Rubin
South of the town and on a leafy peninsula this peaceful place has a swimming pool and free parking. Book now
Apartments Casa Saina
Between the Old Town and Zlatni Rt
Apartments Elida
In a residential neighbourhood
Apartments Ema
In a residential neighbourhood a 10-minute walk from the Old Town
Trevisol Apartments
Modern and with sea view in the Old Town.
Apartments Cvek
In a residential neighbourhood.
Apartment and Rooms Robert
In a residential neighbourhood.
Apartments Bella
In a residential neighbourhood with views of the sea and the Old Town
Old Town Apartments
Like the name says.
Apartments Romano
In a residential neighbourhood near the beach.
Residence La Carera
Just outside the Old Town.
Apartmani Taylor
A traditional house in the Old Town
Apartments Villa Mara
A quiet residential neighbourhood.
Villa Rossella
Near the beach and with a pool
Apartmenti Anka
In a residential neighbourhood near a beach
Apartments La Pergola
In a residential neighbourhood near Zlatni Rt.