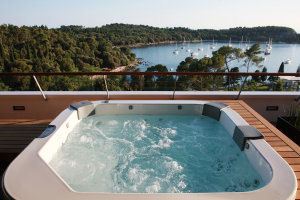 Hotel Lone--five stars in
Zlatni Rt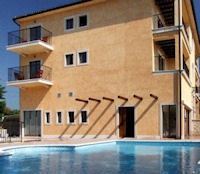 Casa Alice--residential area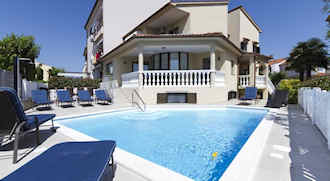 Why not rent a villa in Rovinj?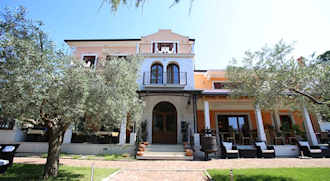 How about a fabulous B&B? Try
Vila Dobrovac
Rovinj makes a great base to explore the rest of Istria even if accommodation in Rovinj is a little pricier than in other places along the Istrian coast. There is no youth hostel in Rovinj (the only Istrian youth hostel is in Pula) but there are a few cheap hotels and a lot of private accommodation that provides good value for money.
Where to Stay in Rovinj
The most desirable places to stay in Rovinj are in the Old Town and on the foot of the Zlatni Rt forest park. There are also residential neighbourhoods outside the Old Town which can be a good choice for its easy parking.
Old Town
Stay in the Old Town


Book hotels
Book apartments
Book B&Bs
Book guesthouses
Book Villas
Staying in the Old Town is vastly preferable if you'll be coming by bus to Rovinj as your room or apartment is likely to be within walking distance of the Rovinj bus station. There are a lot of bars, cafes and restaurants within the Old Town which makes it a great choice for nightowls. The morning life is interesting too; get up early and you can watch the fishermen bring in their catch.
The disadvantage of staying in the Old Town is that there is no parking whatsoever within the pedestrian streets. Parking is in a vast lot outside the Old Town, near where ferries from Venice dock. Parking in Rovinj is not cheap either. Count on paying 5 Kn/hour (about $1US). If you can manage to get parking included in your accommodation price, you'll save some real money.
Stay in Punta Corrente Park


Book hotels
Book apartments
Book B&Bs
Book guesthouses
Book Villas
There are two five-star hotels and two four-star hotels and scattered private accommodation at the foot of the wooded Zlatni Rt cape or Punta Corrente Park. If you're looking for a beach holiday, this is the place for you as you'll be only steps away from Lone Beach and the string of swimming coves on Zlatni Rt. It's about 1.5km from the Old Town, but the coastal promenade makes for a pleasant walk.
Residential Neighbourhoods
North, south and east of the Old Town are neat, manicured streets with a number of buildings that have been turned into small hotels and apartments. For the most part, it's only a 20-minute walk to the Old Town and the prices are a little cheaper. You may find a private swimming pool in some establishments and parking is usually much easier.
Accommodation Categories
Five-star luxury hotels in Rovinj
Pampering, wellness, great restaurants, more.

Four-star comfortable hotels in Rovinj
Sumptuous decor, fitness, more.
Three-star budget hotels in Rovinj
Pleasant and good value, more.

Two-star cheap hotels in Rovinj
Basic but clean and surrounded by greenery, more.

Private Accommodation in Rovinj
Comfortable accommodation with a personal touch, more
Villas in Rovinj
The perfect solution for families or groups looking for comfort and privacy at a good price.
Lighthouse
Stay in an apartment in the Saint Ivan lighthouse is on tiny Saint Ivan island, a 30-minute boatride from Rovinj's shores.
Camping
Near town is one of Croatia's best campsites, Camping Polari.
Top 10 New Hotels in 2017

As the summer season begins, a raft of new and newly overhauled hotels along the Croatian coast are opening their doors. There are options for families, adults and wine-lovers in everything from large all-inclusive resorts to intimate B&Bs. More.

August in Croatia

New rules in Split, Dubrovnik and Plitvice, a new World Heritage Site and two new design hotels. More.

Great Deals on New Hotels in Croatia

Get great value on new and renovated accommodation in Zadar, Hvar, Istria and the northern Adriatic. More.

Best Accommodation in Croatia

From luxury spas to rustic villas and chic hostels, why not go for the best? More.

10 Best Hostels in Croatia

A new generation of hostels has emerged that is redefining the hostel experience. When it comes to location, comfort, design and staffing, here are the best hostels in Croatia. More.

Subscribe to Croatia Hotel News
Questions? Comments?
©CroatiaTraveller 2005-2018 All rights reserved