So you want to take a day trip from Split? You'd like to explore the beautiful islands, national parks and cultural highlights of central Dalmatia? And you'd like local insights to enhance your appreciation of this fascinating region?
Then, Pelican Tours is for you. Whether you're looking for a multi-day program or you'd like to make the most of a limited schedule, Pelican Tours is there to make it happen.
Founded by a dynamic young local couple, Tonko and Jelena Mileta, Pelican Tours is a small, family-run company offering personalized, in-depth tours from their base in Split. The Miletas aim to provide an original and intimate way to experience the beauty of a region they know and love.
Here are a few of their favorite tours:

Krka Waterfalls and Šibenik town tour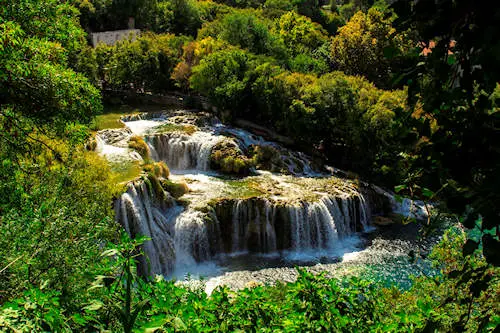 This award-winning tour covers a World Heritage Site and a top National Park and leaves time for swimming and wine-tasting.. Start the day with a guided tour of Šibenik and a visit to the Cathedral of St James, a World Heritage Site. Then head on to Krka National Park for a swim under the waterfalls before sailing on to Skradin for a wine and cheese tasting. Book now!

Plitvice Lakes National Park tour

This private tour will take you to one of the most beautiful and oldest European national parks, protected by UNESCO since 1979 as a World Heritage Site. The sixteen azure lakes linked by waterfalls of all sizes is one of Europe's most stunning landscapes. The tour is designed to be a small group tour with up to 8 people, although the same service can be arranged for larger groups if necessary. Book now!
Attention swimmers, beach buffs and sunbathers! This tour allows you to visit the five most beautiful island destinations in central Dalmatia, all in the same day. Explore the Blue and Green cave on Vis, swim Stiniva Bay lapping at Croatia's most beautiful beach, spend free time on the Pakleni islands and visit celebrated Hvar town, playground of movie stars. Book now!
This private guided tour is led by an experienced local guide, whose passion for the city will become evident as you walk down these ancient streets and marvel at the exquisite architecture all around you. Find out why Dubrovnik is called "the pearl of the Adriatic" on this visit to Croatia's top must-see destination. Book now!

Arrange a visit to one of the most important Catholic shrines, Međugorje. What is more, you will be able to enjoy a stroll along the famous Turkish bridge from the XVI century in Mostar. There is a lot of free time for shopping in local stores and the opportunity to taste authentic Bosnian specialties like kebab, pita or burek. After that you will visit Blagaj Tekke which is a significant monument from the early Ottoman period in Bosnia-Herzegovina. Book now!
See the Pelican Tours website for more information on all tours and multi-day programs.
Recommended Tours
More from Croatia Traveller
Questions? Comments?
©CroatiaTraveller 2005-2018 All rights reserved