The 2018 timetables have not yet been published. Check back in spring! They will probably not change substantially since last year.
9 June to 18 September 2017
EVERY DAY

LINE 9811S

EVERY DAY

15:45
SPLIT
12:30

16:35 16:50

BOL

11:25 11:40

17:30 17:45

HVAR

10:30 10:45

19:00 19:15

KOR

Č

ULA

09:00 09:15

21:00

DUBROVNIK

07:15
09.06. departure only from Split, no departure from Dubrovnik
18.06. departure only from Dubrovnik, no departure from Split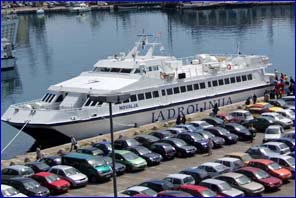 This new passenger ferry makes it easy to take a day trip from Dubrovnik to Croatia's most alluring islands--stately Korcula, glamorous Hvar and beachy Bol. Note that the schedule from Dubrovnik is on the right and the schedule from Bol is on the left. As this is bound to be a popular route, advance booking is highly recommended even though the boat can hold 324 passengers.
Easy, but pricey. It's no exaggeration to say this is Croatia's most expensive passenger ferry route. For more than one person it's cheaper and faster to rent a car to go from Split to Dubrovnik.
| | |
| --- | --- |
| DUBROVNIK -KORČULA | 120,00 kn |
| DUBROVNIK -HVAR | 190,00 kn |
| DUBROVNIK -BOL | 195,00 kn |
| DUBROVNIK -SPLIT | 200,00 kn |
| KORČULA -HVAR | 110,00 kn |
| KORČULA -BOL | 120,00 kn |
| KORČULA -SPLIT | 150,00 kn |
| HVAR -BOL | 70,00 kn |
| HVAR -SPLIT | 100,00 kn |
| BOL -SPLIT | 70,00 kn |
Before booking (which can be done online at the jadrolinija.hr website), check out the prices of Viator's day trips from Dubrovnik. Also compare the prices and schedules of the following ferries:
Split-Brac (Milna)-Hvar-Korcula-Mljet-Dubrovnik
Dubrovnik-Mljet-Korcula-Lastovo
New! 2018 Croatia Ferry Schedules!

Here we are at the beginning of a new year and with a new set of ferry schedules governing trips from the coast to Croatia's best islands. As usual, Jadrolinija, Croatia's state ferry line, is first off the mark with a complete package of car ferry schedules. Only Jadrolinija handles car ferries and the company's schedules change little from year to year. Passenger ferry schedules are much more fluid as Jadrolinija and other companies adjust to the seasonal flux of visitors. Many of the passenger ferries are summer only and most do not see their schedules finalized until the spring. …

Continue reading →

More.

New Ferry From Split to the Islands

Day trips from Split to Croatia's most beautiful islands are now easier than ever. A brand new passenger ferry service is scheduled to start in mid-June and run until mid-September. More.

It's Back! Island-Hopping Ferry Officially Returns

Krilo company just confirmed that the popular Split-Milna-Hvar-Korcula-Hvar-Mljet passenger ferry will start on More.

New Split to Dubrovnik Catamaran 2017

Island-hopping in Croatia just got easier! There's a brand new passenger ferry that will connect Split and Dubrovnik via Hvar, Korcula and Bol (Brac island). More.

Subscribe to Croatia Ferry News
Questions? Comments?
©CroatiaTraveller 2005-2018 All rights reserved