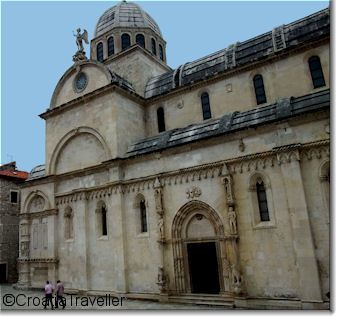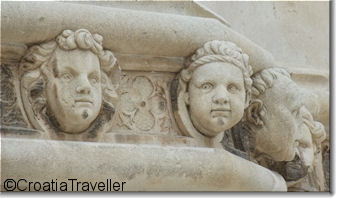 External frieze with 71 sculpted heads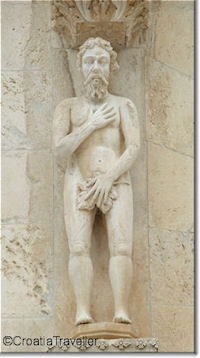 Sibenik's Cathedral of St James is the largest and most beautiful building of the transitional Gothic-Renaissance period in Dalmatia. Named a UNESCO World Heritage Site in 2000, the Cathedral reflects influences of Northern Italy, Tuscany Dalmatia which combined to solve the considerable technical, structural and artistic challenges in building a vaulted church entirely in stone. No bricks or timber were used in the church's construction.
History of the Sv Jakov Cathedral
The building was begun by local and Venetian builders in 1431 but when, after ten years, their work hadn't progressed very far, the great Dalmatian master-builder, Juraj Dalmatinac (who also designed Pag Town) took over. He devoted most of his life to the cathedral before passing away in 1473. He worked predominantly in the Gothic Flamboyant style but many sculptural works (such as the exterior frieze of 71 sculpted heads) already show Renaissance elements. He gave the cathedral its basic monumental plan such as the transept, domes, sacristy and baptistery. After his death, the work was taken over by Nikola Firentinac who introduced the elements of the Tuscan Renaissance. The cathedral was finally completed in 1536.
The Exterior of the Cathedral
The western facade has a richly decorated Gothic portal above which are two rose windows. Although of Gothic form, they have Renaissance decorations. The elegance of the facade is complemented by the structure of the roof. The nave and lateral aisles have a barrel roof which are original in that they are made of stone slabs fitted into grooves. The same method was used to build the dome.
The long north facade is distinguished by the stunning "Lions' Portal". Two flanking columns are supported by lions and on the columns are the figures of Adam and Eve. Above them are the apostles Peter and Paul and bronze reliefs showing scenes from the Old Testament.
The most remarkable feature of the exterior however are the 71 life-sized sculpted heads of fishermen, peasants, soldiers, old men, teenagers and ordinary citizens--all sculpted with zest and realism.
The Interior of the Cathedral
The interior of the church is divided into three aisles by a double row of six columns with Gothic capitals and arches. Above them, on both sides, is a decorative frieze and the balustrade of the gallery. The side altars are in the Baroque style and date from the 17th and 18th centuries. On the right altar is a wooden crucifix from the 15th century. The elegant balustrade surrounding the stone altar of the presbytery is the work of Nikola Firentinac. Another Firentinac masterpiece is the sacristy, supported by a barrel vault on three free-standing piers. Take the stairs down to the baptistery under the south apse. The domed vault is covered with rich Gothic-Renaissance stone ornaments executed by Dalmatinac and others.
Recommended Tours
More from Croatia Traveller
Questions? Comments?
©CroatiaTraveller 2005-2018 All rights reserved