Starting in 2019, several new ferry lines make it easy to bypass the busy roads and ferries around Split and go directly from Split airport to central Split and the islands of Brac and Hvar. Note that these passenger ferries are seasonal. Services stop in mid-September. Although slightly more expensive than a taxi+catamaran, you'll save a lot of time in getting to the islands.
In these schedules, the Split Airport stop is referred to as "Resnik". Bol is a fantastic beach resort on Brac island; Stari Grad is Hvar island's "second city" with easy connections to Hvar town.
The 2020 schedules haven't been published yet. Check back later!
Passenger Ferry from Split Airport to Central Split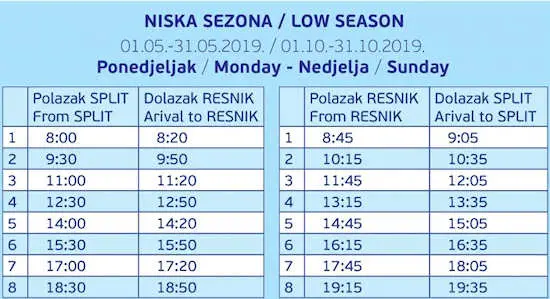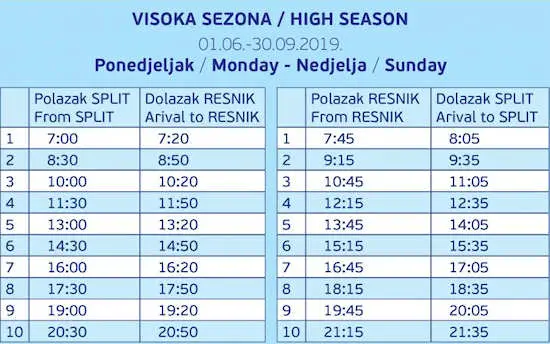 This ferry is run by catamaran-line. Tickets are 99Kn and may be purchased online at the website or in local travel agencies.
Split Airport to Bol (Brac island) and Stari Grad (Hvar Island)
1 June-15 September
Daily
Daily
13.00-Dep
Resnik
7.20
16.05
14.05
Bol
6.15
14.20
6.00
14.50
Stari Grad
5.30-Dep
15.05-Dep
Split Airport to Split and Bol
1 June-15 September
Daily
Daily
10.00
16.20
20.50
Resnik
12.45
19.05
10.15
21.05
Split
18.50
10.30
21.20
18.35
10.25
17.25
22.15
Bol
11.40
17.40
The above passenger ferries connecting Split Airport with central Split, Bol and Stari Grad are run by SplitExpress.com. Prices start at 99Kn for a non-refundable Resnik-Split ticket, 199Kn for Resnik to Bol or Stari Grad. Refundable tickets are more expensive. Online booking is available on the website.
[Check out all ferry schedules to the islands]
Recommended Experiences
More from Croatia Traveller
My Favorite Travel Accessories
©CroatiaTraveller 2005-2021 All rights reserved