Telascica Cliffs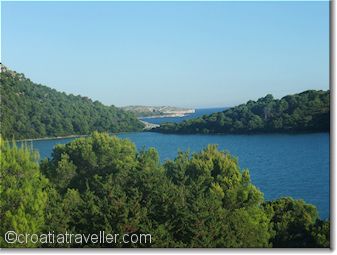 Lake Mir
At the southeastern end of Dugi Otok is the stunning
Telascica
(pronounced
tel ash cheetsa
)
Nature Park
, an eight-kilometre long bay studded with six small islets. Just across the Velika Proversa channel is the
Kornati Islands National Park
and Telascica shares a great deal of its unspoiled beauty. The protected bay has been known as an anchorage and shelter since antiquity; the remains of a
Roman storage complex
lie under the channel separating
Dugi Otok
from Kornat island. The channel was constructed long ago and also contains the artificial island of
Katina.
On the southern side between the bay and the sea is Telascica's highlight: Mir Lake. Spanning 23 hectares and only about 10 metres deep, the brackish water is fed by the sea whcih seeps in through underground cracks. Bathing in the water is a delight, not least because the temperature is always at least 6 degrees warmer than the surrounding sea. Spa temperature!
The land portion of Telascica spans 26.5km and is marked by pine trees, olive groves and fig trees. On the side of the island facing the open sea are high cliffs reaching a height of 166 metres.
Getting to Telascica Nature Park
Telascica is not accessible by road or ferry. The only way to reach Telascica is by boat, either your own or via an excursion from Zadar. You can also rent a boat in Sali, the main town in Dugi Otok and the town closest to Telascica.