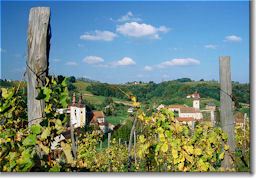 Medimurska Vineyards
The Medimurska (Medimurje) region is in the extreme northwest of Croatia, tucked between Slovenia and Hungary. Geographically, the region is defined by the Mura and Drava rivers, the slopes of the Alps to the west and flat plains to the east.
The region was once part of Hungary and the Hungarian influence remains strong, particularly in the regional cuisine. Most of Medimurje is agricultural and the region is noted for its wine. Recently the region has attracted industry and it is now one of Croatia's more prosperous counties.
The largest town in Medimurje and its administrative centre is Cakovec which houses the Museum of Medimurje for those interested in knowing more about the region. Another nice place to visit is the Sveti Martin Thermal Springs located in the district of Sveti Martin na Muri. This bucolic region was named one of the "Best Emerging European Rural Destinations of Excellence" by the EU in 2007.
Although Medimurska county is mainly used as a transitway to nearby Hungary, it's worth making a detour here for the traditional Medimurje Carnival on Shrove Tuesday.
Further Resources
Related Pages