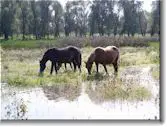 Posavlje Horses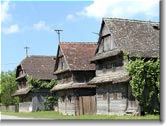 Traditional architecture

Sisacko-Molavacka ( Sisak-Moslavina ) County is in south-central Croatia and shares a long border with Bosnia-Hercegovina to the south. It's a fertile, hilly land, appealingly laced with rivers and forests. About 45% of the land is cultivated mostly with vineyards and orchards.
The largest town is Sisak, lying to the north of the Sava river which bisects the Sisak and Moslavina regions. Although Sisak dates back to the Roman era, little remains of its ancient past and there is little to see in the town.
Sisak does make a good base to explore the Lonjsko Polje Nature Park which lies just east of the Sava river. Some 236 species of birds are endemic to these vast wetlands, including 130 nesting birds. Expect spoonbills, herons and storks.The park is also home to the Posavlje horse, a semi-wild breed. Another attraction in and around the park is the traditional architecture. Oak Podravina houses are an attractive feature of this untamed landscape.
Where there are birds, there are often fish--unfortunately for the latter. Anglers are particularly enchanted with Lonjsko Polje. The waters are a natural spawning ground for carp and pike that migrate to the Sava, Kupa, Una, Vrbas and Drina rivers. The best fishing is after the spring floods.
Another reason to visit the region is for the famous Topusko spa. The thermal waters here have attracted visitors since the ancient Romans and currently make for a most relaxing holiday.
Further Resources
Sisacko-Moslavacka County Tourist Board
Related Pages
Recommended Experiences
More from Croatia Traveller
My Favorite Travel Accessories
©CroatiaTraveller 2005-2022 All rights reserved