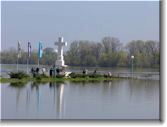 Vukovar

Vukovarsko-Srijemska (Vukovar-Srijem) county is on the easternmost tip of Croatia between the Danube and Sava rivers and sharing a border with Serbia. Hence, it became the county that suffered the most heavily during the break-up of former Yugoslavia. It had a large Serbian population before the war in the 1990s which became a recipe for disaster when the Catholic Croats and the Orthodox Serbs turned on each other.
A brutal bombardment left Vukovar, the largest and most beautiful city in the county, in ruins. Its stately baroque buildings were reduced to rubble and the prosperous economy devastated. Restoring the buildings has been relatively easy compared to the task of restoring trust between the two communities.
Although tourism is not greatly developed, there are sights to see in this county. Near Vukovar is Vucedol, the most important archaeological site in Croatia. Ilok has an impressive set of town walls and Vinkovci has an attractive array of 19th-century buildings in the town centre.
As the county's tourist infrastructure continues to improve and new hotels are built, its especially worthwhile to come during one of the local festivals such as the "Actor's Festival" and "Days of Josip and Ivan Kozarac" in Vinkovci, the "Wine Harvest" in Ilok and the " Vukovar Chamber Music Festival"in the first half of June.
Further Resources
Vukovar-Srjem County Tourist Board
Related Pages
Recommended Experiences
More from Croatia Traveller
My Favorite Travel Accessories
©CroatiaTraveller 2005-2022 All rights reserved