Find fun tours & activities in Croatia!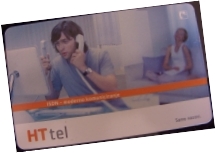 Each of Croatia's regions is assigned a telephone code which you dial with the initial zero when calling locally and without the initial zero when calling from abroad.
The telephone area codes are linked to zip codes so that, for example in Zagreb the telephone code is 01 and the zip code is 10000.
Free numbers (such as for public services) begin with 08, paying numbers begin with 06 and you dial 00 to make an international call from Croatia. See more on phoning to and from Croatia.
Area Codes

Zagreb and region
01
Dubrovnik and region
020
Split and region
021
Sibenik and region
022
Zadar
023
Osijek and Baranja region
031
Vukovar and Srijem region
032
Virovitica and Podravina region
033
Pozega and Slavonia region
034
Slavonski Brod and region
035
Medimurje
040
Varazdin
042
Bjelovar and Bilogora region
043
Sisak and Moslavina region
044
Karlovac region
047
Koprivnica and Krizevci
048
Krapina and Zagorje
049
Primorje and Gorski Kotor (Kvarner) region
051
Istria
052
Lika and Senj region
053
Related Pages
Telephone Calls to & from Croatia
Recommended Tours
More from Croatia Traveller
Questions? Comments?
©CroatiaTraveller 2005-2018 All rights reserved