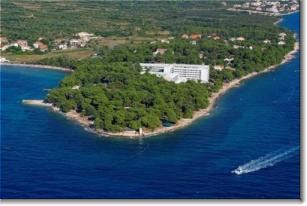 Hotel Pinija
Petrcane is a village and harbour about 15km north of Zadar. Although the village is a typical little fishing village, most people come for the beach and pine forest that stretches out from the village along the Petrcane cove.
On the south side of the cove is the four-star Hotel Pinija in the midst of pine trees and along a pebble beach.
Travel a little further north and you come to Punta Skala, a tranquil leafy peninsula that is a favourite holiday destination. Here, you'll find the five-star resort, Falkensteiner Family Hotel Diadora. Opened in 2011, this luxurious palace includes a posh wellness centre and beautifully manicured grounds on a private beach. It was admitted to the prestigious Leading Hotels of the World group in 2011.
Getting to Petrcane
There are buses from Zadar bus station to Petrcane but they only run every hour or so. See Liburnija for the schedules.