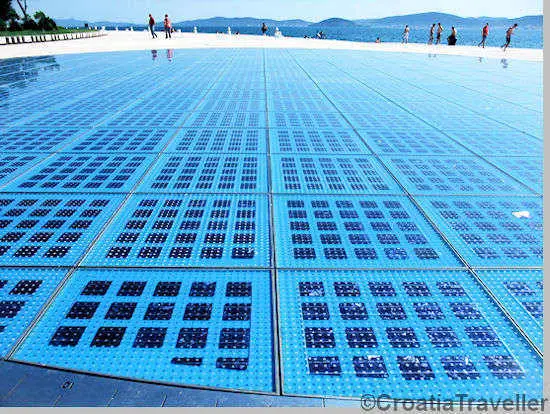 At the tip of Zadar's southern quay is the Greeting to the Sun, a remarkable installation made out of 300 photo-sensitive glass plates that absorb daylight and transform into a wondrous light show at night. Designed by Nikola Basic who also designed Zadar's sea organ, this 22m circular plate is now one of Zadar's top attractions.
Mr Basic chose the location specifically because the southernmost point of the quay has long been a popular spot to watch the sunset. Facing the islands of Ugljan and Pasman with winds chasing clouds across the sky, the nightly spectacle so enchanted film director Alfred Hitchcock during his stay in 1964 that he wrote: "Zadar has the most beautiful sunset in the world, more beautiful than the one in Key West, in Florida, applauded at every evening".
The photovoltaic cells that power 10,000 bulbs light up at night in a programmed light show that echoes and complements the colors of the sunset. A computer coordinates the light show with the sounds emanating from the Sea Organ, Mr Basic's adjacent installation. The Greeting to the Sun also generates enough solar power to light up the entire waterfront.
The steel frame surrounding the shimmering blue glass is inscribed with the 36 saints worshipped in Zadar's churches along with their feast days and the sun's coordinates on each feast day. The astronomical portion of the frame shows the latitude and longitude of the sun, moon and planets (ephemerides) on each saint's holiday. The coordinates are based upon the 13th-century calendar of St Chrysogonus who also happens to be the patron saint of Zadar.