Only a short 25-minute boat journey across the Zadar Channel, Ugljan is a green, mountainous island carpeted with olive groves and dotted with small fishing ports. It's a beguiling island that has become a popular weekend getaway for Zadar residents who come for the beaches, bike paths and hiking trails. Ugljan runs northwest to southeast for 24km and is only 4km at its widest point. The gentle eastern side facing Zadar is more populous while the uninhabited western side is rugged and steep. Throughout the island, residents work at fishing, cultivating olives and grapes and tending to visitors. Named after the Croatian word for olive (ulje), Ugljan makes a great rustic escape from busy Zadar or an alternative place to stay.
Places to Visit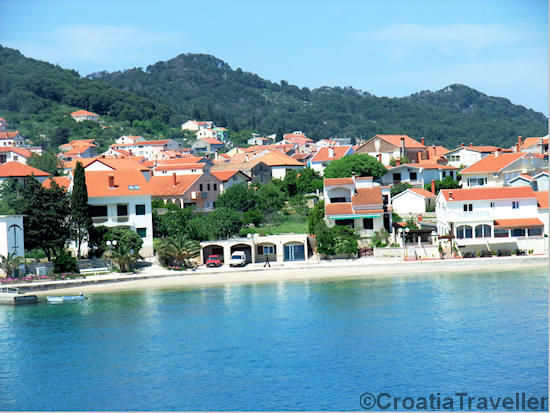 Preko is the administrative centre of Ugljan island and where the Jadrolinija boats dock. It's a delightful place to linger, sipping a coffee along the harbour or strolling the tiny town. From Preko a hiking path leads up to St Michael's church (265m) with a sweeping view of the island and Zadar's archipelago.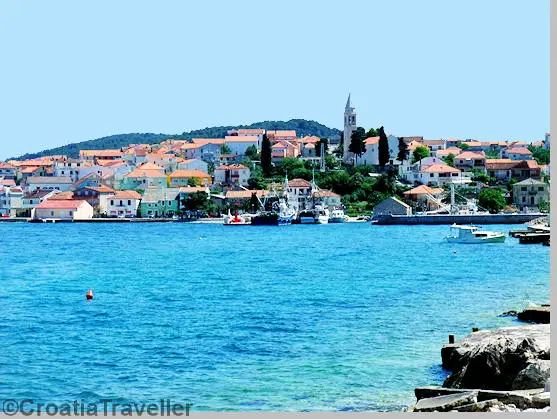 Kali, southeast of Preko, has been birthing fishermen and sailors for generations, most of whom have now emigrated elsewhere. Many remain however and the little port is crammed with fishing boats. The historical core of the town is a network of narrow streets that wind to the top of a hill.
Kukljica, southeast of Kali, curves around glistening bay. Its proximity to several outstanding sandy beaches, including luscious Zelena Punta, makes it a popular tourist spot.
Ugljan is the largest village, located 11km northwest of Preko. It's the oldest settlement on the island and contains remnants of the late Roman-early Christian era as well as the best restaurants.
Beaches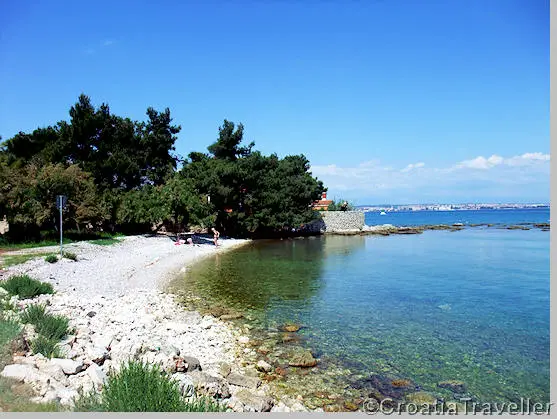 The indented coastline of Ugljan curves around a multitude of swimming coves of all types. The coastal path from Preko to Kali is easily accessible by foot or bike and passes a number of swimming spots. Just outside Preko on the way to Kali is the well-developed but concrete Jaz Beach with WC, showers, snacks, lifeguards and wheelchair accessibility. Zelena Punta outside Kukljica is shaded by pines and slopes gradually into crystal-clear water. Also nearby is pretty Kostanj beach. For more seclusion, take a 15-minute walk to Sabusa and Jelenica beaches on the other side of the island.
Things to Do
It's easy to rent a bike from Preko and bike along a coastal path that runs from Preko to Kukljica. Bike paths also run from Ugljan to the western side of the island. The tourist offices have maps with hiking trails to the western side.
Accommodation
The only hotel on the island is Hotel Ugljan in the village of Ugljan. Rooms, apartments and villas are abundant on the island. For a beach holiday, I recommend Holiday Park Zelena Punta which offers well-equipped apartments next to the beach with access to beach volleyball, tennis courts and mini-golf. Check prices on all accommodation in Ugljan.
Getting to Ugljan
Jadrolinija runs frequent car ferries and passenger ferries to Ugljan. Car ferries leave from the port of Gazenica while passenger ferries leave from Zadar's northern quay.