Many English-language cookbooks filled with Croatian recipes are on sale to the wider public using ingredients and measurements geared to American and British kitchens.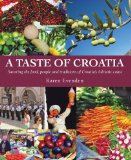 A Taste of Croatia
 by Karen Evendon presents recipes the author amassed on a three-year sailing adventure along the Adriatic coast. The traditional recipes are easy-to-follow and produce scrumptious results. Buy Now from Amazon!

The Best of Croatian Cooking by Liliana Pavicic and Gordana Pinker-Mosher is classic with over 200 recipes, simplified and geared to products likely to found in American and British supermarkets.  
Buy Now from Amazon!

Another comprehensive book is Croatian Cuisine by Ruzica Kapetanovic and Alojzije Kapetanovic which covers all the basic dishes and makes a wonderful gift.
Buy Now from Amazon!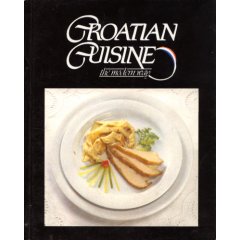 Croatian Cuisine, The Modern Way is another excellent choice. It's shorter but has easy, workable recipes.
Buy Now from Amazon!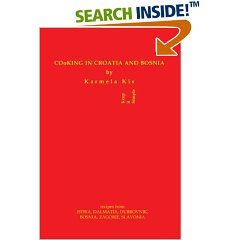 Cooking in Croatia and Bosnia
by Karmela Klis is the newest collection of traditional Croatian recipes. Drawn from the cooking of her great-aunt Ivana, Karmela has recreated Croatian comfort food with 424 recipes.
Buy Now from Amazon!

If you order your Croatian cookbooks by clicking on
you benefit from the low prices of Amazon AND help support Croatia Traveller BECAUSE Amazon makes a small contribution to Croatia Traveller with every order placed through this site! How cool is that?