When to go to Dubrovnik? Summer is good for swimming and sunbathing; spring and autumn see fewer visitors but if you can make one of Dubrovnik's festivals you'll really get to experience local life.  Dubrovnik residents like a good time as much as anyone plus they have a lively appreciation for music, dancing and celebrating their wonderful city. Here are some of the best festivals and events going on each year in Dubrovnik.
January
New Years Eve
Dubrovnik is one of the world's best places to ring in the New Year. All of Dubrovnik fills Stradun and the side streets to turn the walled town into one big outdoor party. Croatian pop stars, celebrities, musicians and entertainers are enlisted to keep the musical beat while stalls selling fritters, dried figs carob almonds and champagne keep the revelers fed and watered. Not to be missed.
February
Feast of St Blaise
St Blaise is Dubrovnik's patron saint peering down on the city from several dozen statues. On February 3 , all Dubrovnik turns out to celebrate his feast day. Villagers from the region flock to Dubrovnik and display their local culture in colorful costumes and folk dances. Look for special concerts held around Dubrovnik in the week preceding the Feast and plan to be there on February 2 when many festivities occur. More.
Carnival
No sooner has the Feast of St Blaise ended than everyone starts preparing for Carnival. The festivities culminate during the three days preceding Ash Wednesday when masked and costumed groups prowl the old streets singing and dancing. Masked balls are often organized in private homes but there's always a lot of action on Stradun.
April
Dubrovnik FestiWine gathers over 100 regional vintners to display their wares to professionals, locals and visitors. See dubrovnikfestiwine for event details.
Music lovers will appreciate the new Dubrovnik Musical Spring which features the Dubrovnik Symphony Orchestra in a full cycle of classical music concerts. More info here.
For a taste of the very best traditional Croatian music, check out the klapa singers at the annual Aklapela fest. More info here.
July-August
The Dubrovnik Summer Festival keeps the Old Town young every summer. Concerts of all sorts take place nearly every night in venues around town while every place with a stage hosts a play or two. The most prestigious is the traditional production of Hamlet staged at Fort Lovrijenac. Heartthrob Goran Visnjic of "ER" fame once played the brooding prince there. See the Dubrovnik Summer Festival website for schedules and tickets.
Did you like this page?
Get Croatia Traveller's Dalmatia: Split to Dubovnik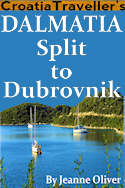 Further Resources
Related Pages
When to Go to Dubrovnik
Dubrovnik Guide
One Day in Dubrovnik