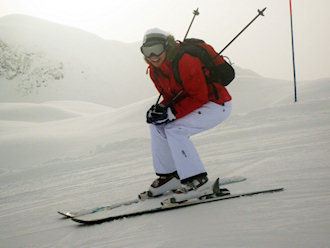 Related Pages
Further Resources
Yes, you can ski in Croatia. Remember Croatian skier Janica Kostelic's astounding feat in winning four gold medals in the 2002 Olympics? Well she had to ski somewhere in Croatia didn't she?
No one would argue that you should make Croatia your primary ski destination in Europe. It ain't the Alps, that's for sure. Still, if you're a skier and going to Croatia anyway, you'll find the slopes easy to deal with and dirt cheap compared with other European resorts.
 Mount Sljeme, just outside Zagreb is the most conveniently located ski resort. Located on the northern slopes of Medvednica mountain, one of Croatia's nature parks, Sljeme offers four ski runs, two ski-lifts and a triple chair lift. The runs offer skiing at nearly all levels: the White Run, Red Run, Green Run, Blue Run and Tree Run. Usually there's snow for about three months a year and the resort is easy to reach by tram and bus from Zagreb centre.
Another option is the Croatian Olympic Center at Bjelolasica near Karlovac and easily reachable by car, bus or train from Zagreb. It's Croatia's largest ski resort and also offers snow boarding, cross-country skiing and ski lessons. It's not quite as snowy there however. The resort may have to resort to artificial snow.
And then there's Platak, 26km northeast of Rijeka which has seven ski runs and 10km of cross-country trails plus there's usually snow on the slopes until May. And you get a view of the sea from the top! A flurry of investment has modernised the equipment and facilities.
The recently reopened Petehovac Mountain Lodge near Delnice opens onto a ski run of 410 meters with a vertical drop of 51 meters. The 26-bed lodge offers mountain views from every room.