One of Croatia's more unusual islands, Pag Island is dry and relatively barren with a strange, almost lunar landscape. Long (about 60km) and narrow (between 2 and 10 km) with no rivers or streams, no trees and little vegetation, Pag doesn't look quite like a typical island in the Adriatic. Perhaps that's why it is quietly becoming known as a film location. Ridley Scott's The Terror, the Netflix comedy DJ Ibiza and the BBC series The Grand Tour all filmed on Pag in 2017.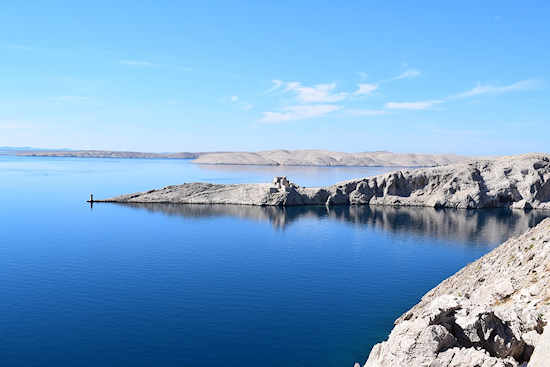 courtesy maxpixel.freegreatpicture.com
salt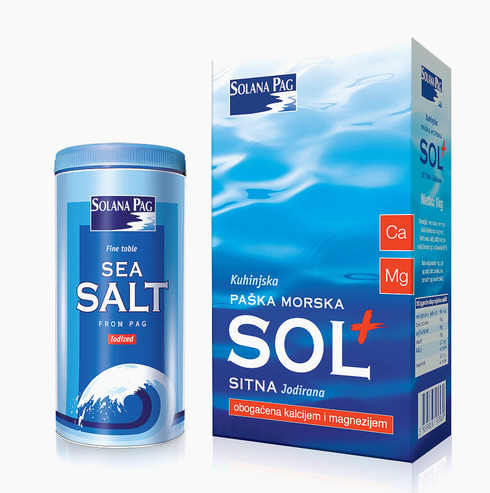 With its unusual topography, it's no surprise that the history and economy of Pag island has long revolved around salt. First century Romans built forts and aqueducts. In the 7th century Slavs arrived and began building churches and basilicas. At least as early as the 10th century, saltworks emerged in ancient Stari Grad just south of Pag town. Salt did not bring peace as Pag was in constant competition with Zadar and Rab island over the salt trade. In 1467 war and political turmoil chased the residents a few kilometres northward where they founded Pag town. Salt continued to be an economic mainstay under Venetian and then Austrian rule.
Up until the 20th century salt was extracted through panning and then allowing the sea water to dry in the sun. Now, the process is speeded up by transferring the mostly dry salt to the Solana Pag salt factory where steam is used to complete the evaporation process. Solana Pag salt is the largest producer of table salt in Croatia. The salt has a particular, almost creamy taste that foodies love.
Novalja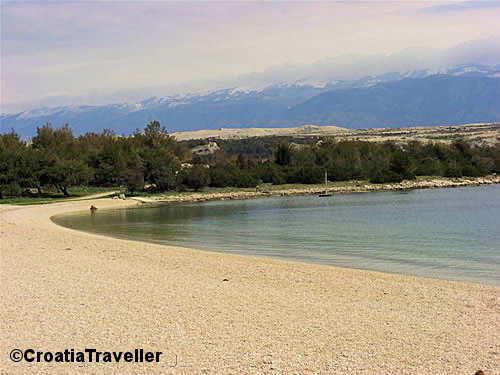 The island is also home to two completely different cultures. Novalja in the north is known for the region's most sizzling nightlife. Every summer Zrce beach (above) pulsates with a parade of famous DJs, culminating in the Hideout Festival in late June which features the best of underground dance music.
[See all Novalja music festivals]
How about a day out kayaking around Novalja?
Pag Town
Pag town to the south is quiet and traditional. Not much has changed since the 15th century when the village was founded. Local ladies are still engaged in crocheting Pag's intricate lace which makes an unusual souvenir. It's also a good place to sample Pag's local products: pungent Pag cheese (Paski Sir ) prized throughout Croatia, and delicious Pag lamb naturally flavoured with the salty grass that feeds the sheep. Wash it down with Pag zutica, the local white wine.
Pag Beaches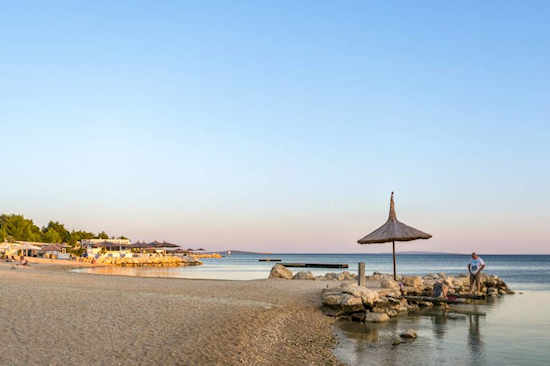 courtesy camping-simuni.hr
Pag beaches are also numerous and relatively untouristed. There are plenty of wide, shallow coves tucked along the coast in addition to the beach just outside Pag town and Zrce beach in Novalja. One of the nicest beaches is the calm, shallow cove at Simun (above), site of Camping-Simuni.
Dive centres organise excursions to nearby Premuda Island for its famous "cathedral".
Getting to Pag Island
From Zadar
Pag Island is easily accessible. The nearest airport is Zadar Airport from which there are regular bus transfers to Zadar bus station. From Zadar there are about 7 or 8 buses daily to Novalja and Pag town which take around two hours. It's an easy 30-minute drive across the causeway from Zadar, to Pag Town at the southern end.
From Rijeka
Jadrolinija runs a daily 5pm passenger boat from Rijeka to Novalja, stopping at Rab town, plus frequent car ferries between Prizna on the mainland and the port of Zigljen on Pag Island. Rapska Plovidba is a local company that runs passenger boats from Rab Island to Lun on Pag Island.
Accommodation on Pag Island is generally less expensive than elsewhere in Croatia but you'll find little open outside the summer season. More.
Tourist Information for Pag
See the individual tourist offices for Novalja and Pag Town.