Stari Grad Plain on Hvar Island is one of Croatia's more unusual World Heritage Sites. Unlike better-known sites such as Plitvice Lakes National Park or Dubrovnik, the "wow!" factor is muted here. The neatly laid out paths and walls that crisscross 1377 hectares between Stari Grad and Vrboska can seem like a mere curiosity without special interest until you understand who put them up and why. Then it becomes hauntingly clear that the terrain is a rare glimpse into 2400 years of human history, for that is how long this patch of land has remained essentially unchanged.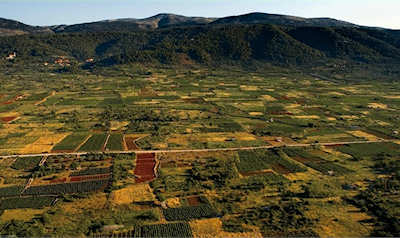 courtesy CNTB
In accepting Stari Grad Plain onto the World Heritage Sites list, UNESCO noted:
Stari Grad Plain represents a comprehensive system of land use and agricultural colonisation by the Greeks, in the 4th century BC. Its land organisation system, based on geometrical parcels with dry stone wall boundaries (chora), is exemplary. This system was completed from the very first by a rainwater recovery system involving the use of tanks and gutters. This testimony is of Outstanding Universal Value.
History
Put yourself back in the 4th century BC. It was in 385BC that Dionysius of Syracuse (Sicily) established Pharos (now Stari Grad) as a Greek colony which was intended to provide a base for further colonisation. Pharos was an agrarian economy that depended upon a large plain running 6km east of the settlement all the way to Vrboska, and 2km north-south. Bounded by the peak of St Nikola (628m) on the south and gentle hills on the north, the plain was extraordinarily fertile and had been inhabited as far back as the Bronze Age. The Greek colonisers subdivided the land into lots, planting olive trees and grapevines. The dry, stone walls erected by these early farmers survived nearly unscathed in the ensuing centuries and are still in use today. Even the crops are the same: grapes and olives.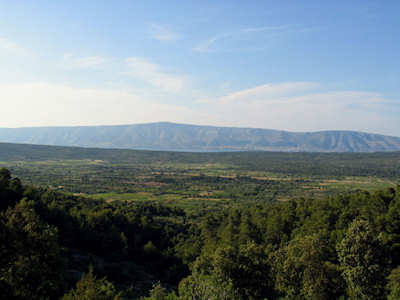 courtesy Wikipedia Commons
When the Romans conquered and devastated Pharos in 219BC, it was reconstituted as a prefecture and later acquired the status of a municipality. It remained important as a maritime and agricultural center until the Middle Ages and the original crops were augmented with wheat, carob and figs.
Only the name changed over the centuries. The Greeks called it chora Pharu, while to the Romans it became Ager Pharensis. Medieval folks named it Campus Sancti Stephani (the Field of St.Stephen).
The Chora
The land is subdivided into 75 rectangular parcels, called chora, using standard Greek measurements of the day which roughly corresponds to 900 x 180m making it the oldest and best preserved cadastres of antiquity in the Mediterranean. The chora were then divided into smaller parcels of 181 x 181m. The dry stone walls have different dimensions, some as narrow as fences, others as wide as roads.
What else did the Greek farmers need? Tool sheds! Notice the beehive-shaped small stone buildings that served to house agricultural supplies. Known as trims these structures also served as shelters from the rain and probably siesta spots.
Another feature of the chora are underground cisterns of various sizes used for collecting rainwater. Various archaeological expeditions have uncovered remains of villae rusticae from late antiquity and small chapels from the medieval period.
Hill Forts
Apart from the subdivision of the land, the Greeks also set about defending it by constructing towers on strategically placed lookout points: Glavica, Purkin kuk, Tor and Maslinovik.
Remains of the ancient Greek watch tower Maslinovik is in the middle of the plain on top a 67.5m hill with sweeping views over the plain and across the Hvar channel to Brac.

courtesy Wikipedia Commons
Tor tower overlooks Jelsa and was built on a prehistoric fort on a 230m hill.
Glavica peak is an easy walk from Stari Grad town and is marked by a circular pile of stones.
Purkin Kuk is on a 276m hill south of Stari Grad.
Visiting Stari Grad Plain
In recent years the plain has become depopulated as residents leave for an easier life. Those who remain are proud of their connection with history and happy to plant their crops. Unlike the World Heritage "stars" of Plitvice and Dubrovnik, Stari Grad Plain could handle many more tourists than it gets. Which is great for wandering through this evocative site and contemplating the rise and fall of empires.
There is no admission charge or opening hours which is a good thing but also no visitors center and few explanatory panels to help understand what you're looking at.
The site is best appreciated on foot or by bike. The tourist office of Stari Grad has bike and walking maps and a wealth of suggestions on where to go and how to get there.
Related Pages
Further Resources
GoHvarBlog--blog with detailed walking instructions about visiting Maslinovik and other hill forts