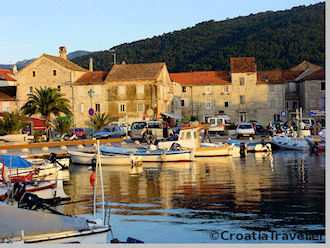 The modest harbour of Stari Grad, Hvar Island
Most people just rush through Stari Grad on the way to Hvar Town because Stari Grad is near the main ferry station on Hvar Island. Don't rush so fast. Stari Grad has a lot to offer, especially for history buffs. Curving around a pretty bay, Stari Grad is one of Croatia's oldest towns, dating back to 385BC when it was a Greek colony called Faros. You'll see the name on innumerable street signs and businesses around town. (See more on the History of Hvar Island). Although there's not much for beach buffs, Stari Grad is a peaceful place with several interesting sights. Plus, it's right on the edge of Stari Grad Plain, a UNESCO World Heritage Site, and makes an excellent base to visit the site.
Things to See in Stari Grad
Stop in at the Dominican monastery, founded in 1482 and damaged by the Turks in 1571. The monastery has an old library, archives and an archaeological collection.
Notice the painting, The Interment of Christ by Tintoretto and two paintings by Gianbattista Crespi. On the main altar is a 17th-century crucifix. Nearby in the church of St Nicolas is a wooden Baroque altar with statues of saints carved in the 17th century.
The most outstanding building in Stari Grad is Tvrdalj, a large and well preserved fortified castle once belonging to the noted Croatian poet, Petar Hektorovic. It has a fish pond and a 16th-century tower. Notice the Latin and Croatian inscriptions in the walls. In front of the castle is a statue of Petar Hektorovic.
Accommodation in Stari Grad
Stari Grad is substantially cheaper than staying in Hvar Town, whether you choose private accommodation or hotels. The hotels are all located on the northern edge of town in a vast complex with beaches nearby.
Four-star hotels in Stari Grad
Heritage Villa Apolon--clearly the best in town
Three-star hotels in Stari Grad
Hotel Lavanda
Two-star hotels in Stari Grad
Hotel Arkada
See my recommendations on private accommodation in Stari Grad.
Getting to Stari Grad
Stari Grad is connected to Hvar town by a new road and an old road. It takes about a half-hour to drive from Stari Grad to Hvar town on the new road. The old road is much more scenic but you'll need nerves of steel to negotiate the hairpin mountain turns. There is also bus transport to other island destinations. Stari Grad town is two kilometres from the port of Stari Grad that receives frequent car ferries from Split. Buses meet most morning ferries from Split. See more on getting to Hvar Island and getting around Hvar Island.
Tourist Information in Stari Grad
The tourist office (tel 021-765 763) is in the town centre at Riva 2.
Recommended Tours
More from Croatia Traveller
©CroatiaTraveller 2005-2019 All rights reserved