Most people just rush through Stari Grad on the way to Hvar Town because Stari Grad town is near (2km) Stari Grad port, the main car ferry station on Hvar Island. Don't rush so fast. Stari Grad has a lot to offer, especially for history buffs. Curving around a pretty bay, Stari Grad is one of Croatia's oldest towns, dating back to 385BC when it was a Greek colony called Faros. You'll see the name on innumerable street signs and businesses around town. It was the Greeks who first laid out the land parcel system that has become Stari Grad Plain, a World Heritage Site.
[See more on the history of Hvar Island]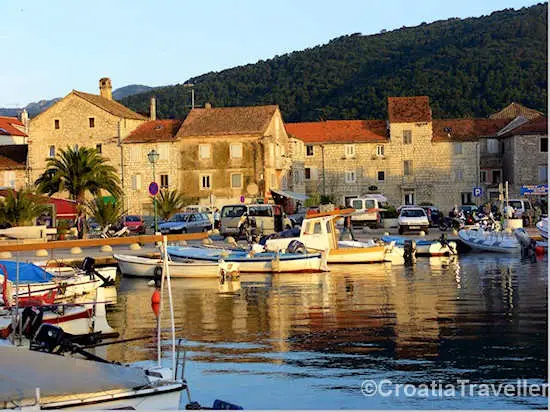 Compared to the hubub of Hvar town, Stari Grad is a quiet, lazy place with lots of local flavour. The stone buildings and streets of the old town have been exquisitely restored and feature small local shops and boutiques.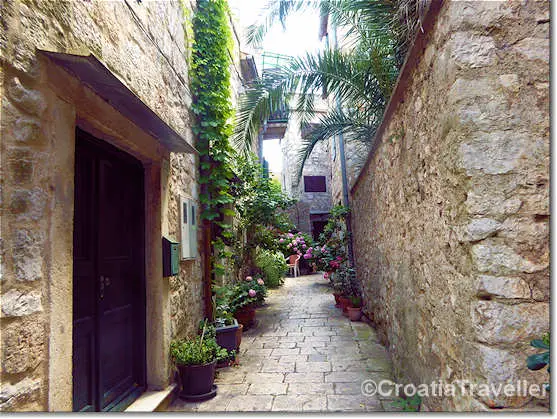 Most of the town's cafes, bars and restaurants are lined up along Stari Grad's wide habour. There's a burst of activity in the morning before the cafes fill up for lunch. Then all is quiet in the afternoon as everyone heads to the beach just outside the centre.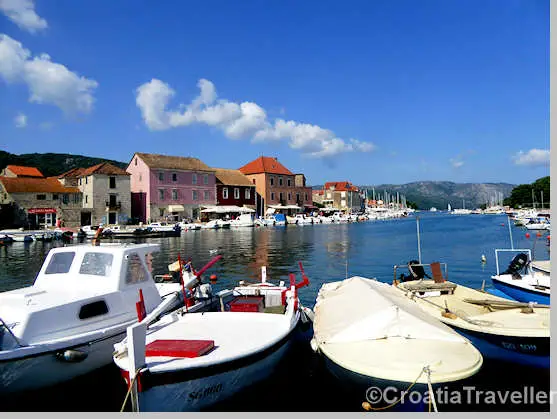 Things to See and Do in Stari Grad   
Start the day with an early and much cooler visit to Stari Grad Plain. Return to town for lunch and a tour of Stari Grad's highlights. Then pop over to the town beach for a dip.
Stari Grad Plain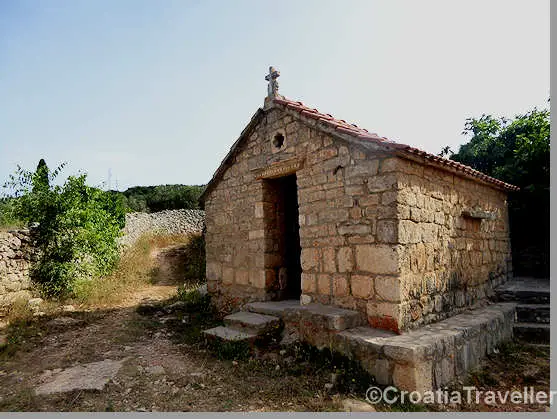 Few places on earth have remained unchanged for 2400 but Stari Grad Plain is one of them. The ancient system of land division is still intact and crisscrossed by roads and paths perfect for exploring by bike. Take a look at remains of prehistoric hill forts and towers, a Roman villa rustica and early Christian churches. More.
Petar Hektorovic (Tvrdalj) Fortress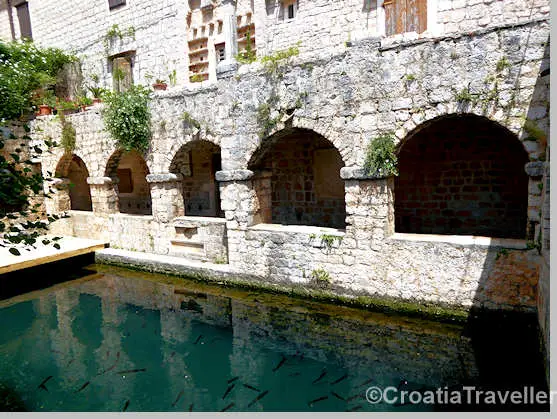 The 15th-century poet, Petar Hektorovic, is considered one of the fathers of Croatian literature. Born and raised in Stari Grad, his poems celebrate the ordinary lives of local fishermen. This fortress-home was designed by the poet himself and centers on a beautiful fish pond, still stocked with mullet. Other exhibits in the fortress include tools and cooking gear typical of the period. Notice the Latin and Croatian inscriptions in the walls. In front of the fortress-home is a statue of Petar Hektorovic.
Dominican Monastery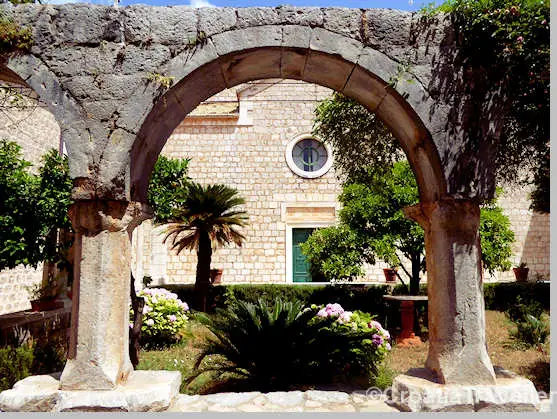 Founded in 1482 and damaged by the Turks in 1571, the monastery has an old library, archives and an archaeological collection. Notice the painting, The Interment of Christ by Tintoretto and two paintings by Gianbattista Crespi. On the main altar is a 17th-century crucifix.
Stari Grad Museum
Housed in a 19th-century neo-Renaissance palace, the Stari Grad Museum provides an excellent overview of Stari Grad's history. Highlights include a collection of Roman amphorae and other artifacts, the Gelineo-Bervaldi Salon (above) recreating the lifestyle of a wealthy landholder, the Captain's Room with paintings of boats, sea chests and weapons, and the works of local artists Juraj Plancic and Bartol Petric.
Town Beach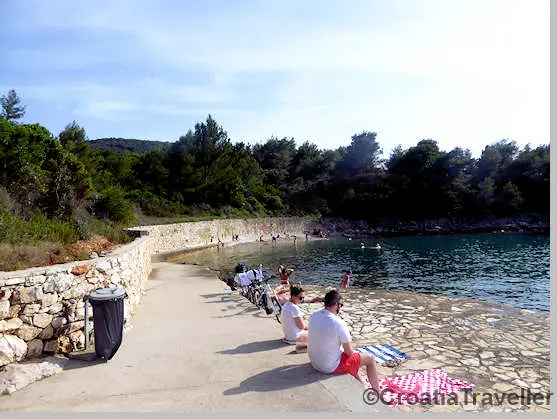 Follow a path from the west harbour to this small, local beach. The concrete slabs may not make it a comfortable place to hang out for a day but it's immaculate and there are beach showers.
Accommodation in Stari Grad
Stari Grad is substantially cheaper than staying in Hvar Town, whether you choose private accommodation or hotels. The hotels are all located on the northern edge of town in a vast complex with beaches nearby.
Four-star hotels in Stari Grad
Heritage Villa Apolon--clearly the best in town
Three-star hotels in Stari Grad
Hotel Lavanda
Two-star hotels in Stari Grad
Hotel Arkada
See my recommendations on private accommodation in Stari Grad.
Getting to Stari Grad
Stari Grad is connected to Hvar town by a new road and an old road. It takes about a half-hour to drive from Stari Grad to Hvar town on the new road. The old road is much more scenic but you'll need nerves of steel to negotiate the hairpin mountain turns. There is also bus transport to other island destinations. Stari Grad town is two kilometres from the port of Stari Grad that receives frequent car ferries from Split. Buses meet most morning ferries from Split. See more on getting to Hvar Island and getting around Hvar Island.
Tourist Information in Stari Grad
The  tourist office (tel 021-765 763) is in the town centre at Riva 2.