COMPARE TIMETABLES AND BOOK ONLINE
Going from Ancona to Zadar? This Jadrolinija car ferry runs from 29 June to 8 September. Jadrolinija is the only company to run this route now although there once were others. If this ferry doesn't fit your schedule, try the Ancona to Split ferry.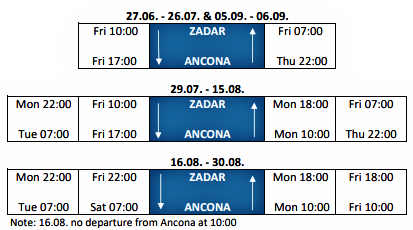 About the Ferry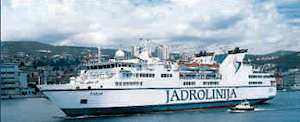 Length: 116m
Width 18.90m
Passenger capacity: 1053
Car Capacity: 280
Cabins: 26
Facilities: restaurant, cafe-bars, duty-free shopping, VIP lounge, airline seats
Booking the Ancona-Zadar Ferry
As with any international car ferry, I strongly recommend that you book it in advance. In order to book the car ferry, follow these easy steps:
1. Select your departure port (Ancona or Zadar)
2. Select your arrival port (Ancona or Zadar)
3. Select the month and dates of your departure; Note that there is a 20% reduction on the return portion of a round-trip ticket
4. Select your desired accommodation; Note that some accommodation may not be available on some departures.
5. Choose your vehicle make, model and, if applicable, the plate number. If you do not know the plate number (i.e. for a rental car) simply enter "rental" in the space provided; you can notify the company later when you know the number
6. Follow instructions for paying by credit card and await your email confirmation and ticket which will be emailed to you.
At the Ancona Ferry Port
Arrive two hours before embarkment. Bring your passport or other identifying document (see Croatia border formalities) and proceed directly to the Jadrolinija stall of the main ferry terminal. You will receive your boarding documents and information about the location and boarding time of your ferry. You will then be directed to pass through passport control. Now that Croatia is a part of the Schengen zone, passport control is more a formality.
At the Zadar Port
The Ancona-Zadar ferry arrives and departs from Zadar's Gazenica Port. See more.
Last updated February 6, 2023