Also known as the Pula Arena, this magnificent structure is the highlight of any visit to Pula and is one of the top sights in Istria. It was initially built during the reign of Emperor Augustus (31BC-14AD) and was enlarged during the reign of Claudius, finally taking shape during the reign of Emperor Vespasianus (69-96AD).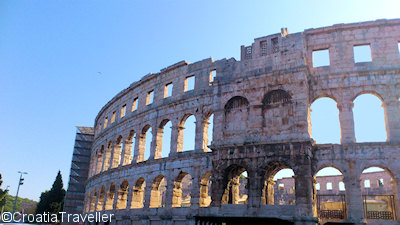 It retains its ellimptical shape and, at 130 x 100 meters, it is one of the six largest Roman amphitheatres in the world and the only one to have four side towers and all three levels preserved. It was built from massive blocks of Istrian local limestone.
In accordance with standard design, there are three parts: the arena where the gladiatorial events were staged; the spectator seats; a subterranean gallery. The latter was designed to ensure a trouble-free execution of the Roman's bloody combats between men, men and animals and animals. It was carved from solid rock and and used columns and pilasters to support the arena above. The animals and equipment were kept in this space which was accessible from outside and connected by corridors to the arena.
The subterranean gallery is now used as an exhibition space for objects and tools elucidating life in Roman Pula.
The arena is protected by a 30m-high outer wall that contains two rows of 72 arches. The spectator area could seat 20,000 but many stone seats were removed and used for construction in the Middle Ages. Above the spectactor area, the Romans has stretched linen awnings (vellum) to protect spectators from the summer heat. At the top of the outer wall the slabs used to secure the awnings are still visible.
The amphitheatre is open for visits daily from 8 or 9am to nightfall (admission €6.60) and is a popular site for concerts and events in Pula throughout the year. During the summer, "gladiator fights" are regularly staged. See the Pula tourist office for details of amphitheatre activities.