Pula is one of Istria's most authentic and complex cities known for its impressive Roman ruins and a verdant coastline. Unlike other Istrian destinations however, Pula has a flourishing life apart from the tourist business. It's an important shipbuilding centre, an industry that dates back to the days when it was an important naval port under the Austro-Hungarian empire. Even the Romans liked Pula's position and made it their administrative headquarters.
[Istrian history from Romans to Yugoslavia]
As Pula is well-connected by road with everywhere in Istria, there are a wealth of interesting day trips. Visitors may want to make Pula their headquarters for their Istrian holiday.
[Best of Istria nine-day independent itinerary]
[Discover Istrian archaeology seven-day independent itinerary]
Insider tip
Pula's historical centre of town is mainly devoted to business, government and commerce which take place in and about the city's celebrated Roman ruins. When the locals want to dine or party however, they head to Verudela peninsula (only a few kilometres away). During the day they play on the beach and at night, they head to one of the restaurants or nightspots that are scattered across the peninsula. There's not a lot going on in the town centre unless there's an event at the amphitheatre.
Most of the hotels in Pula are also on Verudela peninsula. Even though the bus system is excellent, the oddly bifurcated nature of life in Pula makes it helpful to have a car. Fortunately most agencies have offices in downtown Pula or in Pula Airport.
Things to See in Pula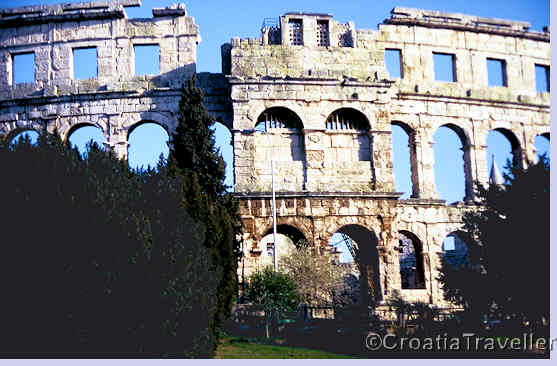 Amphitheatre The town centre is dotted with Roman ruins, the most impressive of which is the spectacular Roman amphitheatre. This massive structure (called the Arena by the locals)is the sixth largest amphitheatre in the world with space for 22,000 spectators. For visitors it's more than just an empty space. Climb up to the top to get a sense of the vastness of the structure; explore the subterranean caverns which were used to keep wild animals and the Christians they were about to tear apart. The amphitheatre is also an outdoor concert hall with a full program of music, theatre and entertainment during the summer. (stay near the Amphitheatre)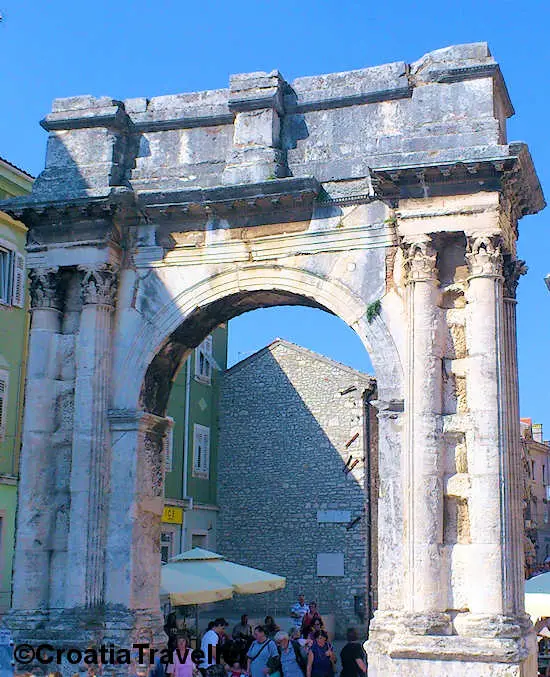 Triumphal Arch of Sergius This majestic arch forms an impressive gate to Pula's historical center. Artists and architects from Michelangelo to Robert Adam studied and sketched this exceptionally well-preserved monument. Sometimes called the "Golden Gate", it was erected in 27 BC by a distraught mother. Salvia Postuma Sergi used her own money to build this arch in honour of the three male members of her family who had fought and died at the battle of Actium. (stay near the Arch of the Sergi)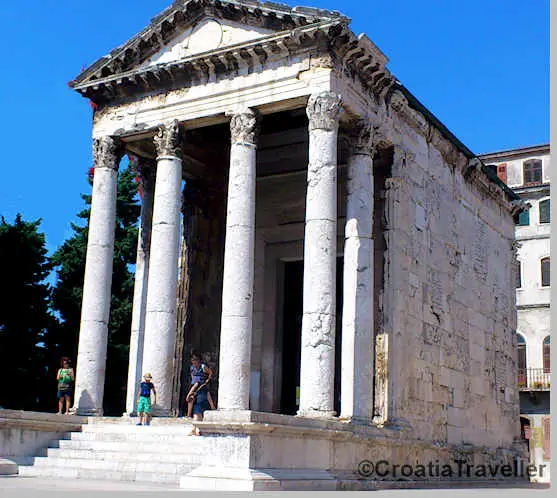 Temple of Augustus In the centre of town is the Roman Forum whose highlight is the Temple of Augustus. Dedicated to Augustus, the first Roman emperor, this temple is exquisitely harmonious. With the spread of Christianity, the temple became a church and then a granary! Now it hosts a collection of Roman sculpture. Notice the 2nd-century torso of a Roman emperor. (stay near the Temple of Augustus)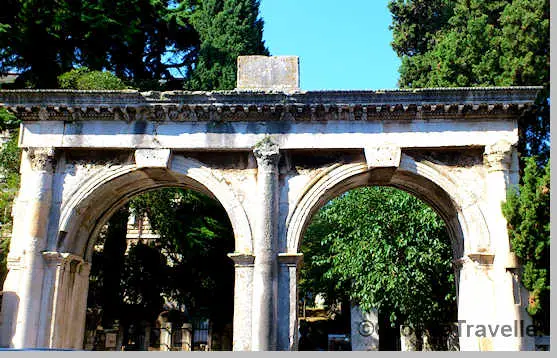 Hercules Gate Dating from the mid first century, it's the town's oldest gate. Named after Hercules, the town patron, it's decorated with a relief showing Hercules' head and club. (stay near Hercules' Gate)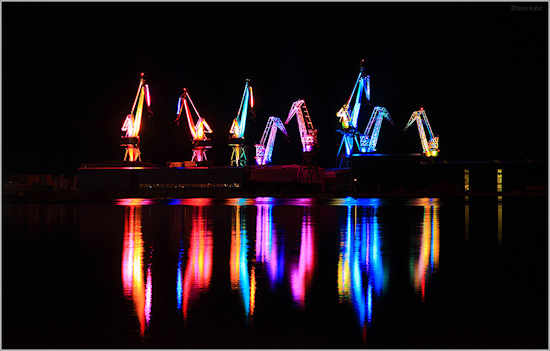 By Nrasic under CC license
Light Show Head to Pula's harbour after sundown and check out Pula's newest attraction: "Lighting Giants" by Dean Skira, the world-famous lighting designer. He has lit up the Uljanik shipyard's iconic cranes with 16 thousand different color combinations. The 15-minute show is every evening on the hour (at 9 pm, 10 pm, 11 pm and Midnight).There will be a different lighting scheme, specially programmed for special occasions, holidays and events.
Other Sights. . .
Cathedral of the Assumption of the Virgin Mary Erected on the foundations of a Roman temple, its oldest remains date from the 4th century. It began as a small single-nave church. In the 5th century it was divided into a three-nave basilica which was reconstructed several times.
Franciscan Church and Monastery Dating from the latter half of the 13th century this is a Gothic masterpiece.  It's shaped as a simple single-nave basilica with a three-apse space.
Things to Do in Pula
Virtual Reality Walking Tour
This new and innovative walking tour allows you to see Pula's Roman ruins as though you were a Roman. A pair of cardboard Samsung VR glasses are provided along with a smartphone app. Presto! Pula's history comes alive as never before. Book now!
Diving
The waters of Istria have a lot to interest scuba divers. Pula based Orca Diving offers a wealth of diving possibilities including wreck diving and boat diving. They are based at the Park Plaza Histria Hotel in Verudela. Or, book a complete PADI scuba certification course.
Never taken the plunge? Try a special scuba introductory course. It's perfect for families!
Snorkeling
Prefer to keep your head above water while watching the fish? Book a boat trip with snorkeling or a kayak trip with snorkeling.
Cycling
The flat coastline and rolling interior offer wonderfully relaxing opportunities for cyclists of all levels.
Take a cycling tour and wine tasting through Kamenjak nature park, a protected habitat that stretches along the coast.
Or cycle Cape Kamenjak from Premantura exploring secluded bays and sandy beaches.
For more of a challenge, try the full day Parenzana cycling tour that takes in the hilltop villages of Motovun, Groznjan and Buje.
Beaches in Pula
If beach fever grabs you, head out to Verudela peninsula 2km south of the town centre where you'll find many rocky beaches. Pula beaches go in and out of fashion but Valkana Beach, Hawaii Beach, Kolumbarica Beach and sandy Debeljak Beach are usually the most popular with the locals.
The Brijuni Islands National Park , off the coast of Pula makes a lovely day trip that combines Roman ruins with reminders of ex-Yugslavia within a stunning natural landscape.
[Book a Brijuni Islands tour online]
Accommodation in Pula
In Pula you have a choice between a resort experience on the Verudela peninsula or an urban experience in the town center. To truly soak up the Roman era, stay in the town center. For sun and pampering, stay in Verudela. To get a taste of both, transport and beach access make it more convenient to stay in Verudela and visit the town center than vice versa.
[Where you should stay in Pula]
map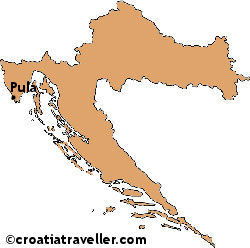 Click for more Croatia maps
Pula Travel Planner
Eating & Drinking
Nightlife
Bars, pubs, dance and live music.
Tourist Information in Pula
The Pula tourist office (tel 052-219 197) is at Forum 1 in the town centre and distributes many helpful brochures.