There are three fantastic world-class five-star hotels in Rovinj: the Hotel Lone; the Hotel Monte Mulini and the Hotel Grand Park. They are all within easy walking distance of central Rovinj, right at the edge of Zlatni Rt (Golden Cape) nature park. All have stunning contemporary design and are lavishly outfitted with restaurants, spas and wellness facilities.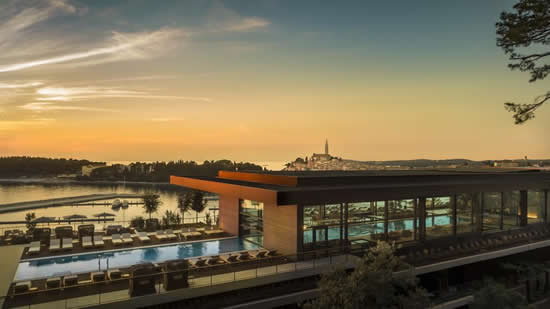 Opened in 2019, the Grand Hotel Park may be the most luxurious hotel in Croatia. Created by the award-winning Pierre Lissoni of Milan's Lissoni Architecture, the unique cascading structure blends with the landscape and makes it seem smaller than it actually is. 193 rooms and 16 suites with a sea view spread over six floors decorated with works of art. Each room is a work of art, equipped with large windows looking out over the bay to Rovinj. The ground floor on Lungomare Plaza is a favorite of locals who come to shop in one of the designer stores or dine in one of the hotel's six fine restaurants. The Albaro Wellness & Spa facilitiies offer three swimming pools, five saunas and treatment rooms that pamper the body with traditional Istrian plants and folk medicines. Accepted into the prestigious Leading Hotels of the World, the Grand Hotel Park is worth a trip to Rovinj if only to experience it. See what guests say and BOOK NOW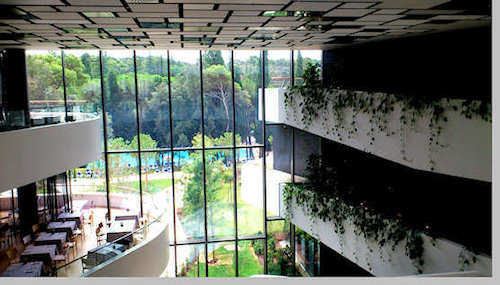 Hotel Lone was built from the ground up by Croatian architects and designers, making it a showcase for the finest in Croatian design. Pleasure-seekers with a taste for the finest in decor, gastronomy and pampering will find plenty to write home about. Croatian architect Silvije Novak designed the hotel to resemble an ocean liner with echoes of  1970s hotel style, prevalent along the Croatian coast. Large glass walls integrate the interior space with the magnificent Golden Cape park extending out from the hotel. Room furnishings reflect cutting edge design and public spaces are awash in multimedia installations and modern art.
Pleasures of the senses are not forgotten either. The seven restaurants and bars are top-notch and offer different culinary styles with a choice of 200 wines. The Wellness Center is top-of the-line with a choice of all types of face and body treatments, massages, exotic baths and different saunas. . The offerings are varied including facial and body treatments, massages, invigorating baths and sauna with scented steam, Finnish, Turkish, salt and infrared sauna options. The most original is the "sunken room" where guests float on special hydra-massage beds.
Of course, there are indoor and outdoor swimming pools, all manner of fitness machinery, tennis courts, bikes and pretty much anything else you can dream of. Plus, the hotel is only a fifteen-minute walk from central Rovinj and a beach. See what guests say and BOOK NOW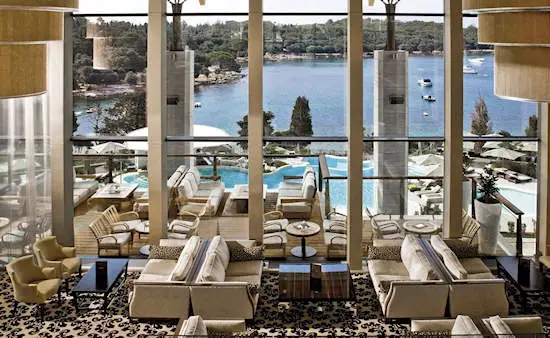 Awards keep falling on the Hotel Monte Mulini in Rovinj. After being welcomed into the Leading Hotels of the World group, the Croatian Tourist Ministry awarded it the top "Q" rating. The hotel beach club was recently named one of the world's best by cntraveller. The four pool areas, pool bars and facilities are shared by guests in the Hotels Lone and Grand Park. There are two restaurants that offer the finest dining in Rovinj. Mediterraneo is casual and open all day. Amatis is the place for a romantic dinner overlooking the bay. All diets from vegan to gluten-free to kosher are catered to. With only 99 rooms and 14 suites, personal attention is guaranteed. Each room has a western view over the bay, offering spectacular sunsets. The spa stretches over 700 m2 and features Istrian-inspired massages, facials and body treatments in rooms of wood, stone and gold. See what guests say and BOOK NOW