The village of Lopar on Rab Island is on a peninsula full of small bays and 22 sandy beaches. The most famous beach is the aptly named Paradise Beach, arguably one of the best beaches in Croatia. The sand is fine and copious along the 1 1/2km long Crnika bay making it a true paradise for young, inexperienced swimmers and devoted sunbathers. The bay is so shallow that you have to walk 100m before the water rises more than a half meter.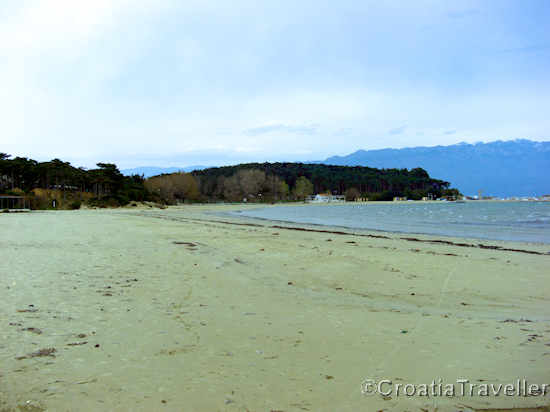 The opposite side of the peninsula contains Lopar Bay which is where the Baska-Lopar ferry lands. Beyond the ferry landing to the north are other small bays while the steep barren northeastern part of the peninsula contains a number of naturist beaches.
Accommodation in Lopar
In keeping with the local flavour, accommodation is informal in Lopar. The hotel San Marino complex which includes a giant autocamp is being renovated and there's a good amount of private accommodation. Click to find accommodation in Lopar.
Getting to Lopar
Otherwise you can take the car ferry from Jablanac to Misnjak is the southwestern corner of Rab Island. From Rab Town there are fairly regular buses to Lopar.
Tourist Information in Lopar
The tourist office is near the entrance to town.