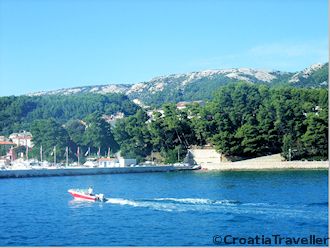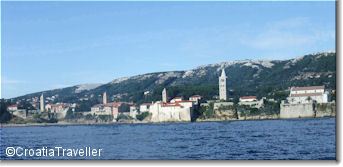 Rab Town: Famous for its four bell-towers

In the Kvarner Gulf, right between the islands of Krk and Pag lies stunning Rab Island. With almost 2500 hours of sunshine in Rab, it ranks as one of the sunniest corners of Europe. Yet it rains enough to keep the island lush with greenery.
The highly indented coast is filled with pine-rimmed coves especially in the southwest. The northeast has Lopar with two of the best beaches in Croatia. The interior is rural with vineyards, olives and vegetables but most people flock to scenic Rab Town or one of the six other villages: Mundanija, Supetarska Draga, Kampor, Banjol, Palit and Barbat.
Getting to Rab Island
It's easy to stop in Rab if you're island-hopping in the northern Adriatic. There's a car ferry from Lopar to Valbiska on Krk Island that runs all year but more frequently in the summer. Contact Jadrolinija for the schedule and booking information. Otherwise, there's a daily catamaran all year from Rijeka to Rab, going on to Novalja on Pag Island. If you have wheels, there are numerous daily car ferries from Stinica on the mainland to Misnjak. The ferry is run by Rapska-Plovidba which handles all bookings. The same company will take you further down the coast via passenger ferry to Lun on Pag Island. You can also catch one of the two daily buses from Rijeka to Rab.
Rab Town has the widest choice of accommodation--everything from private rooms to large hotels. Lopar has some private accommodation as well. Find out more about staying on Rab Island.
Tourist Information in Rab
The tourist office in Rab Town has some information on destinations around the island.