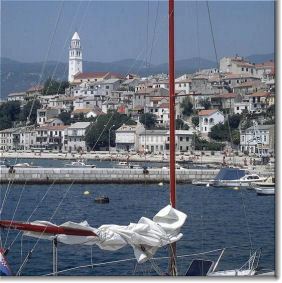 Right along the Kvarner coast and 47km south of Rijeka, Novi Vinodolski is a town and tourist resort at the centre of a 20km chain of coastal resorts and beaches that stretches from Crikvenica in the north to Smokvica in the south. The town has two parts: an old town on a hill and a newer section along the port with modern hotels, swimming facilities and other amenities for visitors. The name, Novi Vinodolski, comes from the nearby Vinodol Channel and is relatively recent. Until 1953 the town was simply called Novi.
The sightseeing highlight of the old town is the Frankopan castle where the ancient Vinodol Codex, a Croatian law, was passed in 1288. There's also a small museum and a gallery. Most people come more for the fresh mountain air that freshens the town and the good swimming in Lisanj cove, on the south side of the port. Active travellers will appreciate the great walks. There's a trail that follows the coastline and several others of varying difficulty that run through the forested hills overlooking the town. There are also facilities for diving, tennis and various watersports.
Getting to Novi Vinodolski
There are no ferries or direct flights to Novi Vinodolski but the town is easily reachable by car or bus (every half hour or so) from Rijeka. Some hotels offer transfers from the airport on Krk Island.
Accommodation in Novi Vinodolski
Five-star hotels in Novi Vinodolski
Novi Spa Hotels & Resort--opened in late 2008, this resort includes a hotel and luxury apartments.
Four-star hotels in Novi Vinodolski
Hotel Tamaris     
Three-star hotels in Novi Vinodolski
Hotel Ruza
Hotel Ema
Two-star hotels in Novi Vinodolski
Hotel Lisanj
Tourist Information in Novi Vinodolski
The tourist office (051-244 306) is at Tomislava 6 in the town centre.