Krka National Park is a remarkable site by any measure: rivers, waterfalls, monasteries, fortresses are scattered like jewels throughout this massive 142 sq km park. Yet there are two principal problems to visiting the park: 1) it is massively crowded from May to September; and 2) visiting the less-touristed areas of the park takes planning. Krka is not the place to just show up and hope for the best--at least not in summer. You'll see more sunhats than waterfalls!
The overwhelming majority of visitors only visit the area around Skradinski buk there is so much more to see. The National Park publishes an excellent free brochure that outlines all the attractions in the park along with maps, parking, distances and much other practical information. Start by downloading this brochure, then follow these expert tips. You can't go wrong!
Get off the beaten track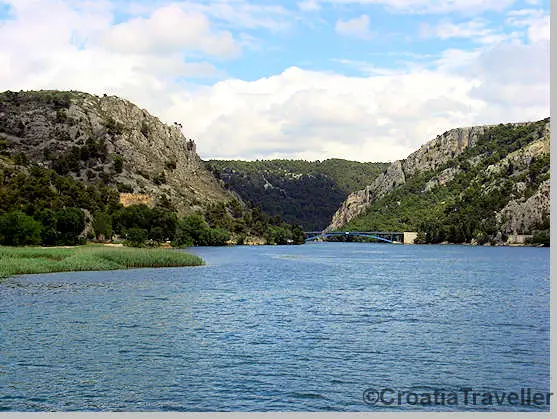 I advise prioritizing a visit to the further reaches of the park. Roski slap is a good place to start as there are waterfalls, a cave to visit, trails that take in spectacular views and boat excursions to other highlights like Visovac and Krka monasteries.
Don't Arrive Midday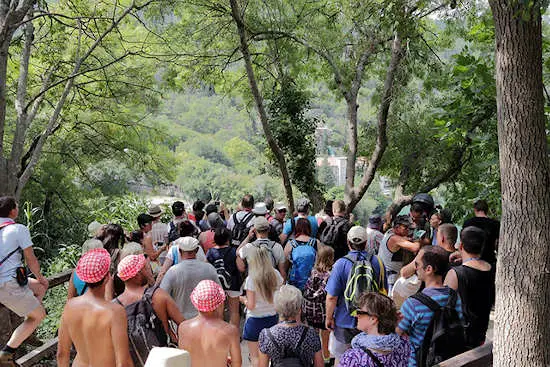 photo by Lukas Plewnia for flickr cc license
Arrive early or late. The park opens at 8am and shortly after the first boat will leave Skradinski buk. It will be substantially less crowded than later boats. Visitor numbers decrease in late-afternoon which is why the admission price is lower after 4pm. Between 4 and 8pm when the park closes you can enjoy a tranquility that is entirely absent around midday. A good plan would be to visit Roski slap first and save Skradinski buk for later in the day. Since the boats from Skradinski buk to Roski slap have no fixed schedule and are organized each morning, it's important to be there early and get the schedule. If you only have time for Skradinski buk, start your visit around 4pm.
Come by Car if Possible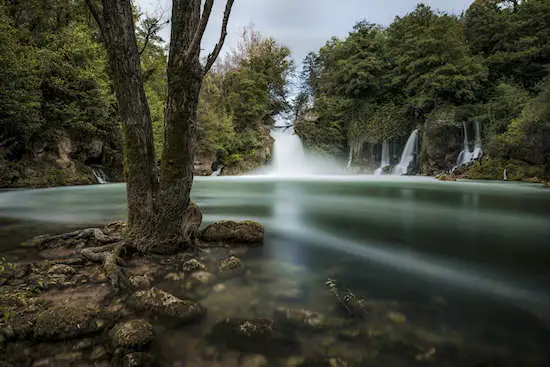 courtesy NP Krka
Having your own wheels makes it much easier to visit the outer reaches of the park including remoter waterfalls such as Bilucica (above). There are 10 entrances to the park but you'll need wheels to reach them. You can rent a car in Sibenik or Split.
Plan in Advance
It is not required to buy your ticket to the national park in advance but it will save you waiting in another queue when you arrive. Buy tickets online at the National Parks webshop. Public transport should also be arranged in advance. There are public buses from Sibenik and Split to Skradin, the park's most popular entrance. It's a popular trip which makes advance purchase highly advisable in summer. And don't forget to buy your ticket back! Be generous with the time schedule as it may take longer to visit the park than you think due to crowds. Buy tickets at getbybus.
Mind the Footwear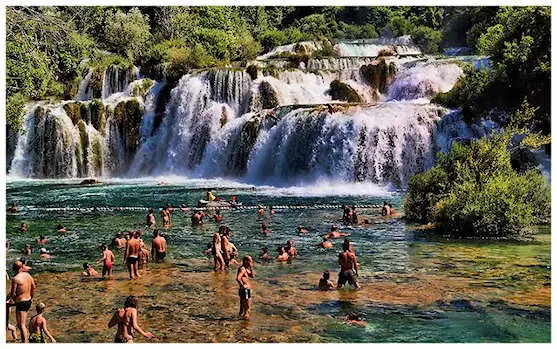 photo by Mario Fajt flickr cc license
One of the delights of Krka national park is taking a refreshing dip at the foot of a waterfall. There are slippery rocks around the edges though making watershoes essential. You'll need different shoes when you hit the trails. Flip-flops won't cut it. Parts of the trails are rocky and could be slippery. Wear the sturdiest shoes you have with you.
Pack a Lunch
Yes you can always grab a bite to eat at one of the many food stalls scattered throughout the park but lines can be long for mediocre, overpriced dishes. You'll save time, money and aggravation by packing your own meal.
Be Polite and Follow the Rules
It's important to respect the natural integrity of the park which means no digging up plants or flowers, only swimming in designated areas and not veering off the marked trails. Notice that, for traffic control, some trails are one-way. Follow the crowd movement and be mindful of others behind you when focusing your camera for that perfect shot.
Recommended Experiences
More from Croatia Traveller
My Favorite Travel Accessories
©CroatiaTraveller 2005-2020 All rights reserved