If Plitvice Lakes park isn't convenient, try Krka National Park, another land of lakes and waterfalls that's an easy day trip from Split or Sibenik. As another karstic terrain, the national park is full of porous rock through which the Krka river has carved lakes, cascades and caverns. It's a truly remarkable site and one of Croatia's eight national parks.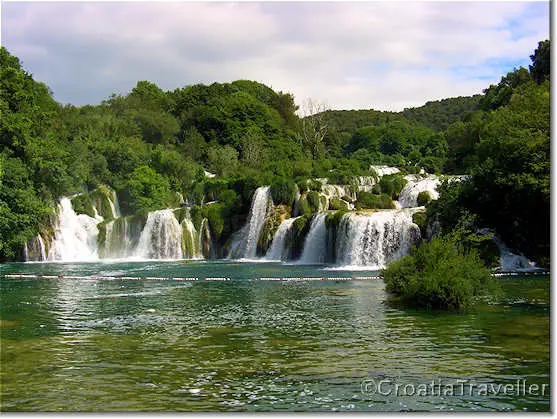 About 2/3 of the course of the Krka river is part of the national park which includes most of the river lakes and the two richest waterfall systems: Roski slap and Skradinski buk.
Although the Krka waterfalls were formed the same way as those in Plitvice, the amount of water is much greater. About 55 cubic metres a second flows down Skradinski buk, an amount that is four times greater after a strong rainfall. Skradinski buk is the largest travertine cascade system in Europe with 17 steps up to 400 metres wide.
As the Skradinski buk barrier grew, 13 kilometres of the Krka river were flooded up to the foot of the Roski slap system. This area is called Lake Visovac and there's a 14th-century island monastery, the Visovac Monastery in the middle. Roski slap rises 27 metres in a series of shallow steps of extraordinary beauty.
Flora and Fauna
The Krka river is rich in fish with 17 different fish species including a species of trout that can only be found here. Marsh birds find it an appealing habitat. Depending on the season, you may find heron, duck, goose, crane, sandpiper, snipe, water rail and warblers. In the gorges there are rare eagles, falcons and owls.
Video
An organized tour is the most efficient way to visit the park. Not only is it faster but going with a group will take you through the entire park. Showing up alone will certainly allow you to visit Skradinski buk, but maybe not more since most of the park is visited by boats that run by appointment only (see below). From Split, you can:
take a 9-hour group tour that includes the National Park and Sibenik. More.
take a private tour with your very own guide. More.
take a Krka bike tour. More.
Or you can:
take a day trip from Dubrovnik. More.
take a day trip from Zadar. More.
Visiting the Park Independently
From Skradin, take a short boat ride to Skradinski buk and then explore the falls by wooden walkway. The best feature is that, unlike Plitvice Lakes, you can swim in the lower lake.
Boats to Skradinski buk leave every hour in season but from Skradinski buk there are only one or two boats a day that go further up the falls to Roski Slap or Lake Visovac. The park is partly visited on foot, as walkways take you around the lower falls, and partly visited by boat but it takes some planning to visit the entire park as the boat up to Roski Slap leaves by appointment only. Here's my experience trying to get a Krka Park boat.
Travel tip: Contact the National Park Office before you arrive and try to get the boat schedule so you can visit the entire park.
Admission to the Park
Beginning in 2017, the park limited visitors to Skradinski buk. If there are more than 10,000 visitors already at Skradinski buk, visitors will be directed to other areas of the park. Off-season is not a problem but in the summer it's best to buy tickets in advance at the National Parks webshop. Note that online tickets are only available for Skradinski buk.
Travel to Krka National Park
The park is an easy 1/2 hour drive from Sibenik, on Croatia's central Dalmatian coast and there are regular daily buses from Sibenik if you don't have a car.
Accommodation in Krka National Park
There is no accommodation within the forested area but the main village in Krka National Park is Skradin where there is plenty of accommodation.
Tourist Information
The Krka National Park office (tel 022-217 720) and the Skradin tourist office (tel 022-771 306) is in the centre of Skradin
Recommended Tours
More from Croatia Traveller
©CroatiaTraveller 2005-2019 All rights reserved