If Plitvice Lakes park isn't convenient, try Krka National Park, another land of lakes and waterfalls that's an easy day trip from Split or Sibenik. As another karstic terrain, the national park is full of porous rock through which the Krka river has carved lakes, cascades and caverns. It's a truly remarkable site and one of Croatia's eight national parks.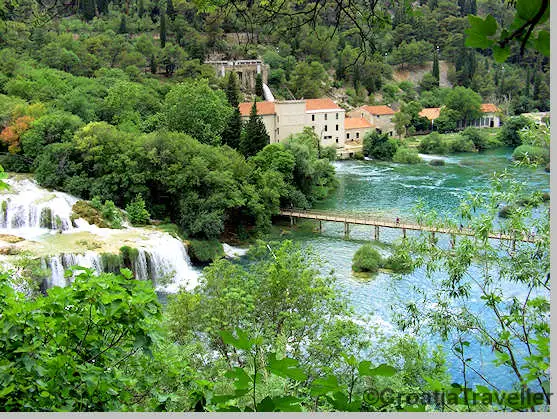 Things to See and do in Krka National Park
About 2/3 of the course of the Krka river is part of the national park which includes most of the river lakes and the two richest waterfall systems: Roski slap and Skradinski buk.
Skradinski buk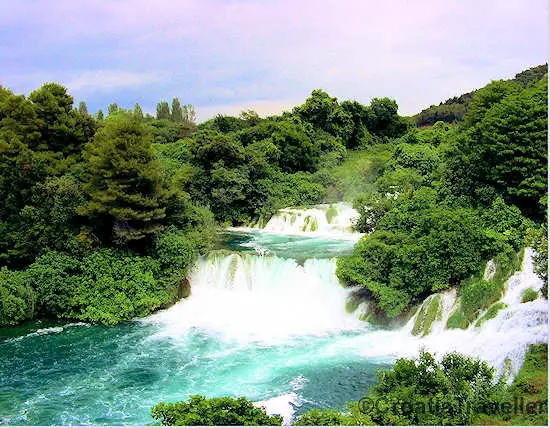 Skradinski buk is the largest travertine cascade system in Europe with 17 steps up to 400 metres wide. It is the highlight and most impressive part of Krka park. It is also the most visited. Although the Krka waterfalls were formed the same way as those in Plitvice, the amount of water is much greater. About 55 cubic metres a second flows down Skradinski buk, an amount that is four times greater after a strong rainfall. The best feature is that, unlike Plitvice Lakes, you can swim in the lower lake from June to September.
Visovac Lake and Monastery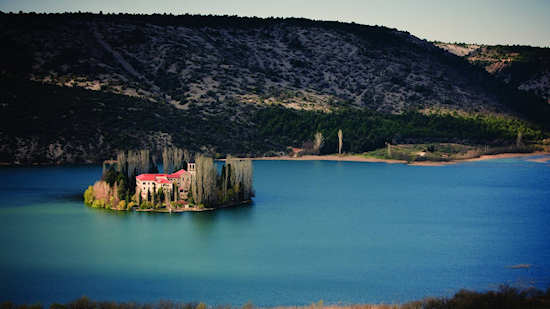 courtesy NP Krka
As the Skradinski buk barrier grew, 13 kilometres of the Krka river were flooded up to the foot of the Roski slap system. This area is called Lake Visovac and there's a 14th-century island monastery, the Visovac Monastery in the middle. There are daily boats that take you from Skradinski buk to Visovac (2hr, €13.30). Boats also leave from Stinice and Remetic (35min, €6.60).
Roski slap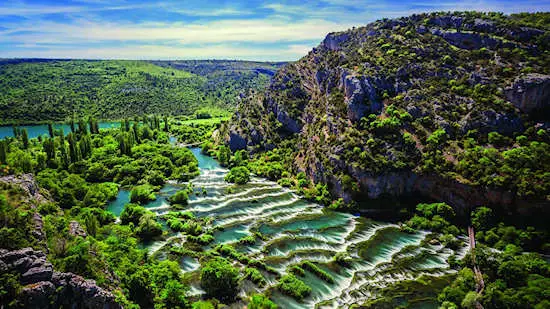 courtesy NP Krka
Roski slap rises 27 metres in a series of shallow steps or "necklaces" (above). The falls can be stunning depending upon the water flow which is generally less in summer. There's a network of trails from Roski slap that take you to viewpoints as well as the stairs to Ozidana Pecina Cave. You can catch a boat to the Krka monastery and a place to swim. There is an entrance with parking at Roski slap.
Ozidana Cave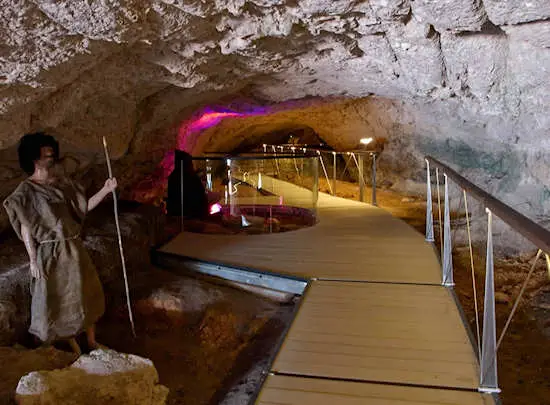 courtesy NP Krka
This 59m-long cave was inhabited from 5000BC to 1500BC. Along with fragments of ceramic dishes, stone tools and animal bones, archaeologists came upon the skeletons of two children curled in a fetal position. What happened there? Inquiring archaeologists want to know. The cave is accessible on foot from Roski slap but be advised that there are 517 stairs leading to the cave. Those primitive folk were in great shape. At the end of the visit, return the same way or climb an additional 99 steps to the parking lot where a bus will return you to Roski slap (summer only).
Krka Monastery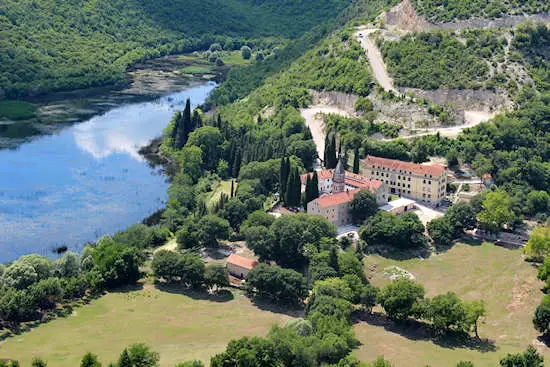 courtesy NP Krka
This Orthodox monastery dates back to the early 15th century but was built and rebuilt through the 18th century. It was damaged in the Homeland War of the early 1990s but has been restored. Sometimes called Arandjelovac (Holy Archangel), the monastery is an important spiritual centre for the Serbian Orthodox faith. Much is off-limits but you can still visit the inner courtyard, Roman catacombs, church and museum. The monastery is accessible by car or by boat from Roski slap (2 1/2 hrs, €13.30).
Cycling Trails
The national park has opened 14 cycling routes from demanding mountain routes to less-demanding family-friendly trekking routes. Routes are circular and take in lookout points with stunning views. It's probably most convenient to sign up for a bicycle tour. The national park does not rent bikes but there are a few places in Skradin that do. Try rikibike.com. National park admission is not included in the price.
Flora and Fauna
The Krka river is rich in fish with 17 different fish species including a species of trout that can only be found here. Marsh birds find it an appealing habitat. Depending on the season, you may find heron, duck, goose, crane, sandpiper, snipe, water rail and warblers. In the gorges there are rare eagles, falcons and owls.
Map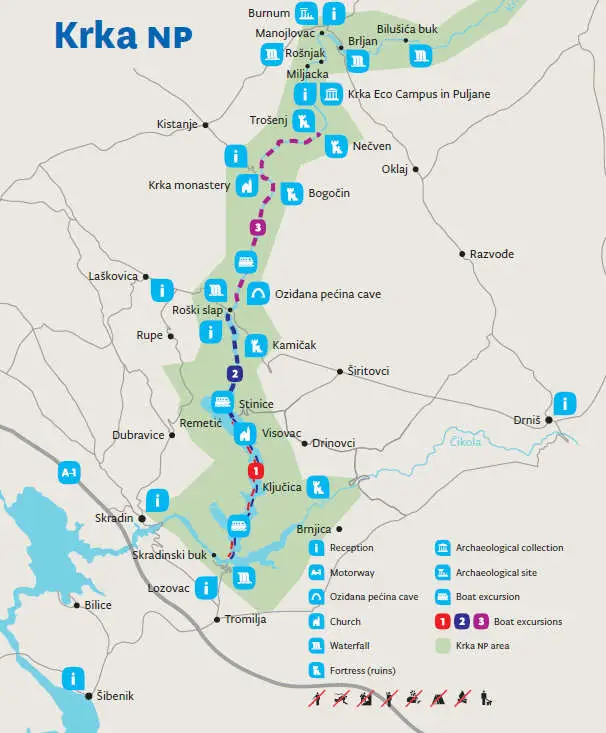 Visiting krka national park
Whether visiting individually or via an organised tour, be prepared for crowds. The park has not yet found a way to manage high visitor numbers, especially around Skradinski buk, the most popular area of the park. Try to get the first boat at 8am or visit the park after 4pm when admission is cheaper and there are fewer people.
Entrances
Lozovac
Skradin
Skradin bridge
Visovac House Kuzelj
Roski slap waterfall
Ozidana pećina cave
Laskovica
Kistanje – Krka monastery
Burnum
Manojlovac slap waterfall
The main entrances are Lozovac and Skradin. From Lozovac, a park bus takes you to the entrance to the trail system around Skradinski. From Skradin, take a short boat ride to Skradinski buk and then explore the falls by wooden walkway. Both the boat and the bus are included in the admission price.
The park is partly visited on foot, as walkways take you around the lower falls, and partly visited by boat but it takes some planning to visit the entire park. Boats to Skradinski buk leave every half-hour in season but from Skradinski buk there are only one or two boats a day that go further up the falls to Roski Slap and Lake Visovac.
Travel tip: Contact the National Park Office before you arrive and try to get the boat schedule for the day which makes planning easier. Otherwise, you can get the schedules when you arrive in the morning.
See all my practical tips for visiting Krka national park.
The park now limits visitors to Skradinski buk. If there are more than 10,000 visitors already at Skradinski buk, visitors will be directed to other areas of the park. Off-season is not a problem but in the summer it's best to buy tickets in advance at the National Parks webshop.
Travel to Krka National Park 
The park is an easy 1/2 hour drive from Sibenik, on Croatia's central Dalmatian coast and there are regular daily buses from Sibenik if you don't have a car.
Accommodation in Krka National Park
There is no accommodation within the forested area but the main village in Krka National Park is Skradin where there is plenty of accommodation.
Tourist Information
The Krka National Park office (tel 022-201 777) and the Skradin tourist office (tel 022-771 306) is in the centre of Skradin
Last updated December 9, 2022