If Croatia had a  national symbol, it would be the Velebit mountain range that runs from northeast to southwest. This beloved mountain range with its strange rocky landscapes, beech forests and network of underground caves seems to represent the wild, untamed soul of Croatia. Part of the Velebit nature park is tamed, at least to the extent of containing two protected national parks, Paklenica park and Northern Velebit park. The rest of the park is part of UNESCO's Man and the Biosphere (MAB) program.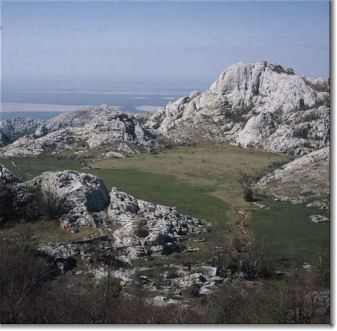 The 2000 sq m Velebit mountain range has two faces. The western slopes that face the sea are bare and rocky while the slopes on the eastern side are almost completely forested. On the western side, the bura wind tears at the sunbaked slopes, preventing the growth of greenery. On the eastern side, the forests are now covering the mountain face after many centuries of providing local villagers with firewood.
The Velebit range has been important to the survival of Croatia. The western slopes had been important pasturing grounds from the Roman era until the mid-20th century. The shepherds built hundreds of sheepsteads, some of which are now summer homes.
In addition to pasturing, the Velebit range is crisscrossed with pathways that were the trading routes bringing wheat and flour from inland to the sea and sending salt, wine and figs to the interior. Those ancient paths are now marvellous hiking routes.
The variety of climate and habitat has spawned diverse animal life. Eagles, vultures, bears, wolves and wildcats are relatively numerous and there are even a few lynx. Flowers also flourish on Velebit. The most precious flower is the Velebit degenia that only grows in a few spots on the mountain.
Tourist Information
The Velebit tourist office is in Gospic.