Find fun tours & activities in Croatia!


Pozega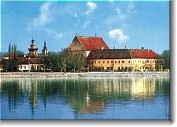 Slavonski Brod

Part of the Slavonia region, Brodsko-Posavska county is on the Sava River in the southeastern part of Croatia. Across the Sava River is Bosnia-Hercegovina. The region suffered much damage during the Balkan War of the 1990s as the territory across the river was controlled by militant Serbs.
The administrative centre and largest town in the county is Slavonski Brod which developed at the crossing point over the Sava river allowing it to become a centre for trade with Bosnia-Hercegovina. Although it's rarely a stop on the typical tourist itinerary in Croatia, the town is not without interest. It was a settlement as far back as the Roman era and became a significant fortified trading post by the 16th century. The Brod Fortress is rather run-down but atmospheric. The church of the Holy Trinity and the Franciscan Monastery are also worth a stop. For more information, see the Slavonski Brod tourist office.
Slavonski Brod is known for its folk dancing and music especially the Brodsko Kolo Folklore Festival in mid-June which features songs, dances and traditional celebrations from all over Slavonia.
The other regional highlight is Pozega which has preserved and restored its stately baroque architecture. Although it's usually a sedate town, it does host several unusual cultural events. Try to catch the Festival of One-Minute Films in May or the Golden Strings of Slavonia Festival which celebrates tamburica music, the native folk music of Slavonia. For more information see the Pozega tourist office
Further Resources
Brodsko-Posavska Tourist Board
Recommended Tours
More from Croatia Traveller
Questions? Comments?
©CroatiaTraveller 2005-2019 All rights reserved